Noodling over pasta's origins
Updated: 2013-10-20 08:00
By Belle Taylor(China Daily)
| | | | | | | | | |
| --- | --- | --- | --- | --- | --- | --- | --- | --- |
|   | | Print | | Mail | | Large Medium  Small | 分享按钮 | 0 |
Investigating the origins of noodles led food writer Jen Lin-Liu to some interesting realizations about everyday life, writes Belle Taylor.
The tale of 13th century explorer Marco Polo taking noodles from China to Italy along the Silk Road is a well-known story. Too bad it never actually happened. "There is no truth to it," food writer Jen Lin-Liu says bluntly, sitting in a Beijing cafe, spooning gelato into her young daughter's mouth. "In his (Marco Polo's) diaries, he mentions macaroni but pasta existed in Italy before him."
Lin-Liu would know, the China-based US food writer and owner of Beijing cooking school and restaurant Black Sesame Kitchen has spent the best part of the past three years delving into the origins of that staple of Chinese cuisine, the noodle.
The result is On the Noodle Road, a book that is part food history part travelogue, detailing Lin-Liu's journey traveling the Silk Road, looking for culinary clues as to the origin of the noodle.
The idea for the book first struck Lin-Liu in the back streets of Rome, at a pasta cooking class her husband had surprised her with on their honeymoon.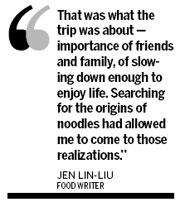 "The coincidence between the noodles and the pasta, the exact same methods of making it", Lin-Liu says of the things that struck her about Italian food.
Like many people, Lin-Liu had heard the story of Italian explorer Marco Polo. But her research at the Radcliff library in the US, home to one of the largest collections of books about food in the world, soon put paid to that myth - pasta had been eaten in Italy long before Macro Polo was even born.
But she was curious about how the Silk Road, the route traders took to transport goods between China and Europe for hundreds of years, influenced food traditions in those places.
She also had personal reasons to make the journey - recently married, she was struggling with how to reconcile her independence with the traditions of marriage and had always battled with her dual cultural identity as Chinese (her parents emigrated from China to the US before she was born) and American.
As she writes: "Traveling through cultures that straddled the East and West, I figured, might reconcile what I'd felt were opposing forces in my life; maybe I would find others who could relate to my struggles."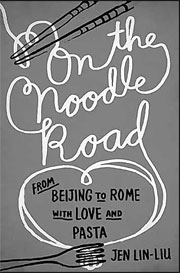 Lin-Liu's journey takes her through the Xinjiang Uygur autonomous region and into Central Asia, passing through Kyrgyzstan, Uzbekistan, Turkmenistan, Iran, Turkey and Greece before eventually reaching Italy.
Food lovers will find plenty to like about On the Noodle Road, as Lin-Liu describes the great, and not so great, food she eats and cooks on her journey. But as she moves away from China, the book quickly moves from being a study of food history to more of a personal travelogue of the experiences and people the author meets on the road.
In Turkmenistan, she describes being invited to a dinner where a lamb is slaughtered and the men and women help prepare the meal before the genders are separated for eating. She is invited to sit with the men, her "foreignness" overriding her sex.
In Iran, she learns to make traditional dishes at a women's only cooking school. And in Turkey, she hosts a dinner party with Istanbul's glamorous food set.
Lin-Liu discovers throughout her journey that while the majority of chefs in restaurant kitchens are men, at home the cooking is almost exclusively the domain of women.
"The women I met along the way live very traditional lives," Lin-Liu says. "It definitely changed my idea of cooking in general a lot of women don't like it because it's an obligation."
Lin-Liu finds herself unsettled by the limited lives led by many of the women she meets on her journey, and how many are bound to their roles of wife and mother.
"I was beginning to realize that 'traditional' was a word I liked when applied to food but not so much when it was associated with women. And could you have one without the other?" Lin-Liu writes. "Like many other young women I'd met on my journey, including Nur's sister and Yasmin in Iran, Daniela associated cooking, pasta-making and baking with being held back, being rooted in old ways."
While her journey began as a mission to discover the origins of noodles, Lin-Liu realizes that the food people eat in different places evolves over time and is influenced by a wide variety of factors. The stories and traditions that spring up around food are a complex blend of myth and fact.
"That was what the trip was about - importance of friends and family, of slowing down enough to enjoy life," Lin-Liu writes. "Searching for the origins of noodles had allowed me to come to those realizations."
Lin-Liu is now based in Chengdu, where she lives with her husband and daughter who was conceived in Italy - the final destination on the noodle road.
Contact the writer at belletaylor@chinadaily.com.cn.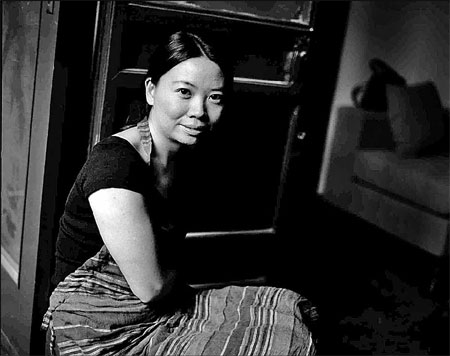 Jen Lin-Liu spends three years delving into the origins of noodles and compiles a book, detailing her interesting journey looking for culinary clues. Photos Provided to China Daily
(China Daily 10/20/2013 page5)