Chalk it up to great courage
Updated: 2013-10-20 08:00
By Lyu Chang(China Daily)
| | | | | | | | | |
| --- | --- | --- | --- | --- | --- | --- | --- | --- |
|   | | Print | | Mail | | Large Medium  Small | 分享按钮 | 0 |
Teacher Jiang Shengfa put the pain of losing both arms in an accident behind him to emerge an inspirational example that anything is possible, reports Lyu Chang.
Substitute teacher Jiang Shengfa's grasp of his potential has long ago exceeded his reach.
The 39-year-old armless teacher at Weixin county of Zhaotong, a city in northeastern Yunnan province, has overcome a daunting physical challenge to excel both as a veteran teacher for the past decade, and as a single father in one of the most remote rural areas in China.
At a training program in Shanghai for rural teachers, Jiang tells China Daily that one thing he has learned about life is to never complain and always look at his physical challenge as a positive in life.
"My life has never been easy, but I managed to survive and have a life that I enjoy," he says. "One of my strengths comes from good people around me - students, my family and everyone in between."
Jiang, who lost both of his arms in a disastrous high-voltage incident when he tried to fix an electrified wire in the winter in 1996, has managed to teach by using chalk tied to his protrusions from his shoulders.
The married father of an 18-year-old son spends each day surrounded by his students, who learn both Chinese and life lessons from his inspirational example.
"In my heart, he is a great man and he shows us how to believe in yourself," Chen Yiting, a fourth-grade student says. "Though he lost his hands, his handwriting is the best in our school and he is very good at calligraphy."
Life is hard, but looking back, Jiang says he has survived and become a living example that anything is possible.
After the incident in 1996, Jiang nearly lost his ability to work and spent all his savings on hospital treatment. To compound matters, Jiang's wife ran away from home and their newborn baby.
To survive, Jiang went out in rags to beg on the streets of big cities like Guangzhou and Chongqing, leaving his son with his mother.
But one disaster came after another - his mother died several years later, driving his life to the last ditch.
As a result, he had to leave his son with his elder brother and sister-in-law. To save money, Jiang had to tighten his belt and ate only one meal a day.
Things changed when his elder brother retired from the local school and Jiang was recommended to teach there to fill the vacancy.
Although his salary is far less than a qualified teacher's, and he receives no welfare benefits, his dedication is without question.
Since then, he has learned how to write without arms.
Jiang says the early days were difficult. He not only had to deal with the physical challenges but also struggled with depression and loneliness. He questioned the purpose of his life and if he even had a purpose. He contemplated suicide.
But then he thought of his little boy.
"I can't leave him to become an orphan. I want him to be proud of me," he says.
Holding such belief, Jiang had experienced both bitter and sweet moments with the help and support of so many kind people.
Every day, he has to walk alone for 40 minutes and climb a mountain to get to the school. When it rains or snows, it can mean disaster for him.
One day on his way to school, Jiang slipped and fell onto an edge of a cliff. Without the support of arms he was unable to stand up. He could not move because any struggle could send him falling down the cliff. He just lay in the snow and waited to be rescued until a villager passed by.
"I told him there is no need to come to school if it rains or snows, but he has not missed one class," Li Lugui, the school principal, says.
Now, Jiang's biggest dream is to bring the advanced teaching skills learned in Shanghai back home and build a computer classroom for his students.
Jiang says he has received support and help from many after receiving media attention in recent years.
Last year, Baxter International Inc, a US-based healthcare company, raised more than 140,000 yuan ($23,000) to purchase 20 computers for the students in the school.
Jiang says it is an amazing force in life to believe that he can do better and help students realize their dreams, which can carry all mankind through its hardships.
Contact the writer at lvchang@chinadaily.com.cn.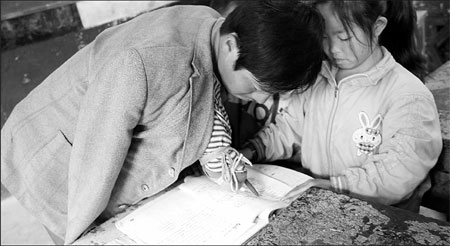 Teacher Jiang Shengfa, who lost both arms, says one thing he has learned about life is to never complain and always look at his physical challenge as a positive in life. Photos Provided to China Daily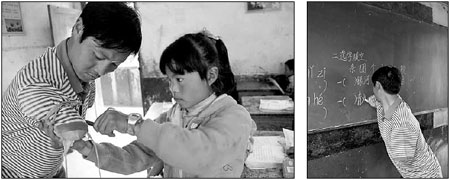 Jiang has learned how to write and teach without arms by using chalk tied to his protrusions from his shoulders.
(China Daily 10/20/2013 page4)