IN BRIEF (Page 2)
Updated: 2013-10-20 07:59
(China Daily)
| | | | | | | | | |
| --- | --- | --- | --- | --- | --- | --- | --- | --- |
|   | | Print | | Mail | | Large Medium  Small | 分享按钮 | 0 |
Syria
Jets bomb Syrian city
Syrian air force jets bombarded the eastern city of Deir al-Zor on Friday after heavy overnight clashes and the killing of one of President Bashar al-Assad's top military intelligence officers, activists said. General Jama'a Jama'a was shot dead on Thursday by snipers in the midst of a battle with rebels, including forces linked to al-Qaida, the Syrian Observatory for Human Rights said. His death, celebrated by rebels and opposition activists, marked a significant setback for Assad's bid to retain a hold over the city, capital of the eastern oil-producing province.
Car bomb, clashes kill over 30
Syrian rebels blew up an army checkpoint outside Damascus on Saturday and more than 30 combatants from both sides died in the blast and ensuing clashes, a monitoring group said. The pro-opposition Syrian Observatory for Human Rights said 15 rebels and at least 16 soldiers were killed. Elsewhere near the capital, Syrian forces tried to storm the suburb of Mouadamiya, which the army has blockaded for months, leading to a rising death toll from hunger and malnutrition.
Russia
Pussy Riot member relocated
Pussy Riot punk band member Nadezhda Tolokonnikova will be moved to another jail after she went on hunger strike to protest against conditions in her prison, authorities said on Friday. In a show of support for Tolokonnikova, band mate Maria Alyokhina on Friday dropped a plea for early release from jail. Both women are serving two-year sentences for an obscenity-laced protest against President Vladimir Putin in a revered Russian Orthodox cathedral. Tolokonnikova, 24, was taken to hospital last month on the ninth day of a hunger strike to protest against what she called "slave labor" at Corrective Colony No 14 in the Mordovia region, southeast of Moscow.
United Nations
400 civilians killed by drone strikes
Pakistan has confirmed that of some 2,200 people killed by drone strikes in the past decade, at least 400 were civilians and an additional 200 victims were deemed "probable noncombatants", a UN human rights investigator said on Friday. Ben Emmerson, UN special rapporteur on human rights and counterterrorism, also urged the United States to release its own data on the number of civilian casualties caused by its drone strikes.
Somalia
Suicide bomber kills 16
A suicide bomber killed at least 16 people on Saturday in an attack on a cafe in a Somali town close to the Ethiopian border frequented by local and foreign soldiers fighting al-Qaida-linked rebels. Al Shabaab said it had carried out the bombing, in the town of Baladweyne, targeting troops participating in an African Union peacekeeping force fighting the Somali Islamist group. At least 16 people were killed and 33 wounded, local politician Dahir Amin Jesow told Reuters by telephone from Baladweyne.
Egypt
Thousands march for Morsi
Thousands of supporters of deposed Egyptian President Mohammed Morsi protested across Egypt on Friday, shouting slogans against army chief General Abdel Fattah al-Sisi, who ousted him on July 3. One person was wounded by gunfire when taking part in a pro-Morsi march of a few thousand in Fayoum, south of Cairo, the state news agency MENA reported. Four were injured in clashes between Morsi supporters and residents in the Nile Delta city of Zagazig, state TV reported. A policeman was killed in Sinai.
Maldives
Police stop presidential poll
Maldives police have stopped a fresh presidential poll that was to be held on Saturday, the archipelago's Election Commission said, despite a court ruling that the poll could go ahead. The Indian Ocean chain of tropical holiday islands has been in turmoil since February 2012 when former president Mohamed Nasheed, who won the Maldives' first free elections in 2008, was ousted in disputed circumstances his supporters called a coup. The latest delay could see a rise in violence.
India
Dozens die from illicit booze
At least 37 people died after drinking illicit liquor on Friday night and Saturday morning in the northern Indian state of Uttar Pradesh, police said. Police called it one of the worst such tragedies in the state and said the incident took place in Azamgarh district. The dead are all poor laborers addicted to cheap alcohol. Uttar Pradesh's Chief Minister Akhilesh Yadav suspended 10 people, including a local tax inspector, and ordered a probe into the incident.
Xinhua - Reuters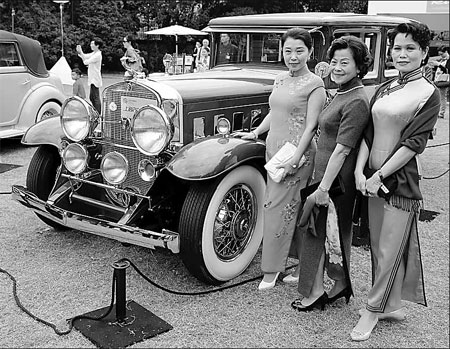 Cruising in classic style
About 50 rare vintage cars from China and abroad park on the Bund on Saturday for the first Concours d'Elegance in Shanghai. The cars range from the scarce 1963 Porsche 356 Super 90 to the 1939 Rolls-Royce Wraith. Photo by Tang Yanjun / China News Service
(China Daily 10/20/2013 page2)