Hong Kong in focus
Updated: 2013-10-13 08:21
By Rebecca Lo (China Daily)
| | | | | | | | | |
| --- | --- | --- | --- | --- | --- | --- | --- | --- |
|   | | Print | | Mail | | Large Medium  Small | 分享按钮 | 0 |
Banker-turned-photography buff Peter Lau believes Hong Kong's artists rank among the world's best. Rebecca Lo zooms in on Asia One's various offspring.
Peter Lau may be the last person you'd expect to own a bookstore and a printing house - he doesn't enjoy reading.
"I was a terrible student," the 52-year-old founder of Asia One says, laughing.
"My father didn't want me to fail another grade, so he shipped me off to an all-boys boarding school in Canada from grade 9 onwards."
The Hong Kong native spent 10 years in Ontario where he obtained a bachelor's degree in business.
While many from the subtropics may shiver at the thought of years in northern Ontario, Lau loved it.
"I taught my wife and our two boys Thomas and Jason how to downhill ski," he says.
"I have a wooden sea kayak. And I have two antique boats. One is a 1930 American motorboat named Lord Jim, and the other is a 1938 sailboat made in Hong Kong called Lady Cat."
Lau is just as passionate when speaking about his hobbies - sailing, collecting antique seals, photography - as he is about being the managing director of one of Hong Kong's top five commercial printing houses.
He first got the idea for Asia One after his younger son was born.
"Every other week, I had to travel to the Philippines," Lau recalls.
"There was a downturn, and I went into private banking. I wasn't used to that culture. Banking is like being on a highway - it's a very short-lived kind of excitement. I saw my wife's company outsourcing its printing needs and thought: 'I could do that'."
He admits the initial startup costs were high. Printing equipment is massive and highly specialized.
But he persevered despite negative feedback.
"A lot of people don't know or care how a book comes into being," Lau says.
"They just complain that killing trees is bad for the environment. People feel sorry for me. They think that all we do is print invoice pads."
Lau explains Hong Kong's pulp-paper recycling efforts keep many of the city's elderly citizens busy and employed.
"All our paper comes from managed forests," he adds.
"Trees grow back - iPhones are much more unsustainable but you don't hear anyone complaining about those."
Lau started Asia One in 1997 with only 12 people in the company.
"I came up with the name in the shower," he recalls.
"I wanted something that began with 'a', since that letter is first in the alphabet. And I wanted a name that bound us together: Asia as one."
Lau picked one of the worst times in Hong Kong's history to open a new business. The multimillionaire banker went from managing derivative funds to driving the truck for his fledging startup.
"When we started, the Hong Kong bubble burst," Lau recalls.
"Printing was considered a traditional industry. We changed that to a modern communication enterprise."
In 16 years, Asia One has expanded beyond printing annual reports. Along with its commercial publications, Lau started AO The Photo Book Center in 2011 on the ground floor of Asia One Tower, a Chai Wan industrial building he purchased five years ago.
"Asia One was doing well, and I wanted to splurge a little," he recalls.
"Photography is my personal interest. I began to read more after I started Asia One, but I still prefer photo books. And I saw that there was a market for DIY photo books. I merged these interests into AO The Photo Book Center."
Lau personally selects the more than 3,000 books from fairs in London and Frankfurt, and the Internet.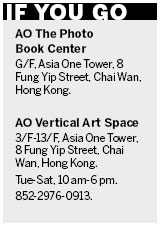 "Our collection is very current, with some very rare or limited edition books," Lau says.
The store also offers Hong Kong's only collection of erotic photography books.
"I am a man, after all!" Lau says, grinning.
"Hong Kong is very conservative. And since we don't seal our books, it saves customers the embarrassment of having to ask for help with any of our more risque titles. Our erotica varies greatly. Some are fine works of art while others are abstract or gruesome. But they are all interesting."
Most recently, Lau transformed 10 stories of his building's staircase into AO Vertical Art Space. One of the city's most unusual galleries, it is dedicated to Hong Kong subjects featured in works by local artists.
"Our main focus will be photography," Lau says.
Working with Belgium curator Sarah Greene, he intends to stage six shows a year and participate in such events as the Affordable Art Fair in Hong Kong and Singapore.

Lau is also active as a speaker for the printing and communications industry. Asia One offers guided tours for students and professionals interested in how a book evolves from concept to a bound product.
He sees no signs of print media going the way of the dinosaur. Lau believes demand is growing.
"Asia One is a Hong Kong success story," he says.
"All of my 190 employees are from Hong Kong. We promote Hong Kong topics by Hong Kong artists. We offer a lot of beautiful art books people may never otherwise encounter or artists that people have never heard of before.
"We show that Hong Kong is far from being a cultural desert."
Contact the writer at sundayed@chinadaily.com.cn.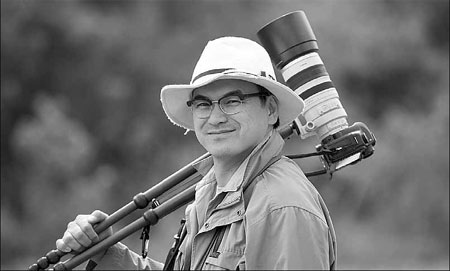 Peter Lau is the managing director of one of Hong Kong's top five commercial printing houses. Provided to China Daily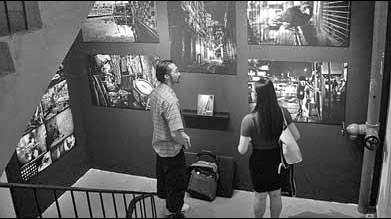 Lau transformed his building's staircase into the AO Vertical Art Space, dedicated to local artists' works. Rebecca Lo / for China Daily
(China Daily 10/13/2013 page4)