Children who were left behind in Vietnam
Updated: 2013-09-22 07:56
By James Dao(The New York Times)
| | | | | | | | | |
| --- | --- | --- | --- | --- | --- | --- | --- | --- |
|   | | Print | | Mail | | Large Medium  Small | 分享按钮 | 0 |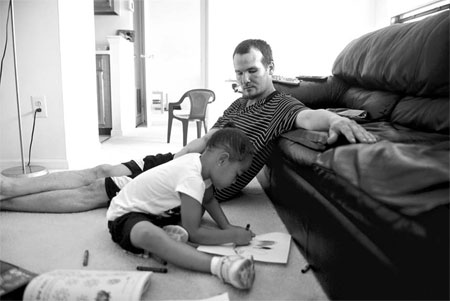 Cuong Luu, with his daughter, was one of the children fathered by U.S. servicemen during the Vietnam War. Jonathan Hanson for The New York Times
SALTILLO, Mississippi - Soon after he departed Vietnam in 1970, Specialist James Copeland received a letter from his Vietnamese girlfriend. She was pregnant, she wrote, and he was the father.
He re-enlisted, hoping to be sent back. But the Army was drawing down and kept him stateside. By the time Saigon fell to the North Vietnamese in 1975, he had lost touch with the woman. He got a job at a factory in Mississippi and raised a family. But a hard question lingered: did she really have his child?
"A lot of things we did in Vietnam I could put out of my mind," said Mr. Copeland, 67. "But I couldn't put that out."
In 2011, Mr. Copeland decided to find the answer, acknowledging what many other veterans have denied, kept secret or tried to forget: that they left children behind in Vietnam.
Their stories are a forgotten legacy of a distant war. Yet for many veterans and their half-Vietnamese children, the need to find one another has become more urgent than ever. The veterans are hitting their mid-60s and early 70s, many of them retired or infirm and longing to salve the scars of an old war. And for the offspring, who have overcome some of the hurdles of immigration, the hunger to know their roots has only grown stronger.
"I need to know where I come from," said Trinh Tran, 46, a real estate agent in Houston, who has searched in vain for her father. "I always feel that without him, I don't exist."
By some estimates, tens of thousands of American servicemen fathered children during combat from 1965 to 1973. But few of the fathers ever met their offspring, and fewer still brought them home to America.
After the war, those children - known as Amerasians - endured harsh discrimination in Vietnam, viewed as ugly reminders of an invading army. Shamed by reports of their horrible living conditions, the United States Congress enacted legislation in 1987 giving Amerasians special immigration status. More than 21,000, accompanied by more than 55,000 relatives, have moved to America under the program.
Many arrived expecting to be reunited with their American fathers. But the United States government did not help in that cause, and only a tiny fraction - perhaps fewer than 5 percent - ever found them.
Yet against the odds, children and fathers sometimes find each other.
Cuong Luu was born in Vietnam, the child of a soldier who left before Mr. Luu's birth. His mother lost contact with the soldier and soon after, she married an American who worked for the military. He moved the family to the Virgin Islands when Mr. Luu was a toddler. Mr. Luu inherited his father's features, and in the black neighborhood of St. Thomas where he grew up, he was taunted for being white.
At the age of 9, he was in a home for delinquent boys. By 17, he was living on the street, selling drugs. At 20, he was in prison for robbing a man at gunpoint. When he got out, his half sister took him to Baltimore, Maryland, where he resumed selling drugs.
But then he had a daughter with a girlfriend. "I worried I would just go to jail and never see her," he said of his daughter, Cara, who is 4.
He decided he needed to find his biological father to set his life straight. "I wanted to feel more whole," said Mr. Luu, 41.
Mr. Luu discovered references to a Jack Magee on a veterans' Web site and, through Facebook, tracked down a man who had served in the same unit. "What do you want from Jack Magee?" the man asked. "I just want a father," Mr. Luu replied.
Mr. Luu had his DNA tested, and it was a match. In November, Mr. Magee, a retired teacher from California, visited Mr. Luu. "I was stunned he was out there," Mr. Magee, 75, said.
But the discovery, Mr. Luu has realized, has not solved his problems. What can a former felon do to make a better living? "I just wish I had met him before," Mr. Luu said. "He could have taught me things."
Brian Hjort, a Danish man who has helped Mr. Luu and other Vietnamese track down their fathers, says Amerasians often have unrealistically high expectations for reunions with fathers. But the veterans they meet are often infirm or struggling economically.
An industrial painter from Copenhagen, Mr. Hjort, 42, first met Amerasians while traveling through Vietnam and the Philippines two decades ago and was struck by their desperate poverty.
News of Mr. Hjort's success traveled rapidly through Amerasian circles, and he was soon besieged with pleas for help. He took on more cases, charging only the cost of his trips to Vietnam. He created a Web site, fatherfounded.org, that brought more requests than he could handle.
Working in his spare time, he has found scores of fathers. Perhaps two dozen have accepted their children. And veterans, too, have begun asking for help. James Copeland was one.
In 2011, Mr. Copeland decided to search for his own child.
He found Mr. Hjort and sent him money to visit Vietnam. Mr. Hjort found the village where Mr. Copeland had been based and tracked down the brother of an Amerasian woman who was living in America and who Mr. Hjort believed was Mr. Copeland's daughter.
Mr. Hjort sent a photograph of the woman and her mother to Mr. Copeland. He instantly recognized the mother as his old girlfriend. He eventually found his daughter, Tiffany Nguyen, in Reading, Pennsylvania, where she runs a nail salon at the Walmart. For a time, they talked nightly.
"There were a lot of years to cover," Mr. Copeland said. "I can sleep a lot better now."
But the reunion has also brought him heartache. His wife demanded that he not visit his daughter. After 37 years of marriage, he and his wife are separated.
Mr. Copeland now helps Mr. Hjort contact veterans they believe are fathers of Amerasians. He urges them to confront the possibility that they, like he, have Vietnamese children.
"Some people, they just want to move on and forget it," he said. "I don't see how they can do it. But there's a lot of them that I'm sure that's the case. They just want to forget."
The New York Times
(China Daily 09/22/2013 page10)