Trendy International Group, 10 Corso Como make a perfect fit
Updated: 2013-09-22 07:54
By Zhang Shiyi and Zhou Xiang(China Daily)
| | | | | | | | | |
| --- | --- | --- | --- | --- | --- | --- | --- | --- |
|   | | Print | | Mail | | Large Medium  Small | 分享按钮 | 0 |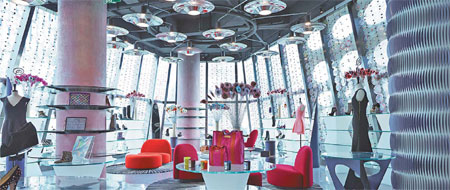 The women's collection, 10 Corso Como, Shanghai. Photos Provided to China Daily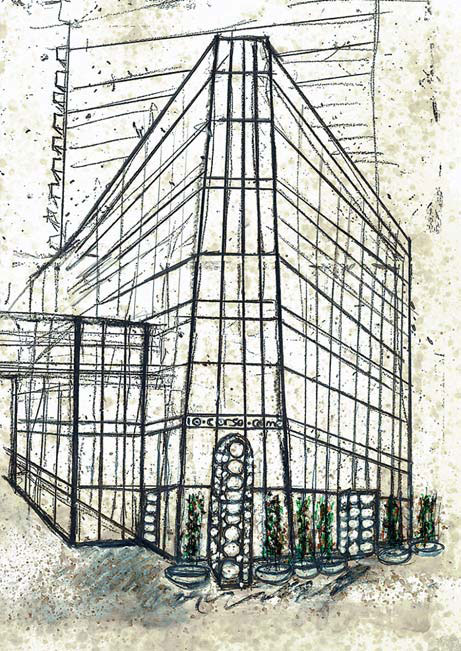 Sketch drawing of 10 Corso Como's outlook by American artist Kris Ruhs.
On Sept 13, Trendy International Group has expanded its fashion footprint with the inaugural launch of 10 Corso Como, a name synonymous with the most cutting edge design, art, fashion and cuisine, in Shanghai.
They hosted an exclusive opening party attended by representatives of top Chinese and global media outlets, VIPs, governors as well as other influential people from the realms of art, design and fashion.
Founded in 1990 in Milan by style visionary Carla Sozzani, 10 Corso Como pioneered the idea of the concept store, creating a unique lifestyle destination that blends art, music, fashion, design, cuisine and culture.
Promoting a philosophy of "slow shopping", 10 Corso Como aims to build a community around an appreciation of images, objects and ideas.
10 Corso Como, the world's first fashion and design concept store, is as innovative and influential today as it was when launched almost 25 years ago.
Sozzani's vision was to create a destination that brings together the most cutting edge fashion, art, music, design and cuisine. So unique and inspiring is the concept that today 10 Corso Como is also found beyond Milan in Asian destinations like Seoul and Tokyo.
Innovation and experience are the central pillars around which the whole concept of 10 Corso Como has evolved. Visitors move from one aspect of a sophisticated lifestyle to the next - from the gallery to the bookshop or from the design and fashion store to the restaurant and caf.
The desire to remain in the avant-garde of trends is apparent throughout every aspect of 10 Corso Como.
Central to 10 Corso Como's DNA is authenticity and style. The store features a carefully curated selection of items ranging from niche brands for the real fashion forward such as Alaia and Maison Martin Margiela to big brands such as Fendi, Chlo, and Lanvin, to rising brands such as Carven.
Every month, the selection changes to match the whims of customers. It is like a gallery of clothes. The same attention to hand picking design and lifestyle items are a key aspect, with brands like Fornasetti and Alessi prominently featured.
Featuring exclusive collaborations with designers and art exhibitions, 10 Corso Como is a space that is constantly evolving and creating.
The brand's black-and-white logo was designed by legendary American artist Kris Ruhs.
In a little more than two decades, the playful 10 Corso Como logo has grown into a global brand of distinction that is recognized the world over.
Items covering every aspect of today's lifestyle, such as fashion, design, publishing, music and cuisine are incorporated into the visual signatures of the brand.
At the center of 10 Corso Como is an on-going commitment to creativity and exploration. Each brand outlet features a "Galleria", a space used for exhibitions devoted to art, photography, design and architecture.
Here visitors are treated to two decades of the world's best-known, cutting-edge photographers, artists, architects and designers seen through Sozzani's fashion-conscious editorial eye.
For this inaugural show in Shanghai on Sept 13, the Galleria Carla Sozzani presented works from more than 20 internationally renowned artists.
It included works that have never been seen before by generation-defining artists and photographers, such as Helmut Newton, Annie Leibovitz, Bruce Weber, Bert Stern, Sarah Moon, Paolo Roversi and David Bailey.
Some of the most iconic names in fashion have also hosted exhibitions at 10 Corso Como, including Pierre Cardin, Courrges, Paco Rabanne, Zandra Rhodes and Martin Margiela.
The 10 Corso Como bookshop offers a wide selection of new and classic publications on art, architecture, design, graphics and fashion, with a strong emphasis on photography. It's a place to linger and get lost in one of the best book selections around.
In addition, the 10 Corso Como brings the SPA concept to a Shanghai store, a first for local customers.
"Both Trendy International Group and 10 Corso Como achieve a perfect combination of business and art. This is in synergy with Trendy International Group's core value to bring new concept of retail experience to Chinese consumers and we all believe 10 Corso Como project will be a milestone toward further diversification of Trendy International Group and market," said Andre Chen, senior vice-president of Trendy International Group.
Trendy International Group
Trendy International Group was founded in 1999 by Jacky Xu, who served as chairman and CEO, and Coral Li, chief creative officer.
The group is an innovative fashion and lifestyle group that combines business and art seamlessly.
It has an unmatched reputation as a designer, distributor and retailer of China's favorite ladies brands - ochirly and Five Plus - as well as the leading men's fashion brand Trendiano and Love Ysabel by ochirly, which is targeted at the market for children's clothing.
Since 2011, the market leader has been implementing a strategy to diversify its development and has achieved remarkable accomplishments.
Acquiring the business of the Italian Sixty Group in Asia, the fashion company took over its business in 14 countries and regions in the Asia-Pacific region.
The same year, L Capital Asia invested $200 million to build a strategic partnership with Trendy International Group.
It was the largest investment in the past five years by L Capital Asia, the investment arm of LVMH, the world's largest luxury group.
"In Trendy International Group, we will advocate our consumer-driven core values and continue to offer consumers an 'authentic' retail experience," Chen said.
"This is how we provide a platform for a sophisticated lifestyle and lead in the fashion world."
The company values each and every brand in the group and invests enormous energy into cultivating them, Chen said.
"As for the 10 Corso Como team, we are also proud to have a team with an internationalized background. We gain confidence from combining multiple cultures and fashion elements."
The team working under the group on the 10 Corso Como project includes more than 40 employees coming from 10 different countries.
"Passion and innovation are the fundamentals that bring them together and is also our management and recruitment guiding principles," Chen said.
"From the chef to the mixologist, from merchandisers to sales - All the employees have to be passionate about their job, fashion, art, design and culture so they can deliver value to each consumer."
The diverse backgrounds of staff members and an emphasis on teamwork are also reflected in the unique work environment for the staff of Trendy International Group, which has a tradition of providing a fashionable, healthy and happy work environment for its staff.
The company headquarters use special designs to create not only lovable workplaces but also to cultivate an environment that is very inspirational for work and to open lines of communication.
"Contemporary consumers are very diverse and live with no boundaries - switching back and forth between shopping online and offline, purchasing from Shanghai to London and seeking every possible ways to learn about the newest and coolest shopping related info," Chen said.
The group aims to provide various sophisticated shopping and unique lifestyle experiences to consumers. Chen stated that Trendy International Group and 10 Corso Como are both very consumer-driven.
"Consumers today are more complicated than ever. They are always seeking for authentic services and products, preference for converging fashion trends, purchasing insights guided by authoritative influencers and looking for wide-ranging lifestyle." Chen said.
"Moreover, we think consumers in a metropolitan city like Shanghai are ready to like a new retail concept like 10 Corso Como, which address today's consumers need."
Contact the writers at zhangshiyi@chinadaily.com.cn

(China Daily 09/22/2013 page6)