Designer rebel with applause
Updated: 2013-09-01 08:12
By Xu Junqian(China Daily)
| | | | | | | | | |
| --- | --- | --- | --- | --- | --- | --- | --- | --- |
|   | | Print | | Mail | | Large Medium  Small | 分享按钮 | 0 |

Zhou Yi with Paolo Gerani in Milan. Photos provided to China Daily
Chinese artist Zhou Yi breaks free of the "Chinese element" in her designs for an Italian luxury fashion brand, Xu Junqian discovers in Shanghai.
As a Chinese artist appointed the creative director for a complete capsule collection of a foreign luxury brand, Zhou Yi says the last thing she wants in her works is the "Chinese element", stereotyped by many foreigners and Chinese alike, when it comes to fashion designs.
"They are so cliche and surreal," the Shanghai artist says, casually lying in a swivel chair at her studio in a beautiful English Renaissance-style two-floor building, the residence of a Hong Kong real estate tycoon in the 1920's.
In April, the artist's studio announced jointly with Italian luxury brand Iceberg that a miniline of the brand - Breaking the Ice, Iceberg by Zhou Yi - will be launched in global stores of the brand at the end of this year.
The collection will feature menswear, womenswear and accessories "made perfect for a roadtrip". And, of course, knitwears, in which the brand specializes and started from in 1974, are included.
While some deemed it as a selling point catering to the world's largest luxury market, expectations to see something labeled with "made-in-Italy" but designed by Chinese are high.
But before the collection gets unveiled, Zhou, in an exclusive interview with China Daily, thumbs her nose at the possible "Chinese element" like "China red", "big knots" and "qipao styles", which people take for granted about Chinese designs.
"Few people are seen wearing this stuff on the street. It's OK to put them on souvenirs or T-shirts but not on priced fashion pieces," Zhou says.
Having lived in Rome since the age of 10 and studied in London and Paris with degrees in political science and economics, Zhou, in her 30s, described herself as an artist with a "chaotic cultural background" so that she doesn't and cannot "go with the system" of any one place.
"I am not one of them, so I am kind of the reverse of the Chinese poem," which translates as you cannot see the real face of a mountain because you are inside it.
But the background turns out to be an uninterrupted supply of inspiration for Zhou's multimedia artwork.
The prolific artist, film director, and art director for domestic video portal Tudou.com, has been hailed as a modern-day Chinese combination of Hitchcock, Yoko Ono and Cindy Sherman by Vogue China.
Her works have been exhibited at Shanghai Biennale, Venice Biennale, and the Cannes Film Festival. Hong Kong curator and art critic Chang Tsong-zung has described her work as "lunar-aura gilded fantasy".
She can create fresh scope for imagination by bringing adolescent innocence and vain glory, cosmic dreams and virtual reality, heroic epochs and soap sentiments together in her work, as Chang put it.
Zhou considers fashion design barely different from her usual artworks, except that she's drawing on a girl's body rather than on canvas. Going beyond her Italian and Chinese background, she looked for inspiration from an "iceberg related" place. She unsurprisingly found it in Iceland.
At her studio, sweaters, dresses and pants featuring intentionally unfinished 3-D polar bears, birds and dolphins are exhibited.
"The project represents a whole new experience for me, and I want to take advantage of it to show the Chinese brain," she says.
Paolo Gerani, CEO and artistic director of the brand, believes that the collaboration would be proof that "while artistic inspiration may in general be nationally neutral, the industrial base in Italy in the textile sector is open to all languages and can bring to life - in premium form - all types of fashion visions".
"Zhou is a modern woman with boundless energy and creative imagination. That's the concept at the core of this project," Gerani says. "We came up with the idea of working backwards, in the sense that we would not be the ones to manufacture our products in China. She instead would be the one to become a designer here in Italy, benefiting from our exquisitely Italian staff, materials and machinery."
According to a fashion index white paper released at the beginning of this year by Trends Group, a media conglomerate that owns 17 fashion publications in China, luxury consumers in the country have gradually changed their focus.
After snapping up so many bags and clothes with globally recognizable big logos, they are turning their eyes toward fashion items designed by someone who can connect with them, or more directly, shares the same culture. These are becoming the next most desirable things wanted by what's potentially the world's largest market.
The paper, a study of the "nouveau riche in 20 big cities in China", found that at least one-third of these people have bought both internationally famous luxury goods and not-so-well-known Chinese designers works. And nearly half of the frequent luxury shoppers said they have bought or intend to buy items by Chinese designers.
Contact the writer at xujunqian@chinadaily.com.cn.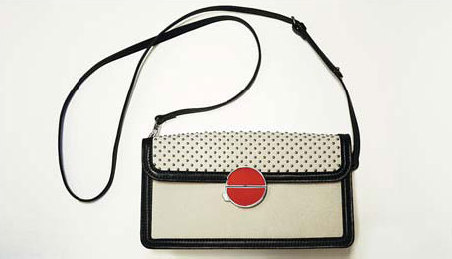 A bag Zhou Yi designed for the Breaking the Ice collection, which will be unveiled at the end of this year.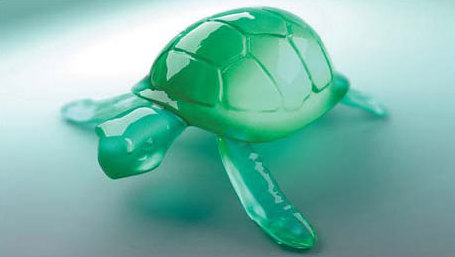 The 3-D turtle image is created by Zhou for the print of Breaking the Ice collection.
(China Daily 09/01/2013 page14)