Art Special: Artist hopes to change world with power of painting
Updated: 2013-09-01 08:12
By Han Tianyang (China Daily)
| | | | | | | | | |
| --- | --- | --- | --- | --- | --- | --- | --- | --- |
|   | | Print | | Mail | | Large Medium  Small | 分享按钮 | 0 |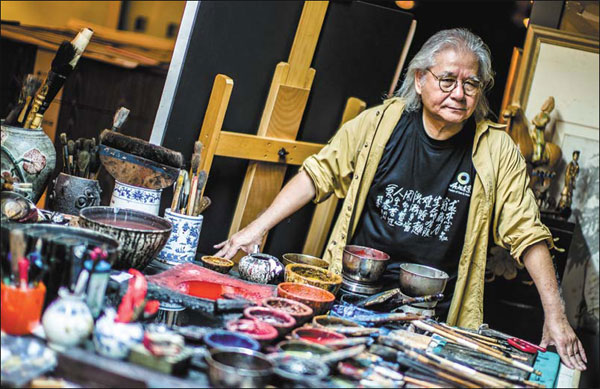 In a painting career that has spanned nearly half a century, Lin Xiangxiong composed about 1,000 paintings. Photos provided to China Daily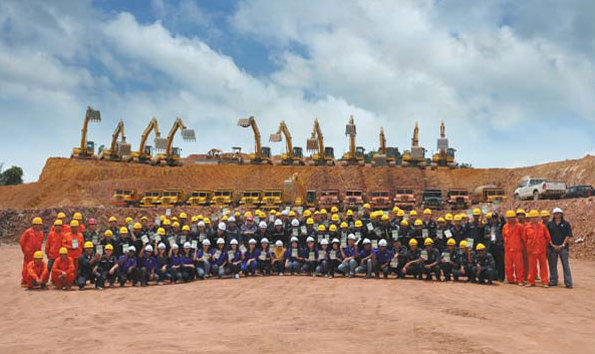 CNMC Goldmine employees at a mining site in Malaysia. After gold was discovered at the site in 2010, the business has brought great fortune to Lin.
A painting exhibition by Singaporean artist Lin Xiangxiong will open in Beijing at the National Art Museum of China on Sept 9.
Lin will display 99 of his best works at the exhibition, with themes ranging from natural scenery to social reality.
The show will go to Henan, Shaanxi and Shanghai later this year, and Lin will embark on a world tour next year to countries in Europe, the Americas and Oceania.
"Close to my 70s, I am starting a journey to the world from China, the motherland deep in my soul, bringing with me a new painting style that combines Chinese and Western arts, after exploring the world of art for decades," Lin wrote in an article for the exhibition tour.
"It's because the blood flowing in my body is that of the descendants of the Yan and Huang - the Red and Yellow Emperors that are known as the common ancestors of the Chinese people."
Born in Shantou, Guangdong province, the 68-year-old painter is a successful artist, entrepreneur and social activist.
He is now the special research fellow of the Chinese National Academy of Arts, special advisor to the Association of Yan and Huang Chinese Culture, and president of the Yan and Huang International Culture Association.
He is also the executive chairman of CNMC Goldmine Holdings Ltd, a Singapore-listed gold mining company.
He is the founder and chairman of the Innovation Foundation, which supports the establishment of primary schools in poor, rural areas of China as well as a number of other public welfare and culture activities.
After working in many fields, Lin said art remains his first love.
Ultimate objective
"Art is the ultimate objective of everything I have done," he said.
When he was 20 years old, Lin was enrolled in the School of Arts in Singapore. After three years of professional study, Lin held his first painting exhibition in Singapore.
In 1971, he went to Paris to continue his studies. Gradually, his focus shifted to the expression of social reality - fishing, farming and the lives of poor people became common themes in his works.
From 1975 to 1985, Lin traveled across Western Europe to learn more about the society and provide fuel for his own artistic creations.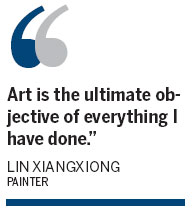 During the same period, he founded his own studio dedicated to interior design and decoration as well as garden design. This small enterprise provided economic support for Lin as he continued to paint.
After diligently developing his business for more than 20 years, Lin accumulated wealth while maintaining his enthusiasm for art.
In 2007, Lin invested in a program to search for gold mines in Malaysia. Gold was discovered in the spot in 2010 and Lin's company became the first gold mining company to be listed in Singapore in 2011.
While his business has been wildly successful, Lin is also reaching new heights in art.
In a career that has spanned nearly half a century, Lin has composed nearly 1,000 paintings. His achievements have been widely recognized.
Lin has conducted many exhibitions in Southeast Asian. In 1990 and 1994, he was also invited to display his works in China twice by the Ministry of Culture.
Mix of China, the West
Liu Kang, a famous Singaporean painter, once commented that Lin's works show the influences of some well-known Chinese painters, such as Shi Tao, Wu Changshuo, Qi Baishi and Pan Tianshou, yet they also embody the tastes of some Western modernist painters.
"He has been inspired by many masterpieces," Liu said, "But he never wants to be the devoted servant to anyone, nor does he like to subordinate to anyone."
Wang Chaowen, a Chinese esthetician and art critic, said that Lin is familiar with Western paintings, and at the same time, he is pressing closer to the tradition of Eastern culture.
Well-known domestic scholar Xu Jialu praised Lin for describing in his works the reality on the planet, where plenty of robbery, deceit and killings still happen.
"Lin's dedication to painting is rooted in a love of art since childhood but more importantly, he wants to praise the good of humanity and lash out against the evil and crime, using his brush of kindness," Xu said.
Prior to the Beijing opening of Lin's exhibition, a seminar was held on Aug 10 where scholars and art critics gathered to discuss his works. Many spoke highly of Lin's art.
Lin has other art interests beyond painting. In 2003, he participated in the design of Beijing Olympic Village for the 2008 Games.
In 2005, he organized an international sculpture exhibition in Zhengzhou, Henan province, and was one of the planners of the city's sculpture project.
hantianyang@chinadaily.com.cn
(China Daily 09/01/2013 page14)