Crowdsourcing, to determine bird count worldwide
Updated: 2013-09-01 08:10
By Jim Robbins(The New York Times)
| | | | | | | | | |
| --- | --- | --- | --- | --- | --- | --- | --- | --- |
|   | | Print | | Mail | | Large Medium  Small | 分享按钮 | 0 |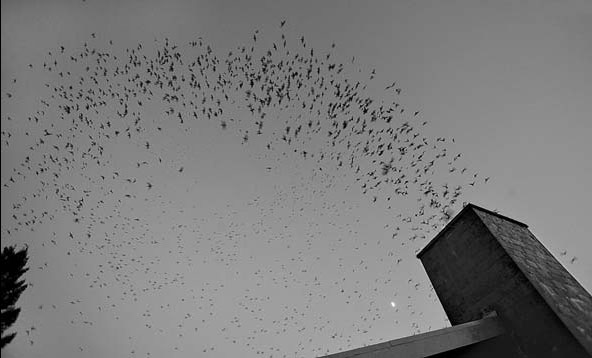 Bird-watchers report sightings to the global network eBird. Vaux's Swifts enter a chimney in California; below right, a Western Meadowlark in Idaho. John Burgess / The Press Democrat, via Associated Press
HELENA, Montana - On a warm morning not long ago on the shore of a small prairie lake outside this state capital, Bob Martinka trained his spotting scope on a towering cottonwood tree heavy with blue heron nests. He counted a dozen of the tall, graceful birds and got out his smartphone, not to make a call but to type the number of birds and the species into an app that sent the information to researchers in New York.
Mr. Martinka, a retired state wildlife biologist and an avid bird-watcher, is part of the global ornithological network eBird. Often he heads into the mountains to scan for birds and then reports his sightings to the Cornell Lab of Ornithology, a nonprofit organization based in Ithaca, New York.
"I see rare gulls at the dump quite frequently," Mr. Martinka said, scanning a local dump.
Tens of thousands of birders are now what the lab calls "biological sensors," reporting where, when and how many of which species they see. Their bits of information, gathered in the millions, provide scientists with a big picture: perhaps the first crowdsourced, real-time view of bird populations around the world.
EBird has compiled 141 million reports, or bits, and the number is increasing by 40 percent a year. In May, eBird gathered 5.6 million observations from 169 countries.
Birds are notoriously hard to count. Until the advent of eBird, which began collecting daily global data in 2002, so-called one-day counts were the only method.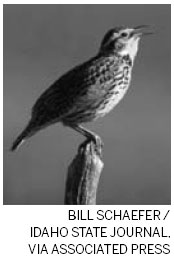 But eBird's daily view of bird movements has yielded a revelation for scientists. The most informative product is a heat map: a striking image of the bird sightings represented in shades of orange according to their density, moving through space and time across black maps. More than 300 species have heat maps.
"As soon as the heat maps began to come out, everybody recognized this is a game changer in how we look at animal populations and their movement," said John W. Fitzpatrick, director of the Cornell Lab. "Really captivating imagery teaches us more effectively."
It was long believed, for example, that the United States had just one population of orchard orioles. Heat maps showed that the sightings were separated by a gap, meaning there are not one but two genetically distinct populations.
Cornell has hired top birders to travel around the world to train people like Mr. Martinka in methodology. And 500 volunteers read the submissions for accuracy, rejecting about 2 percent.
Cagan H. Sekercioglu, a professor of ornithology at the University of Utah who has used similar bird-watching data in his native Turkey to study the effects of climate change on birds, called eBird "a phenomenal resource" and said that it was "getting young people involved in natural history, which might seem slow and old-fashioned in the age of instant online gratification."
The engine that makes eBird data usable is machine learning - a combination of software and hardware that sorts through disparities, gaps and flaws in data collection, improving as it goes.
"Machine learning says, 'I know these data are sloppy, but fortunately there's a lot of it,' " Dr. Fitzpatrick said. "It takes chunks of these data and sorts through to find patterns in the noise. These programs are learning as they go, testing and refining and getting better and better."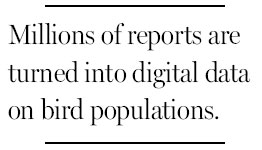 Some experts question eBird's validity. John Sauer, a wildlife biologist with the United States Geological Survey, says that bird-watchers' reports lack scientific rigor. Rather than randomness, he said, "you get a lot of observations from where people like to go."
But the information about bird populations is being used by researchers and conservationists to help in their understanding of other changes in the natural world and as a marker for the health of overall biodiversity. "Birds are great indicators because they occur in all environments," said Steve Kelling, the director of information science at the Cornell bird lab.
A decline in Eastern Meadowlarks in part of New York State suggests that their habitat is shrinking - bad news for other species that depend on the same habitat. In California, eBird data is being used to decide where to steer development.
In Britain, eBird data has been combined with that of BirdTrack, a program that uses radar images, weather models and microphones on buildings to record the sounds of migrating birds.
For bird-watchers, the eBird project has given their pastime a new sense of purpose. Mr. Martinka said, "If you see one bird or a thousand, it's significant."
The New York Times
(China Daily 09/01/2013 page10)