Youth in crisis given chance to soar
Updated: 2013-09-01 08:10
By Katrin Bennhold(The New York Times)
| | | | | | | | | |
| --- | --- | --- | --- | --- | --- | --- | --- | --- |
|   | | Print | | Mail | | Large Medium  Small | 分享按钮 | 0 |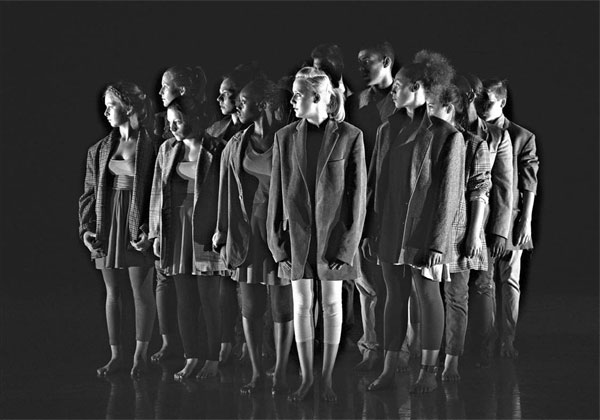 Those who survive Dance United have a good chance of returning to school or finding jobs. For Shannon, below, a "Mum" tattoo and a curfew monitor. Photographs by Andrew Testa for The International Herald Tribune
LEEDS, England - Trey was nervous. He tapped his bare feet on the studio floor and pulled the zipper on his indigo jumpsuit up and down so fast it sang. He was talking a lot.
"Trey, please," said Helen Linsell, the dance director.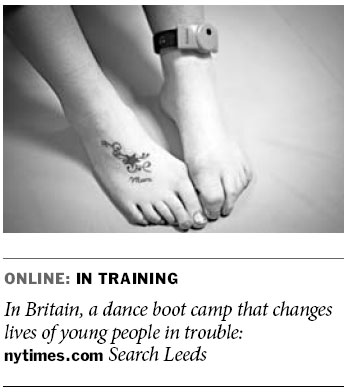 It was noon. Seven hours to go until they would be on stage at the Riley Theater in Leeds.
Of the 24 teenagers who had started rehearsals in June, 18 had made it to August. But the mood in the studio was edgy. The day before they had almost lost four dancers, including Trey. A lanky 17-year-old, he had turned up late, rolling in at 11 a.m. Shannon, the girl with the curfew monitor on one ankle and the "Mum" tattoo on a foot, lost her temper. Parts were redistributed. There were tears and insults and nearly a fight.
This is no ordinary dance company. The young people at Dance United have a background in trouble, not ballet. School dropouts and petty - and not so petty - criminals, they have been, as one youth worker put it, "sentenced to dance." Referred by schools, parents and more often youth services, they train six hours a day for six weeks with professional coaches in a highly disciplined dance boot camp.
There is a 14-year-old girl at risk of sexual exploitation in her housing estate; a boy whose voice has barely broken but whose girlfriend just had an abortion; there is Trey's girlfriend, Ellie. Tall and cheerful, she is perhaps the most gifted dancer in the group. But a few weeks ago her mother kicked her out of the house.
Trey, Shannon and many others have been in and out of courtrooms. But nobody talks about it here. Not even the staff members know their histories. They deliberately choose not to.
"Giving them a clean slate is fundamental to our philosophy," said Duncan Bedson, the manager of the Leeds project. "We can't be prejudiced. For six weeks, they are dancers, period."
Many cannot take the schedule. In week three this year they lost Georgia, who was so angry she punched a wall and hurt her hand. They lost Billie-Jo, who said on her first day in the studio that she was excited about "being happy for once."
But those who stick with it get a chance to perform in a professional theater. And, as the experience of 36 Dance United academies in Leeds, Bradford, Wessex and London over the past seven years suggests, those who stick with it have a good chance of going back to school or finding jobs.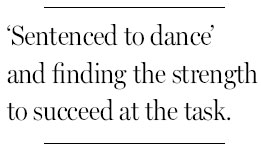 On average, 7 in 10 make it onto the stage; of those, 8 in 10 return to mainstream education or work, and more than 3 in 4 do not commit offenses or become repeat offenders. One in 10 even studies dance professionally.
The show is called "Rewritten Pages." It is about shedding labels and reshaping one's life. Few of the teenagers had been read to as children, let alone read much themselves, except text messages and Facebook.
When the lights went out in the Riley Theater on August 1, and the chatter in the audience subsided, 18 young dancers took the stage. Trey flew like an eagle and Shannon was suspended in midair.
Later, as the restless guitar music gave way to the sound of a heartbeat, she spun around and ripped two pages out of a book. Then she faced the audience, her gaze steady and her hazel eyes proud.
The New York Times
(China Daily 09/01/2013 page10)