Museums welcome art aimed at the ears
Updated: 2013-09-01 08:10
By Blake Gopnik(The New York Times)
| | | | | | | | | |
| --- | --- | --- | --- | --- | --- | --- | --- | --- |
|   | | Print | | Mail | | Large Medium  Small | 分享按钮 | 0 |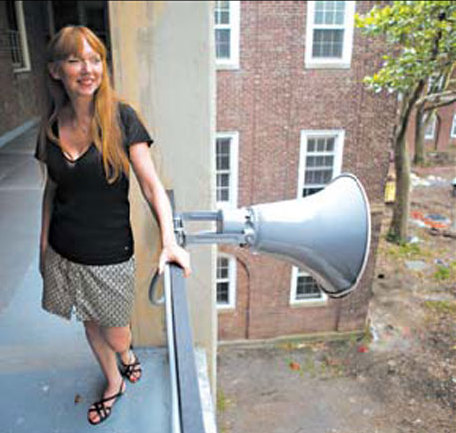 A sound installation in New York, "Day Is Done," by Susan Philipsz. Demetrius Freeman / The New York Times
Sound art has been on the rise for a decade or two, but it may have at last hit the mainstream: On August 3, the Museum of Modern Art in New York opened its first full sonic survey, "Soundings: A Contemporary Score," while two major sound installations are to go up in New York in the fall.
"The art of sound questions how and what we hear, and what we make of it," the curator Barbara London writes about the Modern's show. In an office above MoMA's garden, where her exhibition will insert recordings of bells, Ms. London said artists are being drawn to sound art because it sits on the exciting double cusp of both music and gallery art.
Ms. London's survey will include those recorded bells, by the American soundster Stephen Vitiello. It will also feature recordings made by Dane Jacob Kirkegaard near Chernobyl and a grid of 1,500 speakers, each playing a different tone by the New Yorker Tristan Perich.
The Glasgow-born Susan Philipsz will be reprising a 2012 work from Germany's Documenta, a festival that is one of the world's most prestigious artistic events. Her "Study for Strings" riffs on an orchestral piece composed in 1943 at the Theresienstadt concentration camp for musicians there. Ms. Philipsz has redacted all the parts except one cello and one viola, leaving silences between those two players' scattered notes - evoking the erasure of musicians and artists by the Nazis.
"For the public, sound art it still a fairly new and also a very, very accessible medium," said Tom Eccles, the curator of a new Philipsz commission this fall in New York.
Ms. Philipsz's new piece, called "Day Is Done," will be the first permanent work of
contemporary art on Governors Island, a former military base off Manhattan. Ms. Philipsz is mounting four "trumpet" speakers and every evening, they will broadcast the notes of the bugle call "Taps."
The market has noticed sound art's achievements such as those by Ms. Philipsz. Ethan Sklar, a New York gallery director, said one installation by Ms. Philipsz is priced at $150,000.
Mr. Eccles pointed out that "a sound work allows you to do something quite complex that might be unacceptable in another medium," he said.
That could be because of the role MP3s and podcasts now play in our lives and because of our new comfort with the immaterial world of pure data. Sound waves floating through air may not seem any more exotic than information flowing through cyberspace.
Another ambitious sound piece is about to open. On September 10, the Metropolitan Museum will present "Forty-Part Motet," an installation by the Canadian Janet Cardiff. Ms. Cardiff's piece will be installed in a ring in a 12th-century chapel at the heart of the Met's Cloisters branch, each one transmitting the sound of a single part from the choral extravaganza "Spem in Alium," composed around 1570 by Thomas Tallis.
Ms. Cardiff's piece takes the masterpiece and reduces it to modest elements: The single voice you hear in any speaker seems frail in contrast to the grand effect that comes when you hear all 40 parts combined. Wherever "Forty-Part Motet," gets installed, a visitor or two often leaves in tears.
The New York Times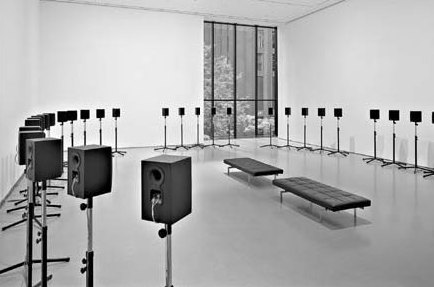 "Forty-Part Motet," a sound installation by Janet Cardiff, is one of several sound-based works being shown in New York. Timothy Hursley / Museum of Modern Art
(China Daily 09/01/2013 page9)