Helping match up backers and filmmakers
Updated: 2013-08-18 07:51
By Claire Martin (The New York Times)
| | | | | | | | | |
| --- | --- | --- | --- | --- | --- | --- | --- | --- |
|   | | Print | | Mail | | Large Medium  Small | 分享按钮 | 0 |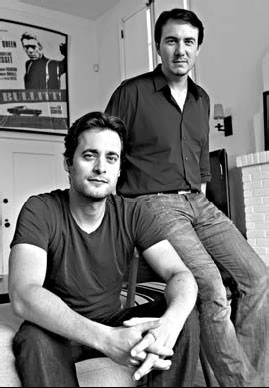 Stephan Paternot, left, and Duncan Cork founded Slated, a site for filmmakers and potential investors. Ann Johansson for The New York Times
The characters in an independent movie scheduled to begin filming this fall include a werewolf, a member of a rock band and a cannibalistic yoga instructor. The plot? "It's kind of a modern-day 'Trainspotting' set within a New York indie-rock backdrop," says Noah C. Haeussner, the film's producer and a senior vice president for financing and production at Union Entertainment Group.
When Mr. Haeussner set about looking for financial backing, he knew it would be tricky given the heroin use and other eccentricities in the film.
So instead of trotting it out to individual investors, the route independent filmmakers have taken for decades, he turned to a New York-based company called Slated, a free, members-only Web site that allows directors, producers, actors, sales agents and investors to communicate. It is "maybe like OKCupid," said Mr. Haeussner, referring to the popular online dating site.
At Slated, 4,000 members describe their moviemaking or investing backgrounds, specify what types of movies they are interested in and indicate how much they are willing to invest. Filmmakers can also put up trailers for movies they want to finance, and everyone can send messages to one another privately.
Slated was founded in 2010 by Stephan Paternot, an American Internet entrepreneur and film producer; Duncan Cork, a South African creative consultant; and two other partners.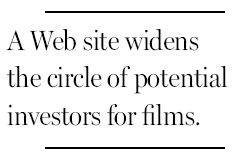 The early backers of a movie assume a great deal of risk, often paying to option a book, for instance, and develop the script. But they can be the last to see a return, even if the movie is a hit. "A lot of the value gets lost with the theater owners, the distributor, the sales agent," Mr. Paternot says. "They all make a cut, they all get everything first."
Each film project listed on Slated is packaged for investors. It must have a director, a producer, a writer and principal cast to be considered. The budget requirements for a feature film are $500,000 to $15 million; for a documentary, $250,000 to $2 million.
Since the company's introduction in January 2012, nine films listed on the site have received financing. According to Mr. Cork and Mr. Paternot, investors in recent projects have committed amounts from $25,000 to several million dollars.
Eventually, Slated will begin charging transaction fees, much the way the crowdfunding site Kickstarter does.
Since its founding, Slated has also raised about $4 million from its own investors.
And by some accounts, Slated is already attracting new money. Mr. Haeussner says he has been contacted by potential financiers in London, Pakistan and India for the movie filled with eccentricities and set to begin filming this fall, directed by Jake Hoffman, son of the actor Dustin Hoffman.
He said, "The doctor or dentist down the street who has $500,000 wasn't going to invest in a project as unique as this one."
The New York Times
(China Daily 08/18/2013 page12)