Apps for baby faulted over claims of educational benefits
Updated: 2013-08-18 07:51
By Natasha Singer(The New York Times)
| | | | | | | | | |
| --- | --- | --- | --- | --- | --- | --- | --- | --- |
|   | | Print | | Mail | | Large Medium  Small | 分享按钮 | 0 |
The Walt Disney Company's "Baby Einstein" videos do not turn babies into prodigies. And despite marketing claims by Fisher-Price, its popular "Laugh & Learn" mobile apps may not teach babies language or counting skills, according to a complaint filed with the United States Federal Trade Commission.
The complaint to the commission by the Campaign for a Commercial-Free Childhood, the same nonprofit group that helped prompt "Baby Einstein" to backtrack from its educational claims, challenges the idea that learning apps provide more than simple entertainment value.
In addition to the complaint against Fisher-Price "Laugh & Learn" apps, which have been downloaded more than 2.8 million times, the advocacy group filed a similar complaint against apps for babies marketed by Open Solutions.
According to the complaints, the companies say in marketing material that their apps teach infants spatial skills, numbers, language or motor skills. But, the complaints claim, there is no rigorous scientific evidence to prove that these kinds of products provide those benefits.
"The baby genius industry is notorious for marketing products as educational, when in fact there is no evidence that they are," said Susan Linn, the director of the Campaign for a Commercial-Free Childhood, in Boston.
The group contends that using such apps "may be detrimental to very young children." Ms. Linn said the programs could take time away from activities, like hands-on creative play or face-time with caring adults. She said the American Academy of Pediatrics recommends parents avoid screen media for children under 2.
Kathleen Alfano, the senior director of child research at Fisher-Price, said the company conducts extensive research "to create appropriate toys for the ways children play, discover and grow."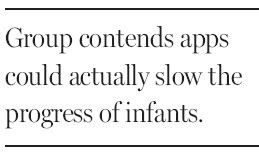 Stefan Babinec, an executive at Open Solutions, based in Bratislava, Slovakia, said his company's marketing does not make claims like "get this game and let it teach your child everything." Rather, he said, the company thinks its apps "can help parents with babies, either by entertaining babies or help them see new things, animals, hear their sounds, etc."
The Campaign for a Commercial-Free Childhood pointed to seven apps marketed by Fisher-Price, along with eight by Open Solutions, which have been available on the Apple App or iTunes stores. The apps feature animated or high-definition illustrations of animal characters that invite younger children to listen to phrases or animal noises or point to the animals' body parts. The apps are marketed as having educational value for very young children.
The information page for a Fisher-Price iPad app called Laugh & Learn Let's Count Animals for Baby, for instance, says the app "teaches numbers and counting, 1-10, animals, first words and action/reaction."
Russ Crupnick, senior vice president for industry analysis at the NPD Group, a market research firm, said that parents who had downloaded such apps often felt that the technology had made learning more entertaining and easier for their children. "A lot of parents think these apps are very educational," he said.
In 2011, the consumer group filed a complaint against the marketers of a video product, "Your Baby Can Read." Ads for the videos suggested they could teach infants as young as 9 months old to read. Last year, the company, called Your Baby Can, agreed to settle trade commission charges of false advertising.
Now app developers are marketing the same kinds of baby learning programs in mobile formats, Ms. Linn said, with the potential to increase the amount of time that infants spend in front of screens and affect their brain development. "This is one of our main concerns and why we take this industry on," Ms. Linn said.
The New York Times
(China Daily 08/18/2013 page11)