Disabled help others - and themselves
Updated: 2013-07-07 08:32
By Li Fusheng(China Daily)
| | | | | | | | | |
| --- | --- | --- | --- | --- | --- | --- | --- | --- |
|   | | Print | | Mail | | Large Medium  Small | 分享按钮 | 0 |

The Dandelion mutual aid society organizes regular activities for disabled people to ease their isolation. Photos Provided to China Daily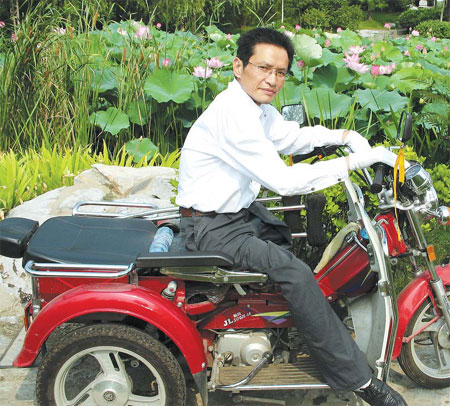 Chen Xu, who lost his left leg due to hemophilia, is now a leading figure in Nanjing advocating better welfare for disabled people.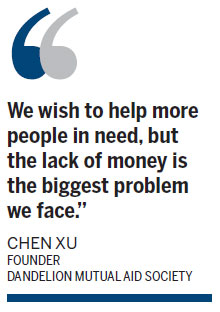 Wheelchair no barrier to founder of Dandelion aid
Chen Xu is busy but happy. After starting a mutual aid society called Dandelion in May, he is now able to help more disabled people in Nanjing, Jiangsu province.
Fifty-three-year-old Chen has used a wheelchair for 23 years. He lost his left leg in 1990 due to congenital hemophilia. He now receives an injection of blood coagulation factors every month to sustain his life. To be effective, the process prohibits the intake of food or water for three days.
Despite regular suffering, he has worked to unite and encourage the disabled.
"We disabled should not complain. Instead, we should unite for warmth and hope," said Chen.
He said that is why he has established Dandelion with the help of the disabled person's federation of Xuanwu district, Nanjing.
"Our objective is to offer people like me a family-like organization where we can solve problems together," he said.
Several days after its establishment, the mutual aid society sent relief to seven disabled people living in poverty.
Among them is a man surnamed Yang in Xuanwu district who just has a leg amputated.
"I did not expect that somebody would come to visit me and bring me gifts. I am really moved," said Yang with tears in his eyes.
Zhao Yuancui, a native of Anhui province once living in a nursing home in Nanjing, has also felt the organization's compassion.
Severely handicapped, she has great difficulty moving around. After hearing of her condition, Chen and other members began paying her regular visits. They even managed to see her when she has returned to her hometown in Anhui.
Liu Chenggen has received family-like help from the same caring people even before the mutual aid organization was established.
Paralyzed and sightless, Liu has been bedridden since he was 4 years old. He lives with his 93-year-old mother and his younger brother who earns a meager monthly salary of 1,070 yuan ($174.5).
From the start of this year, Chen and Yu Wei, another member of the organization, come to visit Liu every month and bring the family living necessities.
"We wish to help more people in need, but the lack of money is the biggest problem we face," said Chen.
Since its establishment, Dandelion has received 40,000 yuan in donations and all has been sent as relief to disabled persons, he said.
"I wish we can receive more donations. Every single coin will be used to help them," he vowed.
In addition to appealing for help, Chen has encouraged members of his organization to help themselves.
He has helped contact a local vocational school that has agreed to offer them some handiwork.
Chen has also urged those with impaired vision to learn massage.
He said by now at least 30 have learned the skill, adding that they have all found employment and can make a living by themselves.
On June 17, eight of them and other members went to the Xuanwu Lake Park to offer free massage to locals.
"We have received a lot of care and help from them and this is out of our gratitude to return to those who once helped us," said Chen.
To promote the organization's popularity among the disabled, Chen has created a webpage at xici.net, a popular social networking site.
"Now we can post our activities in advance so that more and more disabled friends can join us," said Chen.
He has even negotiated with a local Internet service provider to offer the disabled exclusive discounts.
"Surfing the Internet is one major way for them to relax. This would be good news for them," Chen said.
lifusheng@chinadaily.com.cn
(China Daily 07/07/2013 page8)