World Scene
Updated: 2013-06-30 07:34
(China Daily)
| | | | | | | | | |
| --- | --- | --- | --- | --- | --- | --- | --- | --- |
|   | | Print | | Mail | | Large Medium  Small | 分享按钮 | 0 |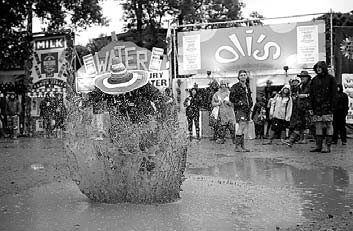 Glastonbury festival kicks off with mud and megastars
Britain's largest music festival got off to a traditionally muddy start on Thursday as thousands of campers arrived at Glastonbury in pouring rain for three days of music headlined by veteran rockers the Rolling Stones. The event that started as a retreat for about 1,500 hippies on a dairy farm in rural Somerset in 1970 has grown into the world's largest music festival, featuring about 2,000 acts on 58 stages and attended by more than 135,000 people.
Mummified remains and treasure unearthed near Lima
Archaeologists in Peru have unearthed a royal tomb with treasures and mummified women from about 1,200 years ago. The discovery north of Lima could shed new light on the Wari empire, which ruled in the Andes before the rise of the better-known Inca civilization. More than 60 skeletons were inside the tomb, including three Wari queens buried with gold and silver jewelry and brilliantly painted ceramics. Many mummified bodies were found sitting upright, indicating royalty. The archaeologists say the tomb was found in El Castillo de Huarmey, about 280 km north of Lima
Stevie Wonder to sing for blind treaty negotiators
American singer Stevie Wonder will give a concert in Marrakesh on Friday, honoring his promise to perform if negotiators concluded an international treaty boosting access to books for blind and visually impaired people worldwide. The Isn't She Lovely star, who has been sightless since birth, lobbied hard for the pact approved on Thursday by more than 600 negotiators from 186 states, the World Intellectual Property Organization said in a statement.
He will be back: Terminator film franchise gets trilogy reboot
The popular Terminator film franchise will be resurrected in a new stand-alone trilogy, with the first installment slated to open in theaters on June 26, 2015, Hollywood studio Paramount Pictures said on Thursday. The Terminator franchise about an assassin cyborg portrayed by Arnold Schwarzenegger has grossed more than $1 billion over three films since it debuted in 1984.
Pride and Prejudice's foray onto outdoor stage 'intelligent'
The adaptation of Jane Austen's Pride and Prejudice for London's outdoor stage was "intelligent" and "pleasing" and saw the emergence of a new talent in the role of Elizabeth Bennett, local reviews said. Two hundred years after the book was published, Simon Reade's new dramatization performed among the birdsong of Regent's Park, captured the character and the humor of the original novel according to critics.
Did Bruce Springsteen really help bring down the Berlin Wall?
Almost 25 years ago, Bruce Springsteen gave former East Germany its biggest ever rock concert in a performance that fuelled a spirit of rebellion and may have contributed to events that brought down the Berlin Wall, a new book says. In Rocking the Wall, US journalist Erik Kirschbaum says the rock star's music and his anti-Berlin Wall speech helped to inspire more than 300,000 fans at the concert in East Berlin, and millions more watching on television, to strive for freedom.
Indian king on hunger strike over eviction from palace
The king of India's northeastern state of Manipur Leishemba Sanajaoba is on hunger strike, aides say, in protest against the state government's decision to evict him from his ancestral palace. They say it is in violation of a 2006 agreement between the once powerful royal family and the state government. The authorities say they want to take over the palace and surrounding land to develop it as a heritage site. King Sanajaoba began his fast on Monday, two days after the Manipur cabinet decided to take over the Sana Konung palace in the state capital, Imphal.
Oprah tops Forbes most powerful celebrity list
After two years as a runner-up, Oprah Winfrey was named the most powerful celebrity on Wednesday by Forbes, heading the six women and four men who make up the top 10. It was the fifth time the former talk show host who runs her own TV network has headed the annual ranking of 100 celebrities.
James Bond watch with geiger counter sells for $160,000
A watch adapted for the fictional British spy 007 in the James Bond movies sold for nearly $160,000 at a pop culture auction on Wednesday after being bought, strapless, at car boot sale. The Breitling Top Time was worn by actor Sean Connery during 007's mission to find stolen atomic bombs the 1965 movie Thunderball.
Agencies
(China Daily 06/30/2013 page4)