Expert insight: Traveling to Tibet
Updated: 2013-06-16 07:44
By Yang Feiyue(China Daily)
| | | | | | | | | |
| --- | --- | --- | --- | --- | --- | --- | --- | --- |
|   | | Print | | Mail | | Large Medium  Small | 分享按钮 | 0 |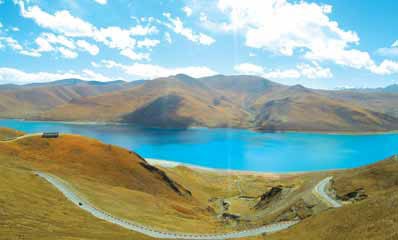 Some 110 kilometers from Lhasa, the Yamdroktso is among the three holy lakes in Tibet. Photos Provided to China Daily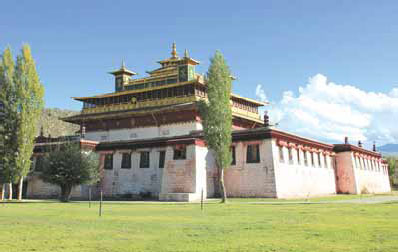 The Samye Temple in Shannan Prefecture is one of Tibet's earliest monasteries with a history of over 1,200 years.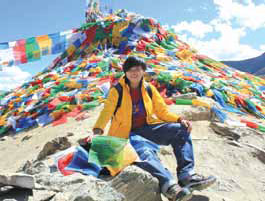 Zhou Shuang during her one-month stay in Tibet.
Q+A | Zhou Shuang
Tibet captivates many tourists with its unique natural landscape and distinctive local customs. Its highlands and snowy sceneries set the region apart from all other tourist destinations. As a travel agency that has arranged countless trips to Tibet, the Planet Travel has many tips for tourists to ensure a pleasant journey in Tibet.
Zhou Shuang, a travel consultant with the company, spoke with China Daily reporter Yang Feiyue and answered a few questions on concerns most tourists have expressed.
When is the best time to travel to Tibet? How's the weather there?
It's advisable to make a trip to Tibet during July to September. The region has a long sunshine duration, and the temperature drops as the elevation increases. It gets dry, cold and windy during the winter, and turns cool and rainy during the summer months. Therefore, it's necessary to avoid the rainy season and freezing winter.
Are there any places or things in Tibet that truly impress you?
I spent a month there, but many things were unforgettable. When I stood at the gate of the Jokhang Temple at five in the morning, it was spectacular and overwhelming to watch many pious local people genuflecting and worshiping the Buddha. While heading to Lhasa, I ran into pilgrims who were covered in mud and genuflecting every three steps on the way. It would take them months or even a year to get to Lhasa. A little girl told me that one needs ten thousand genuflections to be considered pious.
Can foreigners go to Tibet alone?
No. Foreign tourists need to have a Tibet travel permit, which can be obtained with the help of travel agencies. Foreigners must sign up on an organized tour during their visit. At the same time, foreign journalists and diplomats can't enter Tibet as tourists.
Will everyone suffer with altitude sickness? How should tourists deal with it?
Most people will have altitude sickness when they arrive for the first time. The best way to avoid or alleviate it is to keep a positive attitude, because many of the symptoms are induced mentally.
If you feel a bit uncomfortable, it's better to take more rest and maintain a regular diet. If the conditions get worse, you should go to hospital. In addition, it's better to stop all intense exercise half a month before traveling to Tibet, because intense exercise causes more oxygen consumption and strains the heart, which is more likely to cause altitude sickness.
Is it easier for one to adjust to altitude sickness by taking a train rather than a plane?
Taking a plane is indeed more likely to cause altitude sickness, but both means of travel have pros and cons. The train will go over several mountains that are elevated more than 5,000 meters, and this form of transportation has very limited medical facilities. If you are on a tight schedule and have a tour guide, it's better to take a plane to give you more time for adjustment, and the guide will tell you the do's and dont's.
Why can't one go to Tibet if he or she catch a cold? What if the tourist catches a cold right before the trip? How will the cost change?
The immune system weakens when one catches a cold, and therefore it's very easy for someone who is ill to suffer other severe illnesses. It's better to start the journey a month after full recovery. It would not be a big deal to get a cold in Tibet, because the right treatment will be enough to resolve it.
Planet Travel will reschedule the trip once for free if clients get a cold right before the trip. If they still can't make it, the agency will only charge the costs incurred by canceling the air tickets and hotels and the rest of the money will be fully refunded.
If your customers feel very sick upon arriving at Tibet and have to come back ahead of time, what will you do?
First of all, our tour guides are very experienced. They will check if the local hospital can solve the problem. If not, we will reschedule their flight and give them back their money for the remainder of the unfinished trip.
How's the accommodation in Tibet?
Lhasa is the largest city in Tibet and has very sound infrastructure. There are various hotels in the area, including five-star ones. The surrounding areas also have very clean and convenient hotels for tourists to choose from. Usually, Planet Travel will recommend hotels that have received good reviews.
Do you have any other suggestions on traveling in Tibet?
Travelers should choose foods that are high in calories and easy to digest, and a modest diet is always recommended. Guests should also bring some thick clothes to shield themselves from the cold at night. Most importantly, be happy and have a nice and unforgettable experience in Tibet.
Contact the writer through yangfeiyue@chinadaily.com.cn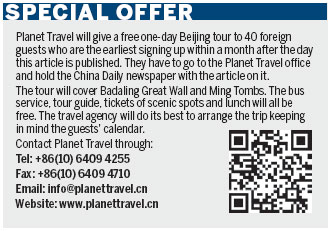 (China Daily 06/16/2013 page16)