US-China ties on new level: author
Updated: 2013-06-09 08:12
By Chen Weihua in Washington(China Daily)
| | | | | | | | | |
| --- | --- | --- | --- | --- | --- | --- | --- | --- |
|   | | Print | | Mail | | Large Medium  Small | 分享按钮 | 0 |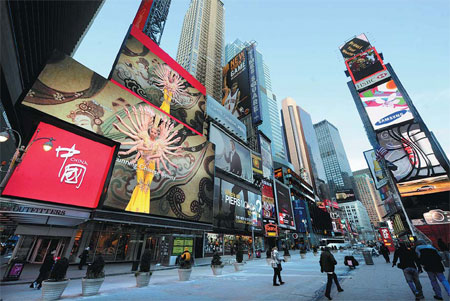 A giant screen displays a promotional film about China at the Times Square, New York, in 2011. China and the United States have strengthened cultural exchanges in recent years. Xinhua
One of the smartest things the Obama administration did in 2012 was to invite then-Chinese Vice-President Xi Jinping for an extensive visit to the United States, and the most important thing Xi said when he came was that the two countries should develop a "new type of greater power relationship".
Those are the conclusions of Nicholas Lardy, author of several books on the Chinese economy, as this week's summit meeting in California of the two presidents is held.
Xi paid a five-day visit in February last year at the invitation of US Vice-President Joe Biden. The trip took him not only to Washington, but also Muscatine, Iowa, where Xi visited and stayed in the mid 1980s as a county leader from Hebei province, and to Los Angeles, where he watched a Lakers' basketball game, in addition to attending an economic and trade forum.
Lardy said that trip gave Americans a much better sense of what Xi is like as a person.
"President Obama has lost no time maintaining the relationship," said Lardy, a senior fellow at the Peterson Institute for International Economics in Washington. He was referring to the trips to China in the past two months by Secretary of State John Kerry, Chairman of the Joint Chiefs of Staff Martin Dempsey, Secretary of Treasury Jack Lew and National Security Adviser Tom Donilon.
In a talk with his colleague Steven Weisman posted on the Peterson Institute's website, Lardy praised Obama for immediately calling Xi to congratulate him on becoming president and to "put the relationship on a new level".
Lardy said when Xi said the US and China should develop a new type of relationship, Xi didn't exactly say what it was.
"I think the meeting in California will begin to flash that out," Lardy said.
Obama, Kerry and other US leaders have welcomed the concept, but pundits on both sides believe it needs to be enriched with concrete steps.
Like many others, Lardy sees it as a proposal for how the two countries, one an existing power and one a rising power, should manage their relationship through cooperation and competition so it doesn't lead to a big-power rivalry that has been common throughout history and often led to war.
"So the underlined objective is a big strategic one, but how to actually realize it is, I think, the challenge," said Lardy.
He said the two countries are closely aligned on some key international issues such as the denuclearization of the Korean peninsula.
He also noted that China has been putting pressure on the Democratic People's Republic of Korea to resume the stalled Six-Party Talks.
"China has long supported the idea of denuclearization. That's certainly the US goal," Lardy said.
"They've also taken some very important steps in the financial sector," said Lardy.
"I think this is an area where United States and Chinese interests do overlap to a considerable degree," he said. Lardy - author of the 2012 book Sustaining China's Economic Growth after the Global Financial Crisis - said he was impressed by economic reforms made by the new Chinese leaders.
He said they understand that the growth model of the previous 10 years is no longer effective, and they have rejected flooding the economy with credit to create a new boom when growth slows.
The leadership has signaled quite clearly that they are prepared to accept slower growth as they launch reforms they think will lead to a strong period of growth in the future, Lardy said.
chenweihua@chinadailyusa.com
(China Daily 06/09/2013 page3)