A museum is austerity's victim
Updated: 2013-06-02 08:02
By Suzanne Daley(The New York Times)
| | | | | | | | | |
| --- | --- | --- | --- | --- | --- | --- | --- | --- |
|   | | Print | | Mail | | Large Medium  Small | 分享按钮 | 0 |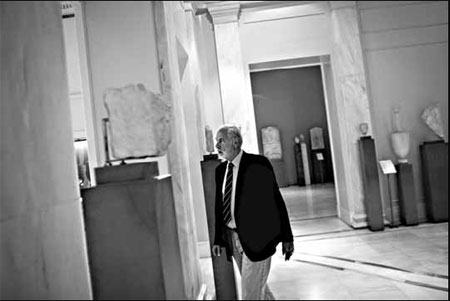 Angelos Tzortzinis for The New York Times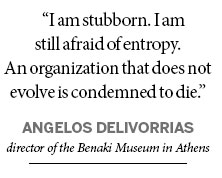 ATHENS - At the age of 76, Angelos Delivorrias might be expected to be slowing down, taking time to savor his accomplishments.
When he took over as director of the Benaki Museum here 40 years ago, the display space filled just half the Benaki family's neo-Classical mansion. Objects were crammed in oak and glass cabinets - about 37,000 Islamic and Byzantine items, mostly grouped by function.
Since then, he has overseen a steady modernizing and expansion, building the Benaki - and now its six annexes - into one of Greece's foremost cultural institutions. Under his tutelage, the Benaki has acquired an additional 60,000 objects, books and documents through purchases and donations. Buildings have been renovated, exhibits reorganized.
The Benaki's permanent collection now includes a huge range of Greek art that traces the development of Hellenism from antiquity through the Byzantine age, the fall of Constantinople, the Ottoman occupation and the formation of the modern Greek state. But there is also an antique toy collection, a stunning collection of Greek regional costumes, an annex devoted to Islamic art and a new building for temporary exhibits, cultural events and workshops.
Now, with Greece's financial crisis, Mr. Delivorrias is in a battle to keep the museum intact, wondering whether he was too ambitious over the years. He has started smoking again, which his wife of 50 years is not at all happy about. "She is threatening to divorce me," he says with a sigh.
The museum has reduced its staff to 191 from 267 in 2010, he says. Even those who still have jobs have had their salaries cut 20 percent and then, to save more money, their hours reduced by 20 percent.
"It is all so awful," Mr. Delivorrias says.
In better years, the museum could rely on the Greek government to pay for most of its operating costs. But with the crisis, the cutbacks have been abrupt and steep. The government contributed about $2.6 million in 2009; this year, just a bit more than $900,000.
The Benaki has made an appeal for funds, trimmed its hours and taken measures to earn more revenue with new exhibits and more guided tours. Money is scarce. But there has been a tidbit of good news in recent days, Mr. Delivorrias says: he has a donor who will pay for the glossy yearly publication that the Benaki produces. "That is something," he says.
Mr. Delivorrias was drawn to the humanities and classical archaeology. Early on he worked for the Greek Archaeological Service and was the curator at Patras and Sparta.
But in 1969, he left the country to study in Germany. He had won a scholarship, but he was also leaving behind trying political times. Greece had been taken over by a military junta two years earlier. He finished his Ph.D. and then moved on to Paris.
The phone call to take over the Benaki came in 1973. The early years, Mr. Delivorrias says, were the toughest. The museum was deeded to the state in 1931, by Antonis Benakis, a wealthy Alexandrian cotton merchant, who spent a lifetime accumulating its contents. But the space was cramped and objects were crowded together. Changes needed to be made.
Mr. Delivorrias found himself in a battle with insiders. "When I took over it was a closed organization," he says. "But I am stubborn. I am still afraid of entropy. An organization that does not evolve is condemned to die."
He runs through his decisions to separate the various collections into annexes, to organize chronologically, to appreciate not just the contributions of the ancient Greeks but even the country's more modern artists.
His biggest disappointment? The museum was once outbid on a 13th century icon.
"Oh, I really wanted it." he said. Instead, the icon was acquired, he said, by a man named after the saint it depicted.
Even now, Mr. Delivorrias shakes his head, incredulous that such a treasure should be bought for such a reason.
The New York Times
(China Daily 06/02/2013 page12)