Message to Google Glass: Keep out
Updated: 2013-05-26 06:02
By David Streitfeld(The New York Times)
| | | | | | | | | |
| --- | --- | --- | --- | --- | --- | --- | --- | --- |
|   | | Print | | Mail | | Large Medium  Small | 分享按钮 | 0 |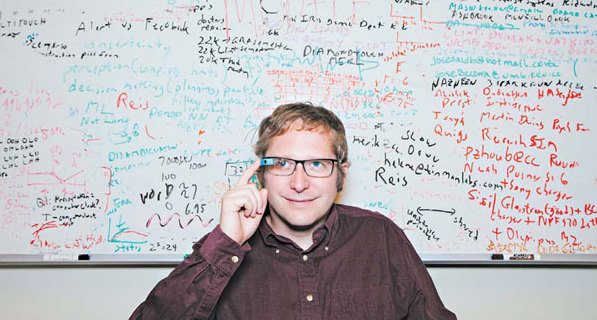 Thad Starner, a technical adviser to the Google Glass team, thinks concerns over the new device's potential for snooping are exaggerated. David Walter Banks for The New York Times
SAN FRANCISCO - Google's wearable computer, the most anticipated piece of electronic wizardry since the iPad and iPhone, will not go on sale for many months.
But the resistance is already under way.
The glasseslike device, which allows users to access the Internet, take photos and shoot videos, has been pre-emptively banned by a bar in Seattle. Large parts of Las Vegas will not welcome wearers. West Virginia legislators tried to make it illegal to use the gadget, known as Google Glass, while driving.
"This is just the beginning," said Timothy Toohey, a Los Angeles lawyer specializing in privacy issues. "Google Glass is going to cause quite a brawl."
As personal technology becomes increasingly invisible, Glass is prompting questions of whether it will distract drivers, upend relationships and strip people of privacy.
A pair of lensless frames with a tiny computer attached to the right earpiece, Glass is promoted by Google as "seamless and empowering." It will have the ability to capture any chance encounter and broadcast it to millions.
"We are all now going to be both the paparazzi and the paparazzi's target," said Karen L. Stevenson, a lawyer in Los Angeles.
Google stresses that Glass is a work in progress, with test versions now being released to 2,000 developers. Among the safeguards to make it less intrusive: the wearer has to speak or touch the device to activate it, and must look directly at someone to take a photograph or video of them.
"We are thinking very carefully about how we design Glass because new technology always raises new issues," said Courtney Hohne, a Google spokeswoman.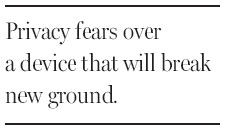 Developers, however, are pushing the limits of Glass. One created a small sensation in tech circles with a program that eliminated the need for gestures or voice commands. To snap a picture, all the user needed to do was wink.
The 5 Point Cafe, a Seattle bar, may have been the first to explicitly ban Glass. In part it was a publicity stunt, but the bar's owner, Dave Meinert, said there was a serious side. The bar, he said, was "kind of a private place."
The legislators in West Virginia were not joking. The state banned texting while driving last year, exempting hands-free devices, thus leaving a loophole for Google Glass. The legislation never advanced in the most recent session, but its sponsor said he was likely to try again.
In Las Vegas, a Caesars Entertainment spokesman said computers and recording devices were prohibited in casinos. "We will not allow people to wear Glass while gambling or attending our shows," he said.
Glass is arriving just as the courts, politicians, privacy advocates, regulators, law enforcement agents and tech companies are once again arguing over the boundaries of technology.
The Senate Judiciary Committee voted in April to require law enforcement to have a warrant to access e-mail, not just a subpoena. The Federal Bureau of Investigation's use of devices that mimic cellphone towers to track down criminals is being challenged in an Arizona case. A California district court recently ruled that private messages on social media were protected without a warrant.
"Google Glass will test the right to privacy versus the First Amendment," said Bradley Shear, a social media expert at George Washington University in Washington, of the United States' constitutional protection of free speech.
Google has often been at the forefront of privacy issues. In 2004, it began a free e-mail service, making money by generating ads against the content. Two dozen privacy groups protested. Regulators were urged to investigate whether eavesdropping laws were being violated.
For better or worse, people got used to the idea, and the protests quickly dissipated. Gmail now has over 425 million users. The most recent issue was the company's unauthorized data collection during its Street View mapping project, which prompted government investigations in a dozen countries.
Glass is potentially an extremely lucrative move. Piper Jaffray, an analyst firm, estimates that wearable technology and another major initiative, self-driving cars, could ultimately be a $500 billion opportunity. In the shorter term, IHS, a forecasting firm, estimates that shipments of smart glasses, led by Google Glass, could be as high as 6.6 million in three years.
Thad Starner, a technical adviser to the Glass team, said he thinks concerns about disruption are overblown. "Asocial people will be able to find a way to do asocial things with this technology, but on average people like to maintain the social contract."
Like many Silicon Valley companies, Google takes the attitude that people should have nothing to hide from intrusive technology. Eric Schmidt, then Google's chief executive, said in 2009: "If you have something that you don't want anyone to know, maybe you shouldn't be doing it in the first place."
The New York Times
(China Daily 05/26/2013 page11)