New science magazine, or just a living fossil?
Updated: 2013-05-19 07:34
By Dennis Overbye(The New York Times)
| | | | | | | | | |
| --- | --- | --- | --- | --- | --- | --- | --- | --- |
|   | | Print | | Mail | | Large Medium  Small | 分享按钮 | 0 |
A new entry has arrived in science journalism, a monthly magazine named Nautilus: Science Connected. Its first issue, which appeared online on April 29 (at nautil.us), focuses on a single theme: what does or does not make the human race special.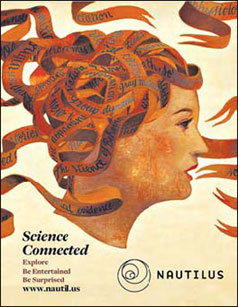 Debuting online, the new Nautilus: Science Connected magazine will also print an issue quarterly.
It uses as an epigraph a 1995 statement from Stephen Hawking, the English physicist and best-selling author: "The human race is just a chemical scum on a moderate-sized planet, orbiting around a very average star in the outer suburb of one among a hundred billion galaxies."
Besides a couple of dozen articles on that theme, on topics from astronomy to robotics to neuroscience, there is a lineup of blogs, interviews and even a piece of fiction, about a future in which nobody reads. John Steele, the founder, publisher and editorial director of the magazine - which was started with a grant from the John Templeton Foundation - described his vision of it as "a New Yorker version of Scientific American."
Future issues will each be devoted to a single topic - "uncertainty," "secrets" - in all its cosmic ramifications.
The magazine will not come out all at once, but in online "chapters" each Thursday. Physically, it is to appear quarterly; subscriptions are $49 a year; Mr. Steele hopes for an initial base of 5,000 subscribers.
It will not come as news that Mr. Steele faces odds at least as daunting as any prospective gene mapper or planet explorer. Magazines and newspapers, after all, are supposed to be on their way out. Science journalism, in particular, has seen numerous casualties.
What remains are stalwarts like National Geographic and Scientific American; blogs; and new-media adventures like the TED talks, the World Science Festival and Edge.org, the online salon, and Simons Science News, a new effort by the mathematician and philanthropist James H. Simons.
Mr. Steele, 60, who studied philosophy before an eclectic career that included working for Walter Cronkite, the pre-eminent American news anchor, and the Rome bureau chief for NBC, hatched the idea for Nautilus a year ago, after the death of a colleague reminded him, as he says, that life doesn't give you second chances.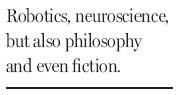 The online magazine is free. A "preview issue" describes various aspects of the term "nautilus": mollusk, name of Captain Nemo's submarine in "20,000 Leagues Under the Sea" and paragon of mathematical beauty. Peter Ward, a paleontologist, describes his adventures and misadventures chasing the mollusk through the Pacific.
Other than approving the concept, the Templeton Foundation had no editorial input, Mr. Steele said.
He added that the grant gives the Nautilus staff time to build an audience and to figure out how to make money.
"We've got to look under every stone for ways to monetize this stuff," he said. "We're not making buggy whips or biplanes. There is an audience for good stories."
The New York Times
(China Daily 05/19/2013 page11)