Lychee Bay's past and present
Updated: 2013-05-12 06:21
By Pauline D. Loh(China Daily)
| | | | | | | | | |
| --- | --- | --- | --- | --- | --- | --- | --- | --- |
|   | | Print | | Mail | | Large Medium  Small | 分享按钮 | 0 |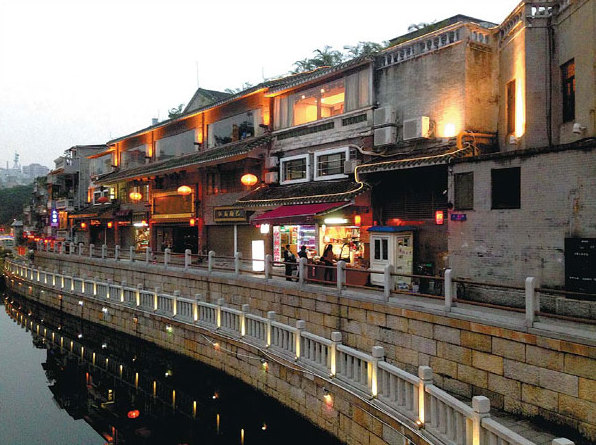 Lychee Bay has been sanitized and modernized, and now attracts tourists and gourmets seeking a taste of the past. Photos by Pauline D. Loh / China Daily
It was a historical district in Guangzhou known as the place to go if you wanted elegant female company for a price. Nine decades later, it is better known for nostalgia and food. Pauline D. Loh wanders through the streets of the famous Lizhi Wan.
My grandfather used to say the best food in Guangzhou was in Lychee Bay after midnight.
It was a place of "red lights and green wine", where pretty girls leaned over first floor balustrades trying to catch the eyes of rich young men strolling below. It was a place where decadent pleasures of wine, women and song congregated.
After the physical pleasures were sated, the stomach still needed to be fed.
That was why this area with a river running through it also became known for its tonics, its comfort food and its sweet endings.
Fish intestines cleaned, poached and steamed in savory custard would revive prowess, as would a bowl of steaming hot bamboo-kneaded noodles accompanied by dumplings stuffed with pork and sweet prawns.
All manners of tonic soups steamed gently to extract every atom of flavor and nutrition were served alongside claypot rice topped with minced beef and a coddled egg, or tiny slivers of salted fish added to a silky smooth meat patty.
For a lighter repast, there were egg tarts with flaky crusts and a wobbling custard center, or pieces of water-chestnut pudding either cut into squares or served from little pudding pots.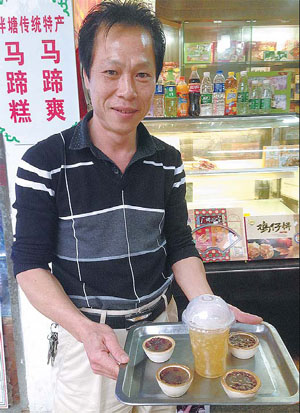 Feng Zhimin now does a roaring business at Lychee Bay, selling old-time delight such as water-chestnut drinks and "little chicken" biscuits.
The influence of nearby dairy-producing Shunde was also felt, and double-skinned milk puddings or gingered milk were available at specialist dessert shops. All were very nourishing and essential for a strong body and good skin.
These sweet shops also sold "little chicken biscuits" made with lard and flavored with fermented red beancurd - savory, crisp and very addictive, good for whiling away stray hours and waiting for the next customer.
These stories I heard when I was just knee-high, had made me imagine Lychee Bay as the Chinese child's version of Willy Wonka's Chocolate Factory, full of delicious treats. I was not yet old enough to fantasize about other pleasures.
It was all oddly familiar when we finally saw Lychee Bay recently.
It is indeed full of red and green, but the colors come from neon lights lining the river and twinkling fairy lights decorating the roadside trees. If the ghosts of those rich young men and pretty ladies of the street still lingered, we did not see them.
It had been a rainy day and Lychee Bay was bathed in a twilight glow that did give it an otherworldly charm, but the people walking the streets were the odd tourist or three, Guangzhou locals and migrant workers having an early dinner.
The river is all cleaned up and the nearby swamps drained. But the little sampans that used to sell the delicious porridge of my granddaddy's days are also long gone.
In their place, neat rows of shop houses line the banks and the streets, and although the old architectural style of five-foot ways and bar-gates can still be seen, the rusting balustrades are now deserted, minus the svelte young ladies.
A stroll through Lychee Bay now is like taking a step back into Guangzhou's culinary history.
In the dimming light of day, we are attracted by the red spotlights shining on the green signboard of Wang Laoji, that famous cooling herbal drink now at the center of a messy branding battle.
Here, though, there is no sign of any legal cacophony, but a serene calm guarded by a solitary bored shop girl examining her nails with abnormal interest.
Further on, there is a little shop selling local products, including local olives pickled in licorice, wrapped in twists of paper. They used to be called "jet plane olives" because they were tossed up to the first floor balustrades after money was dropped for the itinerant vendor.
The musical cries of the olive vendors are now silenced forever and the olives themselves, grounded at the back of the shop, are sought out only by nostalgia buffs who have heard or read about these little snacks.
Feng Zhimin was a businessman enjoying the economic prosperity of his native Guangzhou, but when he hit middle-age, he decided his next investment would be in nostalgia.
That is why he has opened a shop selling products made from the five treasures of Pan Tang, an old farming region on Lychee Bay.
"The mud in the swamp was a deep, rich black. We had lotus roots, water caltrop, water chestnuts, water asparagus and arrowhead bulbs.
"They were so abundant and many Pan Tang food specialties were made from them," Feng says wistfully, handing me my order of a water chestnut drink, a syrupy broth thickened with water chestnut starch, with crisp sweet water chestnut pieces suspended in the solution.
It is a refreshing drink that brightens our eyes and quenches our thirst. As we heaped praise on Feng, he gets into stride and persuades us to try the water chestnut cakes set in little clay pudding pots.
They are equally delicious.
Before we leave his shop, we buy packets of little chicken biscuits, a box of water chestnut starch, and two more discs of water chestnut puddings. Feng shared his memories of Lychee Bay for free.
Contact the writer at paulined@chinadaily.com.cn.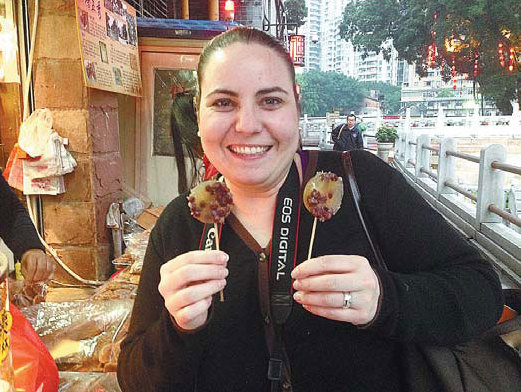 A curious tourist tries a couple of little water chestnut puddings.
(China Daily 05/12/2013 page14)