A haven for art, tucked in the forest
Updated: 2013-04-28 05:45
By Carol Vogel(The New York Times)
| | | | | | | | | |
| --- | --- | --- | --- | --- | --- | --- | --- | --- |
|   | | Print | | Mail | | Large Medium  Small | 分享按钮 | 0 |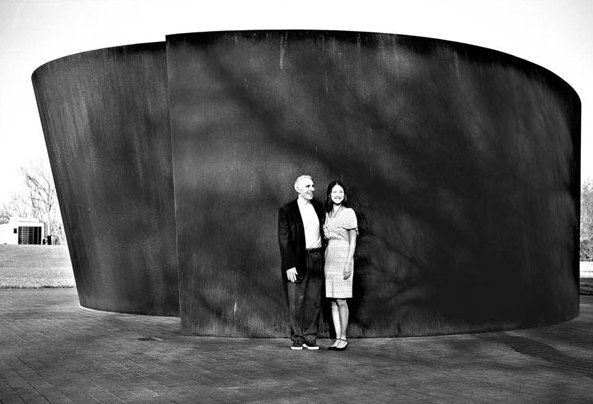 Mitchell P. and Emily Rales, by Richard Serra's "Sylvester" (2001). Christopher Gregory / The New York Times
Potomac, Maryland - Tucked behind a winding road dotted with imposing homes are 80 hectares of walking paths and woodlands. There are sculptures too, by artists like Ellsworth Kelly, Richard Serra and Jeff Koons along with a man-made pond and, beside it, a Modernist limestone building that houses a small contemporary art museum.
This is Glenstone, the creation of Mitchell P. Rales, 56, the intensely private Washington industrialist, and his wife, Emily, 36. Although it is only some 25 kilometers from Washington, in the seven years it's been open - three days a week, by appointment only - no more than 10,000 people have visited their collection of contemporary art.
That figure is expected to multiply. Plans are in the works for a major expansion that is said to be costing the couple upward of $125 million. Once it is completed in 2016, this enclave will become a more public place in which to see art and learn about architecture as well as the environment.
A brief stroll from the sleek 2,300-square-meter museum by Charles Gwathmey, the New York architect who died in 2009, will be a second museum, five times as big. Designed by Tom Phifer, another New York architect, it will feature a series of interconnecting pavilions for permanent installations, each devoted to a single artist, as well as a large gallery for special exhibitions.
Plans also call for a new entry with a Japanese cedar entrance pavilion. Peter Walker, a California landscape architect, is planting more than 5,000 trees. "We're out to create something different," Mr. Rales said.
Many in the art world believe there's a place for projects like Glenstone. "This is not a rich man's toy," said James Cuno, president of the J. Paul Getty Trust in Los Angeles. "In the greater ecology of museums, Glenstone provides a place to see great art on an intimate scale in a way large museums simply can't."
The Raleses have encountered some resistance. Neighbors have accused the couple of buying up adjacent land to develop it (which they deny), and voiced environmental concerns when they applied for permission to hook up to the county's sewer system. Critics have called the museum exclusionary. When its expansion is complete, Glenstone will be open five days a week, admission will still be free and reservations will still be required.
The Raleses are so passionate about creating an inviting atmosphere that they commissioned studies to examine just how much room people need to look at art comfortably.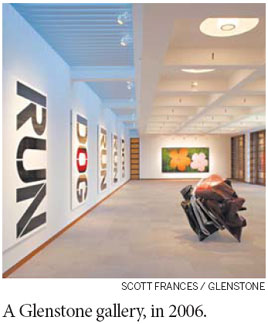 Mr. Rales, who grew up in Washington, founded the Danaher Corporation with his brother Steven in 1984. The science and technology firm has grown into a publicly traded company valued at $40 billion.
In 1998, Mr. Rales had a life-changing experience. While salmon fishing with some friends in Russia, the helicopter they had chartered stopped in a village to refuel. There, a plane blew up.
"We were 10 feet away," he recalled. "I was lucky to have escaped. I left Russia barefoot with only a torn T-shirt and gym shorts. From then on it was no longer about making money."
That's when the idea for Glenstone - named because it is on Glen Road and there are stone quarries nearby - began to percolate.
"Right now we have 800 works in our collection and that will double over our lifetime," he said. "I don't want anything buried in cellars." The collection not only includes paintings by masters like de Kooning and Pollock, Jasper Johns and Rauschenberg, but also by younger artists like Christopher Wool, Charles Ray and Robert Gober.
The couple, who married in 2008, work very much as a team. Mr. Rales has a sharp business instinct. The elegant and self-assured Ms. Rales, a former curator and dealer, is more the tastemaker, devoting herself full time to Glenstone as its director.
Mr. Phifer, the architect, came up with a cluster of interlocking pavilions fashioned from stacked blocks of cast concrete nestled around a Japanese-style water garden. Among the artists whose work will occupy their own pavilions are Brice Marden, Charles Ray, Michael Heizer and Cy Twombly.
"All the rooms will be day lit," Mr. Phifer said. "It was very important to have the experience be all about nature."
Education is a priority, too. The couple contacted the school system to see what was missing from its arts curriculum. Learning there was little money for field trips, the Raleses agreed to pay the transportation for schools, whose students will learn about the environment, too. "If green gets them here that's good," Ms. Rales said. "Maybe they'll fall in love with the art too."
The New York Times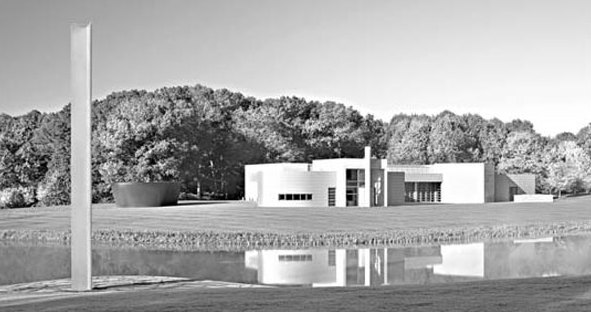 The museum today, with Ellsworth Kelly's "Untitled" (2005). Scott Frances / Glenstone
(China Daily 04/28/2013 page9)