Etiquette for potheads
Updated: 2013-04-14 08:06
By Tom Brady(The New York Times)
| | | | | | | | | |
| --- | --- | --- | --- | --- | --- | --- | --- | --- |
|   | | Print | | Mail | | Large Medium  Small | 分享按钮 | 0 |
Not so long ago, marijuana possession could bring a jail term in most of the United States. These days, the pervasiveness of pot smoke is hard to ignore.
Arnold Schwarzenegger, the former governor of California who signed a law decriminalizing small amounts of marijuana in 2010, said the atmosphere in Venice Beach was favorable for his morning bike ride.
"You just inhale, and you live off everyone else," he told The Times.
Washington and Colorado passed laws legalizing the recreational use of marijuana. Even though recreational use is still technically illegal in California, pot is ubiquitous at Los Angeles cocktail parties, The Times reported.

"It's shocking, from my perspective, the number of people that we all know who are recreational marijuana users," Gavin Newsom, California's lieutenant governor, told The Times. "These are incredibly upstanding citizens: Leaders in our community, and exceptional people. Increasingly, people are willing to share how they use it and not be ashamed of it."
Marijuana remains illegal under United States federal law, and the Justice Department has cracked down on some medical marijuana providers and growers in California and may yet intervene in Colorado and Washington.
But the main issue for many pot smokers is how to broach the topic in social situations.
Rick Steves, a travel writer and the host of the television show "Rick Steves' Europe," keeps a marijuana water pipe on his mantle at his home in Edmonds, Washington. If someone mentions it, he'll talk about smoking pot, but prefers alcohol to relax his guests.
"It's rude to break up a party by bringing out the pot. Especially for nonsmokers, it can be awkward," Mr. Steves told The Times. "If one spouse smokes and the other doesn't, it's like 'O.K., we're not on the same wavelength, party over!'"
For Cher Neufer, a retired teacher from Ohio, the party doesn't start until she and her friend "pass around a doobie" while playing poker. "It's just a social thing," Ms. Neufer, 65, told The Times. "It's like when people get together and they crack open their beers."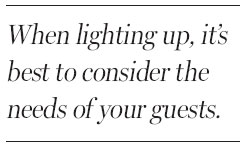 Moms for Marijuana International, which brings people together to learn about the positive aspects of the plant, received so many inquiries from older people that it is creating chapters called Grannies for Grass in Illinois, Ohio and Missouri, according to The Times.
For those who work at jobs where a positive drug test can lead to termination, a social situation can turn sour quickly. Shane Kingery, a graduate student in Atlanta, and his wife fled a party when the pot smoking started. His wife is a nurse whose job requires her to be tested for drugs at random.
"It seems we gave the impression that we're anti-weed or too good for that scene when it's really just not our bag," Mr. Kingery told The Times.
Then there are those whose jobs may not permit them to indulge publicly without repercussions, especially if they don't live in a place like California.
"I know a lot of professional people who still have high-level jobs are still very nervous about it," Ms. Neufer told The Times. But for her and her friends, most of them aging baby boomers who first lighted up back in the 1960s or early '70s and are either retired or nearing retirement, there is no stigma.
"You don't have to worry about your job knowing so it's a little easier for us," Ms. Neufer told The Times. "I don't care if you use my name, I don't care if they know!"
For comments, write to nytweekly@nytimes.com.
(China Daily 04/14/2013 page9)