In harmony with nature
Updated: 2013-03-31 07:40
By Wu Ni(China Daily)
| | | | | | | | | |
| --- | --- | --- | --- | --- | --- | --- | --- | --- |
|   | | Print | | Mail | | Large Medium  Small | 分享按钮 | 0 |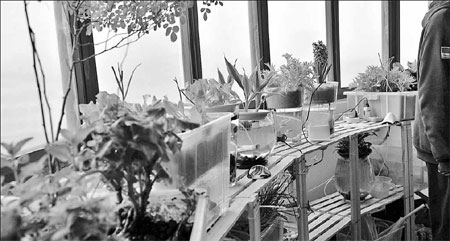 Irving Steel's Shanghai workshop is filled with various fish tanks and he aspires to promote the indoor aquaponics system to large farmland. Provided to China Daily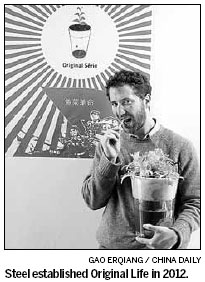 An American environmentalist advocates aquaponics to address air pollution and food safety concerns in China. Irving Steel shares the art with Wu Ni in Shanghai.
For US environmentalist Irving Steel, concerns about air quality or food safety will not deter him from living in China. Instead, he sees them as opportunities to fulfill his dream of producing clean and affordable food by reviving an ancient agricultural system.
The project Steel advocates is called aquaponics, or put it simply, to rear fish and grow plants together.
Various fish tanks fill his 50-square-meter workshop on Tongxin Road of Shanghai's Hongkou district. Fish swim freely in the tanks, and vegetables and flowers grow vigorously above.
"It is a closed ecosystem where the waste of fish gets absorbed by the plants while the plants help clean the water," Steel explains.
"My dad is a biologist and he is very interested in the potential of aquaponics. He talked with me about the system and I think maybe we can try it in China," he says.
The 26-year-old man from Connecticut in the United States says he has a deep connection with China.
"I started to learn Chinese at 5 so that I can teach one schoolmate who immigrated from China to speak English. And my sister, who is a journalist, had worked in Shanghai and was reluctant to leave," he recalls.
But it was a visit in 2007 that made him determined to stay in the country with "overwhelmed opportunities".
"I came to China with a delegation of the state of Georgia. We gave classes to Chinese officials in Beijing and Qinghai. I wanted to work with the Chinese government and the people to solve these problems," he says.
Steel established his social enterprise Original Life in 2012, aiming to "provide affordable and clean food for all" through aquaponics.
"Aquaponics is not new. Thousands of years ago, farmers in southern China grow fish and rice together. But today as more fertilizer was put in the farm, fish was killed," he says.
Technologies were applied to innovate the system so that it meets the demands of modern people. A mini pump in the tank transfers the fish waste above to a porous layer of clay where the plants grow. The porous clay contains bacteria that could transform the waste into nitrogenous fertilizer for the plants.
The price of the aquaponics system ranges from hundreds to more than 1,000 yuan ($161). Monthly seminar is also held in the workshop to promote it.
But Steel aspires to promote the individual indoor system to large farmland. His team rented two green houses in Shanghai Pudong New Area and built it into a 500-sq-m aquaponics farm.
This year, they have more than 67 hectares of land in Zhejiang and Shandong provinces that will be built into aquaponics farms.
The system uses only 10 percent of water compared to traditional farming while production capacity is five times higher than soil agriculture, he says.
Zhang Minghua, a retired engineer from the Shanghai-based Fishery Machinery and Instrument Research Institute, invented similar system that had been applied in some farms in the 1990s.
Zhang, now a fisheries adviser of Steel's company, says that the aquaponics system is an efficient agricultural practice worth popularizing. "It is clever that they developed it from small-scaled family use to large farms."
Huge obstacle is market acceptance, Steel admits. He is active in social media and events on environmental protection, anxiously pushing to have more people know about the system.
Yang Jinyu, a retired teacher, was touched by Steel's endeavor and decided to reconstruct a small fish pond of her family into an aquaponics system to show her support.
"I knew Steel for four years. He has no car or house, but passionate and devoted to his project." Yang says.
Graduated from the University of Georgia, Steel majored in International Affairs. But he decided to devote himself to environment protection.
"After I finished university a year early, my parents gave me the gift of a cross-country road trip. We went to many national parks and I was overwhelmed with how beautiful the world is," he says.
Steel calls his project in China a fish and vegetables revolution.
"Indeed, food safety is so important. There must be revolution for a healthy way of living," Steel says.
Contact the writer at wuni@chinadaily.com.cn.
(China Daily 03/31/2013 page5)