One-way ticket to Mars, by way of reality TV
Updated: 2013-03-24 07:57
By Nicola Clark(The New York Times)
| | | | | | | | | |
| --- | --- | --- | --- | --- | --- | --- | --- | --- |
|   | | Print | | Mail | | Large Medium  Small | 分享按钮 | 0 |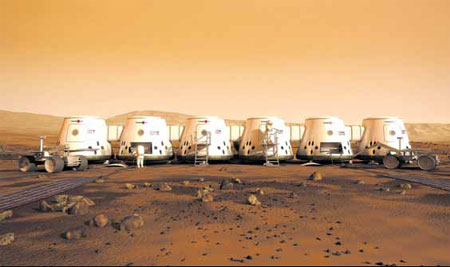 Bryan Versteeg / Mars One; right, Ilvy Njiokiktjien for The International Herald Tribune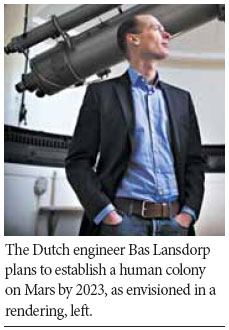 PARIS - When Bas Lansdorp began dreaming more than a decade ago about establishing the first permanent human colony on Mars, his primary focus was not on overcoming the technological challenges. It was the business model.
"All the technology we need exists already - or nearly exists," he said. "I just couldn't figure out how to finance it."
Mr. Lansdorp, a 36-year-old Dutch engineer and entrepreneur, does not have the name recognition of Dennis Tito, the American financier who announced a plan in February to send two people on a Mars flyby in 2018. Nor can Mr. Lansdorp hope to match the wealth of Elon Musk, the billionaire founder of SpaceX and Tesla Motors, who has proposed sending as many as 80,000 people to the Red Planet and charging them $500,000 each. Richard Branson, the Virgin airlines entrepreneur, has space aspirations, too.
But Mr. Lansorp is convinced that he has found the perfect plan to raise the $6 billion he says he needs to land an initial crew of four people on the Martian surface by 2023. The entire mission would be broadcast as a worldwide, multiyear reality television show.
"How many people do you think would want to watch the first humans arrive on Mars?" Mr. Lansdorp asked in a recent interview, recalling the more than 600 million viewers who were said to have tuned in to Neil Armstrong's first steps on the moon in 1969. "We are talking about creating a major media spectacle, much bigger than the moon landings or the Olympics, and with huge potential for revenues coming from TV rights and sponsorships."
Mr. Lansdorp will be executive producer, not an actor: He does not plan to make the trip himself. And despite the significant skepticism his plan has raised, he cites his success in starting and cashing out of the wind-energy company Ampyx Power - a company trying to use pilotless, tethered aircraft to generate electricity - as evidence that he can turn lofty ideas into financially viable realities. Mr. Lansdorp declined to say how much he had made selling his stake in Ampyx, but said he would not have to work for at least several years.
With 10 years to select and prepare its first crew, the project, called Mars One, expects to begin recruiting astronauts online this spring. Applicants must be at least 18 years old, be physically fit and speak English, and they must be willing to live out the selection process and an eight-year training program under the constant stare of a camera. No specific technical skills or experience are required, but be sure to read the fine print: For reasons of cost and logistics, this is a one-way trip.
Last month, Mars One secured its first commitments from outside investors, and those funds will be used to finance the first conceptual design studies for the various hardware components, including the spacecraft and lander, life support systems, supply vehicles and communications systems.
The site has received about 1.7 million unique visitors since it went live last June, according to Google Analytics. More than 8,000 people, from more than 100 countries, have already e-mailed resumes since online recruiting began in January.
Mr. Lansdorp has set up Mars One as a nonprofit foundation, but it is the controlling shareholder in a for-profit company, Interplanetary Media Group, that owns the exclusive right to sell mission broadcast and advertising rights.
Still, not everyone is convinced that Mars One would fly.
"The idea of flying to Mars one-way is not as outlandish as it may appear," said Robert Zubrin, former chairman of the United States National Space Society. "But I am very skeptical that it can be financed by broadcast revenues."
Peter Meijer, chief operating officer of the Dutch unit of Trifork, a software developer based in Copenhagen, said his company - which is also supplying Web-host and network technology for Mars One - agreed to invest an undisclosed sum.
"For us, it is a chance to become attached to this not only from a technology perspective, but also to benefit from the marketing and branding exposure," Mr. Meijer said.
The pool will be narrowed to a few hundred candidates by 2014, at which point Mars One hopes to begin televising the process in select countries.
Junwie Cheng, who has applied for the Mars mission, is a 26-year-old metals importer from Taiyuan, a city of four million people in northeast China. He admits that he is not much of a people person but says he is used to living in cramped surroundings. "Sometimes when I take the subway or the bus," he said, "I can't even find space to put my feet."
The New York Times
(China Daily 03/24/2013 page11)