Simply the best Chinese food in India
Updated: 2013-03-17 08:39
By Manpreet Singh(China Daily)
| | | | | | | | | |
| --- | --- | --- | --- | --- | --- | --- | --- | --- |
|   | | Print | | Mail | | Large Medium  Small | 分享按钮 | 0 |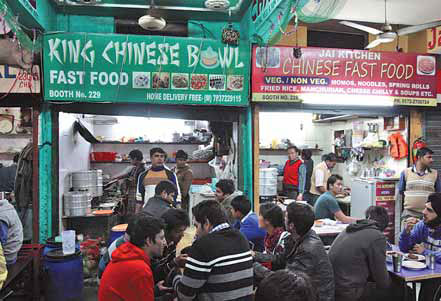 The streets of Chandigarh have plenty of stalls selling traditional Chinese food.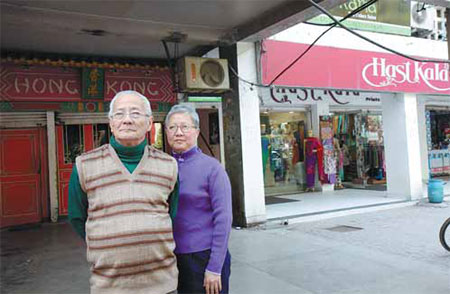 Hsieh Fu-tang and wife Chang Li-chang pose in front of their Hakka style Chinese restaurant. Photos Provided to China Daily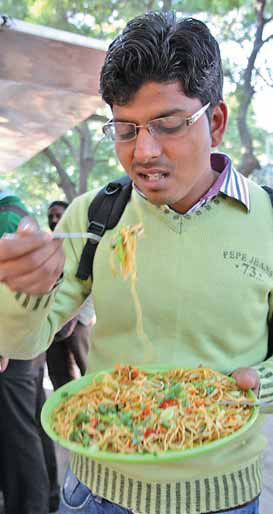 A young man enjoys a big bowl of chow mein.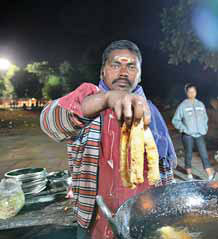 The spring rolls sold in India are much larger than those in China.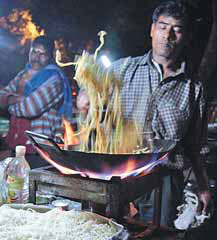 A roadside eatery cook fries up chow mein.
A restaurant in Chandigarh started in the 1970s by a Chinese tourist is still pulling in the crowds. Manpreet Singh finds out why.
'My customers often ask me why they can't get the taste of my food at other Chinese restaurants in India. I tell them I bet they won't get it anywhere else in the city, I can give it in writing," boasts Hsieh Fu-tang, 64, the proud owner of the Hong Kong Chinese Restaurant in independent India's first planned modern city Chandigarh, about five hours by bus from the capital New Delhi.
Hsieh often feels annoyed by the ignorance of his customers who loosely term his preparations as Chinese food.
"People here don't know about the real Chinese food. It is too varied. I have to inform them that my style of food is just one kind of Chinese food, it is the Hakka style. And there are plenty more styles in Chinese food. And they are surprised to hear this."
The Hong Kong Chinese Restaurant started business in 1973, when Hsieh was a young man. "My father came to Chandigarh from Calcutta (now Kolkata) as a tourist and liked the place. He bought this shop and my fate was sealed. I have stayed here since, running this restaurant."
Chandigarh, with a population of nearly 1 million, has two restaurants run by ethnic Chinese that serve authentic Chinese food. The other one is the Dragon Chinese Restaurant.
There used to be a few other Chinese families who have since migrated to other countries. The community in Chandigarh is now reduced to less than a dozen. Even Hsieh's son has moved to Hong Kong and is working for a financial firm.
The Chinese may have left but the Chinese food business has flourished in the city. Each part of it boasts of restaurants, stalls and hotels serving Chinese dishes.
There are posh restaurants like The Tao, Chopsticks and Shangri-La, while the streets have plenty of stalls selling chow mein, spring rolls and dumplings, known locally as momos.
Hsieh's wife, Chang Li-chang, 62, who assists him in running the restaurant, says their food is special. "I don't want to name him, but the owner of a chain of Chinese restaurants, who is Indian, orders his food from us whenever he wants to taste real Chinese food."
Hsieh can often be seen with the chef's apron. "I like cooking my own food and also cook for the customers."
Hong Kong Restaurant was so named because it was easier for locals to pronounce. And they could immediately connect the food to the well-known Chinese city.
The restaurant, located in a posh market, stands as a symbol of old, solid things, amid the pervading materialism in urban Indian society.
The Chinese couple leads a contented life, enjoying their time amid the changing lifestyles.
"Many people come to us with the proposal of renovating the restaurant to make it look modern, and more profitable. But we are happy and believe in keeping it simple," says Hsieh. "After all, I am an old man, and don't need much."
Contact the writer at sundayed@chinadaily.com.cn.
(China Daily 03/17/2013 page14)