Artist's love of books inspires new generation
Updated: 2013-03-10 07:51
By Carol Vogel(The New York Times)
| | | | | | | | | |
| --- | --- | --- | --- | --- | --- | --- | --- | --- |
|   | | Print | | Mail | | Large Medium  Small | 分享按钮 | 0 |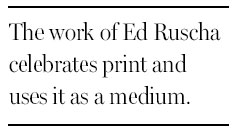 The artist Ed Ruscha stood in Gagosian Gallery in New York City, surrounded by paintings of books he has created over many decades. There were canvases that mimicked old tomes he found in flea markets and secondhand shops, and paintings of marbleized endpapers. There were renderings of open books more than three meters long with blank sheets of paper, ravaged with wormholes and water stains.
"They're a bit ominous," he said, perhaps because of what many believe is the inevitable end of the printed word.
Mr. Ruscha, 75, doesn't read on a Kindle or an iPad. "I don't even use a computer," he said unapologetically. "Every day, I am reminded how far behind the world of technology I am. I'm not a great reader, either, but I love books, the physical objects of them."
Mr. Ruscha, who lives in Los Angeles, has produced scores of books, mostly about other everyday sights, like swimming pools, parking lots and palm trees. Shunning the elite notion of the "livre d'artiste" - those luxurious, limited-edition works that are collaborations between artists and private presses - he reinvented the genre as something inexpensive, accessible and easy to produce.
These books have become a touchstone of Conceptual art and have inspired a new generation of artists who came of age with computers and Photoshop.
Some of their homages are the subject of "Books & Co.," a show that opened on March 5 at the Gagosian Gallery's Madison Avenue space. It includes volumes by old hands like Bruce Nauman and the Philadelphia architects Denise Scott Brown, Steven Izenour and Robert Venturi, as well as those by younger artists like Dan Colen, Jonathan Monk and Tom Sachs.
The subjects touch on peanuts, cookies, trash, strip clubs, even erections. One book, by the Swedish-born artist Chris Svensson, is called "Various Studios and Homes Inhabited by Ed Ruscha."
"Some are very literal," Bob Monk, a Gagosian Gallery director, said of the show. "Others are more explorative, taking Ed's books as a template."
Although the idea may seem antiquated now, 50 years ago Mr. Ruscha saw creating books as a cheap way to get his work in front of the public.
Today, there appears to be a kind of backlash against the digital universe, as artists are again embracing the notion of artist books despite the proliferation of electronic reading devices.
"The quality of images on the Internet is deplorable," said Mr. Monk, a Briton who lives in Berlin. "And printing these days has actually gotten cheaper."
Tom Eccles, director of the Center for Curatorial Studies at Bard College in Annandale-on-Hudson, New York, said, "People still want a material relationship with the real thing."
"Books & Co." comes after the exhibition "Ed Ruscha," which took place in the fall at Gagosian's space in the Chelsea area of New York City and was devoted primarily to his paintings of and about books. It was a smaller version of "Ed Ruscha: Reading," an exhibition held at the Kunsthaus Bregenz in Austria last year.
The filmmaker and artist John Waters contributed a book to the show. "Ed certainly started a great genre," he said.
"Look at 'Every Building on the Sunset Strip,'" he went on. "The Sunset Strip is the celebrity."
For that 1966 book, Mr. Ruscha photographed both sides of the Los Angeles street early one morning when no one was about; he created the book as an accordion, with a folded sheet of images that can be pulled out to eight meters. Originally priced at about $4, a good copy can now bring as much as $8,000.
After he graduated from high school in 1956, he left his home in Oklahoma City and headed to Los Angeles. Around that time he attended the Chouinard Art Institute, which became part of California Institute of the Arts. There he studied commercial design and typography. "I also worked for book printers and learned how to set type," he recalled. "My interest was always in books and how to make them."
Mr. Sachs, a New York artist, said, "Ed had the right combination of deadpan with a chili-pepper portion of creativity."
Computers, said Mr. Sachs, are good for "shopping and pornography," but "I continue to make books and sculptures by hand because I like the history and the evidence of the process."
Many art fans value an intimate relationship with pages, too.
"The Internet still does not give us the capacity to connect with an original work of art, and books by artists do," said William M. Griswold, director of the Morgan Library & Museum in New York City. "They have long legs."
The New York Times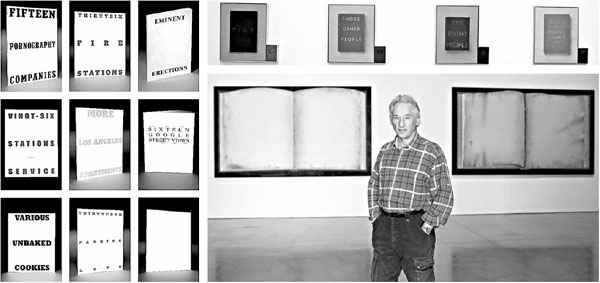 "I love books, the physical objects of them," says the artist Ed Ruscha. Far left, books by artists who were inspired by Mr. Ruscha at a recent New York show. Top, his paintings beside the actual books. Photographs by M.I.T. Press, far left, and Fred R. Conrad / The New York Times
(China Daily 03/10/2013 page12)