In the footsteps of pandas and poets
Updated: 2013-02-24 07:55
By Lee Hannon(China Daily)
| | | | | | | | | |
| --- | --- | --- | --- | --- | --- | --- | --- | --- |
|   | | Print | | Mail | | Large Medium  Small | 分享按钮 | 0 |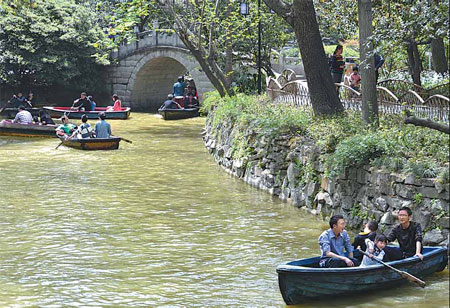 Chengdu boasts a warm climate year round People enjoy leisure time at the People's Park in. Photos by Todd Balazovic / China Daily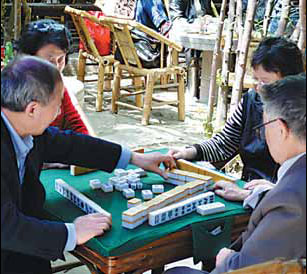 Visitors can indulge in some people-watching as locals play mahjong.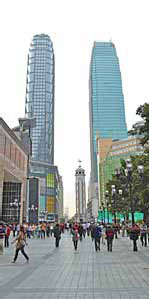 Chongqing is rich in history and modern skyscrapers.
From historic Chengdu to the sprawling metropolis of Chongqing, Lee Hannon reports on a tale of two cities.
The famous poet Du Fu has long been called China's Shakespeare, but if literary history has respect for its elders then the Chinese wordsmith has 800 years on the Bard of Avon. The renowned Tang Dynasty (AD 618-907) writer was not originally from Sichuan province, but it was while living a simple life in a thatched house in Chengdu where the poet - revered, learned and recited by all Chinese school children - penned more than 200 pieces of work. Today, the Du Fu Thatched Cottage Museum is just one reason to visit the capital of Sichuan province, which boasts a warm climate year round, but for those with a taste for spice, a mind for history and modern style, the city offers a feast of discovery.
Located in China's southwest , Chengdu is home to around 14 million people with a history that can be traced back more than 2,500 years as an ancient capital.
The title of capital may have disappeared many years ago, but the city's historic significance as a center of regional politics, military and commerce remains forever.
Getting to Chengdu is relatively easy from any city in China with direct flights for less than 2,000 yuan ($320). British Airways recently announced it will start three direct flights a week from London, making the city much more accessible to European travelers eager to get beyond the must-see sights of Beijing and Shanghai.
Located in the city center, the Shangri-La Hotel is ideally situated to traverse the scenic spots and offers great views of the Jinjiang River and Hejiang Pavilion, and it is within crawling distance of one of the city's main bar streets.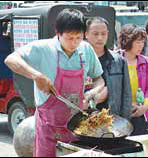 Local food is a major attraction in Chengdu.
The hotel boasts 593 guestrooms and suites with all the latest gadgets and gizmos for the modern traveler: wall-mounted plasma TV screens, free WiFi and the luxury of the Horizon Club, where guests are treated to evening cocktails, canapes and complimentary suit-pressing.
The laid-back city, sometimes called "the land of milk and honey" due to its agricultural wealth, is vast - and just within the city limits there's plenty to see and do.
Take a trip to the heart of the city, where enormous statue of late Chairman Mao Zedong looks over Tianfu Square. At night, the scene features dancing couples, lively music and an impressive water show synchronized to music.
It is also a good place to get your bearings, as it is the very center of the city. The hub of Chengdu's impressive subway system is also located directly under the square.
The People's Park, just two blocks west of the square, offers another one of the region's pastimes, a place where you can sit for hours, sip tea and indulge in some people-watching as locals play mahjong and fish under bonsai trees.
Other great sites include the Temple of Marquis Wu with a shrine dedicated to Zhuge Liang of Three Kingdoms (AD 220-280) period. It is the only temple in China where both the king and his subjects are enshrined.
If you have a little more time, go see the Leshan Giant Buddha, located just over one hour from the city. It's the world's largest stone-carved image of Maitreya Buddha at 71 meters tall.
Work began in the year 713. It was built in the hope that its presence would calm the turbulent and dangerous waters of the passing rivers.
Emei Mountain is just 28 kilometers from Leshan and home to one of the four sacred Buddhist mountains of China.
But no trip to Sichuan would be complete without seeing a giant panda.
The region has long been known for having the largest number of pandas in the world. While it is rare to catch sight of them in their natural habitat, the Chengdu Panda Base houses some 60 giant pandas and is a research center dedicated to the breeding and conservation of the endangered species.
Wenshu Temple, Wangjianglou Park and Qingyang Palace are also major draws for visitors as is a trip to the home of Chuan Opera - one of China's oldest and most popular arts with magic face-changing.
But if you're looking for a quick change of face, you can now travel by high-speed rail between Chengdu and its rival city of Chongqing, which is now one of the four municipalities in China, in around 2 hours for 92 yuan. And the difference is truly a tale of two cities.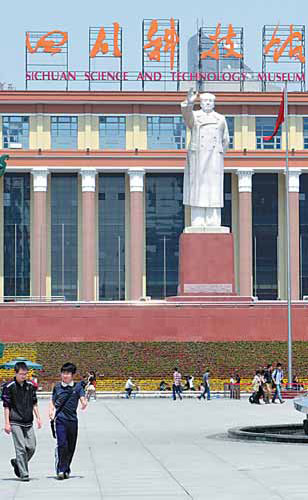 An enormous statue of late Chairman Mao Zedong looks over Tianfu Square.
Chongqing is called also Mountain City. It was once, and may still be, the fastest growing metropolis on the planet.
The streets of the city seem to zigzag everywhere with stone stairs leading to modern shopping malls in a city that looks and feels prosperous, rich in history and adorned by skyscrapers in every direction.
Cranes and scaffolding dot the skyline as far as the eye can see, as do rows of newly completed apartment buildings that overlook the small boats and cruise ships ferrying tourists along the Jialing and Yangtze rivers.
Cargo vessels carrying coal, building materials and raw minerals once provided the majority of traffic plying the river. Now, the most important inland port in China is the final stop for many luxury cruise ships.
There has always been a healthy inter-city rivalry running between Chengdu and Chongqing, not least over which has the best hotpot.
The other crown that is also long been contested is which of the two cities boasts the best-looking people in China. Both cities clearly have beauty, but as it is always in the eye of the beholder, take a trip and decide for yourself.
Contact the writer at leehannon@chinadaily.com.cn.
IF YOU GO
·By air
From in China: Air China, China Southern, China Eastern, Shenzhen Airlines and Sichuan Airlines all offer direct flights for around 2,000 yuan ($320). There are also direct flights from many cities from in China to Chongqing.
From Europe: British Airways will offer a non-stop service from London to Chengdu three times a week from Sept 22.
·By train
Trains to Chengdu are available from Beijing and Shanghai for less than 1,000 yuan buttravel time can be anywhere from 15 to 30 hours.
From Chengdu to Chongqing: High-speed trains run every couple of hours; it is best to book the day before. Price:92 yuan.
·Stay
Shanggri-La Hotel, 9 Binjiang East Road, Chengdu
028-8888-9999
WWW.shangri-la.com
(China Daily 02/24/2013 page16)