Gadgets that help with weight management
Updated: 2013-01-20 07:59
(The New York Times)
| | | | | | | | | |
| --- | --- | --- | --- | --- | --- | --- | --- | --- |
|   | | Print | | Mail | | Large Medium  Small | 分享按钮 | 0 |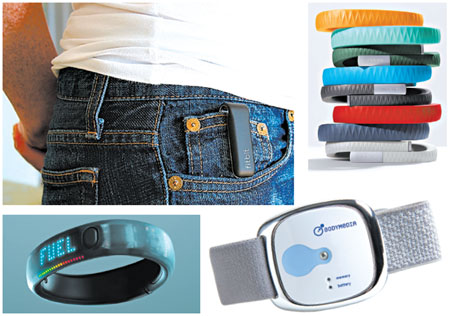 Wearable devices that track the amount of exercise a person is getting include, clockwise from top left, the Fitbit One pedometer; Up bands by Jawbone; FIT wireless band by BodyMedia; and FuelBand by Nike.
When I received the results of a routine cholesterol test this summer, I was certain there had been some kind of mistake. I'm young and healthy, or so I imagined. I work out, too, and most people would describe me as lean. Plus, I eat a nutritious diet. So why did my levels of low-density lipoprotein (also known as the "bad" kind of cholesterol) surpass my I.Q. - or, for that matter, Einstein's?
The facts were stark: My genes predisposed me to metabolic syndrome, my doctor told me. Like my forebears, I was on a fast path to heart disease and diabetes. My doctor ordered me to reduce my intake of carbohydrates and come up with a more stringent exercise plan. I've rarely monitored what I eat and how much exercise I get. I had no idea how to go about the logistics of it.
Of course, there are apps for that. I set out to scour the market for devices and programs to help me. I found two kinds of technologies: fitness trackers to monitor physical activity, and apps to track diet. While I found a few to be quite helpful, they were all just short of fantastic.
I tried four high-end fitness gadgets: Nike's FuelBand ($149), the Fitbit One ($99.95), Jawbone's Up ($129.99) and the BodyMedia FIT wireless armband ($149). I also threw in a pedometer, the Omron HJ-720ITC, which I found for $31 at many stores online.
All of these devices work in a similar way. You attach them to yourself (the FuelBand and Up fit around your wrist, the FIT goes around your upper arm, and the Fitbit and Omron pedometer can be placed in a pocket or clipped to your belt). As you move, the devices measure your activity. Each device had major drawbacks. The Up and the FuelBand did not fit well around my wrist. They tapped against my desk while I typed, and they slid about uncomfortably at other times. (They are both water-resistant.) BodyMedia's FIT is about the size of a man's large wristwatch. Positioned against the skin around the upper arm, it is ungainly.
The pedometer and the Fitbit were easier to handle; I hardly noticed them crammed in my pocket. But because they are not wearable, I often forgot them on my bedside table.
Still, among these vast offerings, I found the Fitbit and the cheap Omron to be best. The Fitbit is an unobtrusive slab of plastic about the size of a USB thumb drive. Its software - which is available for Macs and Windows P.C.'s, as well as iOS and Android devices - is simple to learn and offers plenty of graphs and statistics to track your progress. The most useful is a graph of your activity over the course of the day: you can see how many calories you burned and alter your behavior accordingly.
(I was a big fan of Jawbone's Up software, too, but I ultimately found it too limited: It works only on Apple's iOS devices; the company has not yet made versions for P.C.'s or Android devices.)
The best thing about the Fitbit is its wireless syncing capability. It comes with a receiver that plugs into your computer's USB port; whenever your Fitbit is near your machine, it transfers the data, no docking required. It also syncs to your phone over Bluetooth.
The Omron, by comparison, does not do wireless syncing, and its optional software is pretty basic. But paucity is its beauty. Just turn it on and leave it in your pocket. At the end of the day, it shows a single statistic: how many steps you have walked. The Omron does not promise the world, but it delivers enough information to keep you healthy.
All of these devices made it easy to track my activity, but were of little help in monitoring my diet. The Up, Fitbit and BodyMedia FIT include food-logging options in their software, but I found them all to be a little slow. The problem with tracking food is that you eat a lot of it, so you need something that will make quick work of adding the many items you have consumed throughout the day.
I tried a few programs that promised to be savvy, including FitDay and Lose It! But one ranked far above the rest: My Fitness Pal, a free calorie-counting app that runs on the Web as well as iOS devices, Androids, the BlackBerry and Windows Phone. My Fitness Pal let me add many foods at a time, and remembered my most frequent consumables so that I could add them with a tap.
But My Fitness Pal's best feature is its database. I found it almost creepily comprehensive. It had information on pretty much anything you could ever buy in a grocery and even many restaurants. If it does not have an item, My Fitness Pal allows you to enter your own recipe; for example, you can type in the ingredients of your mom's apple pie, and it will figure out how many centimeters a slice will add to your waist.
Combine all these features and you get an app that makes dieting less onerous. With My Fitness Pal, I am able to log a day's meals in just a minute or two.
For now, tracking your diet with My Fitness Pal is the next best thing to eating any old thing you want.
The New York Times
(China Daily 01/20/2013 page11)