Truffles dwindle, and prices soar
Updated: 2013-01-06 11:58
By David Jolly(
The New York Times
)
| | | | | | | | | |
| --- | --- | --- | --- | --- | --- | --- | --- | --- |
|   | | Print | | Mail | | Large Medium  Small | 分享按钮 | 0 |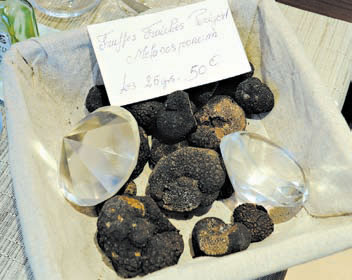 Black truffles, or "black diamonds," living up to their nickname, sell for about 2,000 euros per kilogram at Truffes Folies in Paris. Agnes Dherbeys for The International Herald Tribune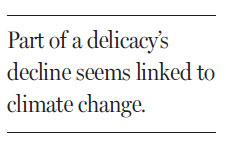 PARIS - Just about everything in Eduardo Manzanares's shop, Truffes Folies, is made with truffles. Sausage, cheese, spaghetti - even popcorn.
But during the year-end holidays, the main order of business is fresh truffles, especially the black or Perigord truffle, Tuber melanosporum. The prized mushrooms are used to stuff Christmas turkeys, chickens or capons, Mr. Manzanares said, making December 24 typically the biggest truffle-eating night of the year in France.
But it is also becoming an increasingly expensive tradition. Black truffles and other types of truffles are becoming scarcer, and some scientists say it is because of the effects of global climate change on the fungus's Mediterranean habitat. One wholesaler says prices have risen tenfold over the last dozen years. "This hasn't been a great year for truffles," Mr. Manzanares said.
At Truffes Folies, in the chic Seventh Arrondissement of Paris, black truffles are selling for about $2,600 a kilogram, or about 2,000 euros - living up to their traditional nickname, "black diamonds." Even a single black truffle can easily cost 100 euros.
He said some customers had switched to lesser varieties like the summer truffle, Tuber aestivum, also known as the Burgundy truffle, which sells for about 400 euros a kilogram when in season. The current substitute is more likely to be the winter truffle, Tuber brumale, which sells for about 900 euros a kilogram.
Like fine wine, truffles are a global luxury with an appeal to the wealthy that keeps prices high even with Europe in recession. Stanley Ho, the Macau billionaire, paid $330,000 at a charity auction in 2010 for nearly 1.3 kilograms of Italian white truffles, a variety more treasured than even the black truffle.
There are various reasons for a decline over decades in the harvest of black truffles from southern France, Spain and Italy, including shrinking forests and changes in land use. In France alone, the annual black truffle harvest has fallen from about 900 metric tons in the 1930s to about 45 metric tons.
The painstaking nature of truffle gathering also adds to the cost. Despite gradual improvement in cultivation techniques,the subterranean fungi are still sniffed out by trained dogs and then carefully dug by hand from the tangle of tree roots in which they grow.
But now, a team of scientists writing in the British journal Nature says that part of that decline appears to be linked to climate change. They found that the French and Spanish black truffle harvest correlated closely with summer rains, and that the truffle habitat had suffered over the last few decades from hotter summers and less precipitation. That trend is expected to continue, according to most climate models.
The scientists said the exact reason hotter, drier summers should reduce yields was unknown, but it may be that the fungus and its host trees, mostly oaks and hazelnuts, end up competing for water when rainfall is scarce. "If we know the reason, maybe we can adapt and compensate," said Ulf Buntgen, the paleoclimatologist who led the study.
Back in his shop, Mr.Manzanares reflected on his decades in the truffle business. "Twenty years ago, people bought a lot more because it wasn't nearly so expensive," he said. "Today it really is a luxury product."
The New York Times
(China Daily 01/06/2013 page11)