A Hollywood out of touch
Updated: 2012-12-02 07:59
By Anita Patil(The New York Times)
| | | | | | | | | |
| --- | --- | --- | --- | --- | --- | --- | --- | --- |
|   | | Print | | Mail | | Large Medium  Small | 分享按钮 | 0 |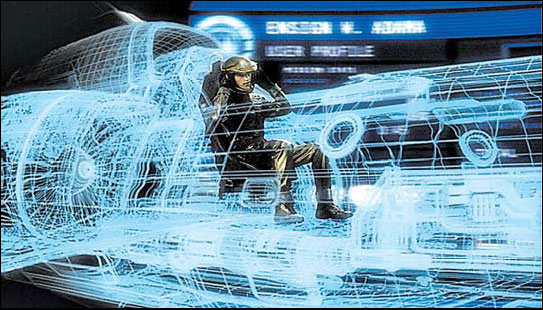 Machinima Prime, which features series like "Battlestar Galactica: Blood and Chrome," was YouTube's number-one destination in November. Machinima Network
Hollywood and its celebrities may not be too big to fail. They may just be too big, especially when viewers are shifting toward smaller screens and niche shows.
As movie ticket sales decline and viewers increasingly turn to viewing content on phones and laptops, Hollywood is in danger of becoming culturally irrelevant. The prospect that a film will embed itself into the consciousness of the public like "Gone With the Wind" or the "Godfather" series did "seems greatly diminished in an era when content is consumed in thinner slices," wrote The Times's Michael Cieply.
Films like "The Master" or "Argo" struggle to match the audience for just a single hit episode of television shows like "The Walking Dead" or "Glee." Series like "The Wire," "Mad Men" and "The Sopranos" proved that there was a global market for intelligently made television, reported The International Herald Tribune. Budgets increased, attracting more talented directors and actors like Al Pacino and Claire Danes.

Not only have the story lines on television become more sophisticated, but so have their opening sequences. The beginning titles of cable shows like "Game of Thrones," with its animated kingdom maps, and "The Borgias," with blood seeping across scenes in Renaissance paintings, have all the grandeur and technological hallmarks of Hollywood.
But who needs the big screen or the flatscreen? YouTube has been increasing its original channels - highly produced videos that it finances - to lure TV viewers and advertisers by catering to niche interests like health, politics and video games. In October, Google, which owns YouTube, announced that it was adding more than 50 original channels to the 100 it introduced in the last year and expanding them to France, Germany and Britain.
"I believe that every interest will, at some point, have a channel serving that interest," Robert Kyncl, global head of content at YouTube, told The Times. The top 25 original channels average more than a million views a week.
Machinima Prime, a YouTube channel that caters to young men who are part of gaming culture, ranked as YouTube's number-one destination in November, reported The Times. Its live-action series, "Halo 4: Forward Unto Dawn," has been viewed about 27 million times.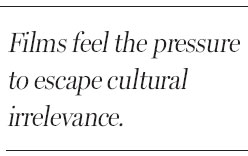 "College kids may not be bringing TVs to their dorm rooms anymore, but Machinima, because it has smartly built itself around YouTube, is right there on their laptops," Matt Britton of MRY, a New York marketing firm, told The Times.
So what's a Hollywood celebrity to do? Some are realizing they need to turn to social media to regain their power. Actors like Charlize Theron and Hugh Jackman are using a start-up called theAudience. For a fee starting at $5,000 a month, theAudience manages the social media presence of actors and musicians. It builds a network of fans across Facebook, Twitter, YouTube and Google Plus, and constantly posts photos, comments and videos. "It's a smart way to talk to my fans directly and in a bespoke manner," Russell Brand, the British comedian, told The Times.
And that's what Hollywood has been trying to do. As the critic David Denby told The Times about movie studios: "If they don't build their own future, they're digging their own graves."
For comments, write to nytweekly@nytimes.com.
(China Daily 12/02/2012 page9)