Vesuvius site is a model for others
Updated: 2012-11-25 07:57
By Elisabetta Povoledo(The New York Times)
| | | | | | | | | |
| --- | --- | --- | --- | --- | --- | --- | --- | --- |
|   | | Print | | Mail | | Large Medium  Small | 分享按钮 | 0 |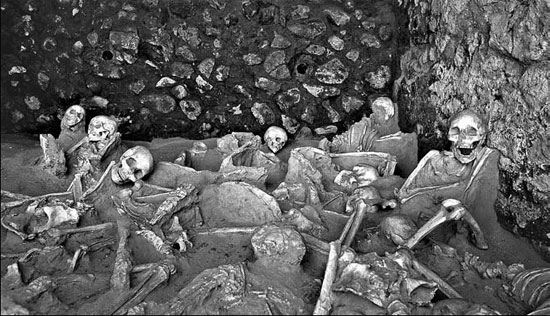 A public-private venture has been successful in preserving a city destroyed in the eruption of Mount Vesuvius. A boathouse where citizens had hoped to be rescued. Photographs by Gianni Cipriano for The New York Times
HERCULANEUM, Italy - They are poignant snapshots of sudden death: huddled clusters of skeletal remains in what were once beachfront warehouses, immortalized for eternity when Mount Vesuvius smothered this ancient Roman town in A.D. 79.
"They died of thermal shock as they were waiting to be saved via the sea," Domenico Camardo, an archaeologist, said recently.
First excavated some 30 years ago, the warehouses were recently outfitted with walkways to provide access to these chilling tableaus and will soon be open to the public on special occasions.
Reviving history for a modern audience "is one of the beautiful things we get to do," said Mr. Camardo, the lead archaeologist with the Herculaneum Conservation Project, a joint initiative of the Packard Humanities Institute, of Los Altos, California; the local artistic heritage authority; and the British School at Rome. The project, a public-private venture, has effectively managed the site for more than a decade.
Compared with its better-known Vesuvian neighbor, Pompeii, where local officials, constrained by inadequate and mismanaged government funds, have long struggled to conserve and protect the sprawling open-air site, Herculaneum has become a textbook case of successful archaeological conservation.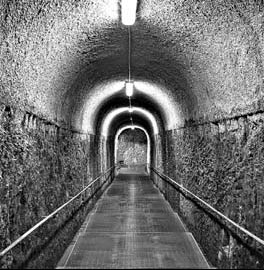 The "invisible work" at Herculaneum focuses on structural elements. A tunnel under the city.
For many years archaeologists and conservators have undertaken what they describe as "invisible work" here, like installing cost-effective protective roofing or reactivating the Roman sewers so buildings can once again drain rainwater. Rather than focusing on a set of frescoes, say, "we've been reasoning on broader terms," Mr. Camardo said.
In addition to time, the work also took the generosity of the American philanthropist David W. Packard, son of one of the founders of Hewlett-Packard, who has funneled more than $20 million into the project over the past 12 years, creating a team of specialists, nearly all Italian, to reinforce the local staff.
Maria Paola Guidobaldi, the Culture Ministry official who is director of the site, said the support of the Packard Humanities Institute "allowed us to save the site." The Italian government allocates some $4 million a year to Herculaneum, she said, but the Packard funds have permitted conservators to work in a more structured manner.
Crumbling walls and other mishaps at Pompeii have put its preservation problems under an unflattering spotlight. In 2011 the European Union allocated $135 million over four years toward the safeguarding of Pompeii, but experts say the problems go beyond a lack of funds and include issues of management and bureaucratic inertia.
Unesco is studying how Herculaneum could be a model for other World Heritage Sites, particularly in Mediterranean and Arab countries.
For visitors the experience made possible by Herculaneum's conservation can be visceral. "Pompeii is spectacular; Herculaneum more real," said Judy Lawrence of England, who visited both sites this summer. "This place makes you cry."
The New York Times
(China Daily 11/25/2012 page12)