A love palace caters to the canine set
Updated: 2012-11-18 07:59
By Simon Romero(The New York Times)
| | | | | | | | | |
| --- | --- | --- | --- | --- | --- | --- | --- | --- |
|   | | Print | | Mail | | Large Medium  Small | 分享按钮 | 0 |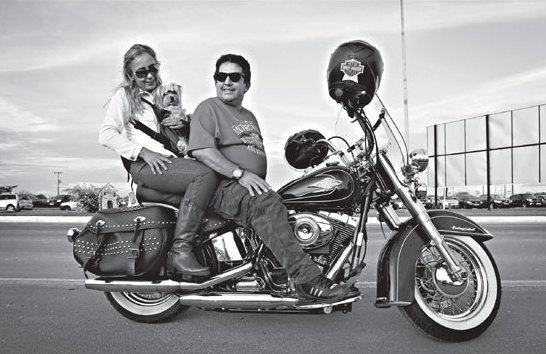 A lavish motel in Belo Horizonte, Motel Pet, is a place for dogs to breed. Harley, a Yorkshire terrier, visited Animalle Mundo Pet, a complex that includes the motel and shops, with his owners, Mauricio and Andreia Kfoury. Photographs by Lalo De Almeida for The New York Times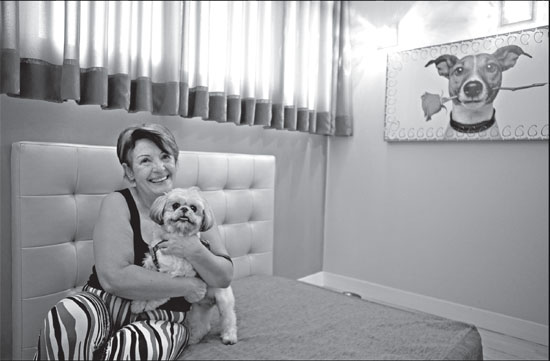 Teresa Cristina Carvalho, with her Shih Tzu, Mel, toured a megastore for pets in Belo Horizonte.
BELO HORIZONTE, Brazil - The establishment that opened here this year has features that demanding clients expect from a love motel. Brazil, after all, is a world leader in these short-stay pleasure palaces, which beckon couples for trysts away from prying eyes.
But Belo Horizonte's newest love motel stands apart from the crowd in one crucial aspect. It is for dogs.
Animalle Mundo Pet, an eight-story enterprise in an upscale district in this city of 2.4 million people, introduced the dog motel alongside aisles featuring items like beef-flavored Dog Beer (nonalcoholic), a dog spa with a Japanese soaking tub, and canine apparel.
"I adore the romantic feel of this place," said Andreia Kfoury, 43, a manager at a technology company who peeked inside the motel, Motel Pet, with her husband and their Yorkshire terrier, Harley.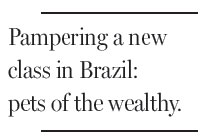 "I'm definitely bringing Harley back here when it's time for him to breed," a smiling Ms. Kfoury said. "He is very macho, and would be a hit in this place."
Whether dogs like Harley actually need a romantic curtained-off suite to breed seems beside the point. Some dog owners simply like the concept of a love motel and are willing to pay about $50 for each session. If it does not work out as planned, some are prepared to pay even more for artificial insemination, another of Animalle's services.
The beehivelike atmosphere at the pet megastore, which employs a staff of 35 (not counting the veterinarians on call), points not only to Brazil's surging pet dog population, now about 36 million, but also to changes in society after years of economic growth and shifting demographic patterns. Similar stores thrive in other cities; in Sao Paulo, a public hospital for dogs and cats has been opened; and some plastic surgeons provide Botox injections for dogs.
Since an economic stabilization program was put into effect in the 1990s, per capita income has risen in Brazil, to about $10,700 a year, according to the World Bank, allowing people to spend more on pets. Families have gotten smaller, according to government statistics, giving pets new importance in many homes. And life expectancy has climbed to 73, from 67, adding to the years people may turn to pets as companions.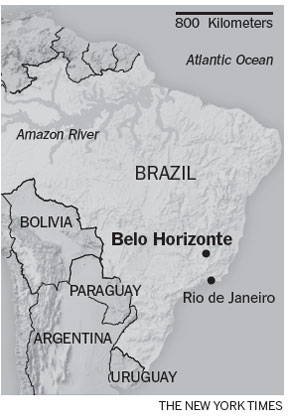 The emergence of a middle-class Brazil has led to a rapid growth in services for dogs. Brazil is at the top in per capita ownership of dogs weighing nine kilograms or less, with nearly 20 million, said Euromonitor, a market research company.
"I was tired of practicing law and saw that the dog market was taking off," said Daniela Guimaraes Loures, 28, a Dalmatian owner who invested $1 million with her brother to open Animalle in July. Referring to figures published in Brazilian trade magazines like Pet Business, she said pet shops in the country generate more than $6 billion in total annual revenue.
The siblings now offer lodging for dogs and cats, a pet taxi, a dog cafe selling beef-flavored muffins, and a store selling specialty products like Chic Animale, a $40 perfume for dogs that is produced in Porto Alegre, a city in southern Brazil.
Juliana Lima, 24, a psychology student who works at Animalle grooming and bathing dogs, said that demand for the dog motel was robust, even though it was not yet clear whether any of the coupling sessions were set to produce offspring.
"This is a new thing," she said.
The dog owners filing into Animalle often cannot resist gawking behind the blinds of Motel Pet. "The ambience here is lovely," said Teresa Cristina Carvalho, who showed her Shih Tzu puppy, named Mel, the accommodations. "We'll return when Mel is in heat," she said, adding that in the meantime she would buy her puppy a bottle of Dog Beer.
"Mel gets agitated with so much stimulation, and needs to relax a bit," Ms. Carvalho said. "Come to think of it, I need some peace and quiet as well."
The New York Times
(China Daily 11/18/2012 page10)