Floor rugs deliver warmth underfoot
Updated: 2012-10-21 08:02
By Associated Press (China Daily)
| | | | | | | | | |
| --- | --- | --- | --- | --- | --- | --- | --- | --- |
|   | | Print | | Mail | | Large Medium  Small | 分享按钮 | 0 |
If you were the artistic wife of a sailor back in 17th-century France, you didn't let modest means deter you from decorating your home in style.
You transformed your husband's old sails into beautifully painted floor coverings that rivaled those in wealthy homes. British sailors started bringing them back as souvenirs, and a fad with impressive reach and longevity was born.
The heavy canvases - called "oilcloths" in Britain and "floor rugs" when the art came to North America - would be painted with simple or elaborate designs depending on the skill level of the artists and the financial status of homeowners.
The term "oilcloth" probably refers to the oil-based paints and linseed oil coatings applied to the canvases.
Waterproof, insect-resistant and sturdy, floor rugs became just as popular in American homes. Thomas Jefferson, George Washington and John Adams had floor rugs in their homes; you can still see one at Mount Vernon - a solid green, as Washington sought to simulate the grass outdoors inside.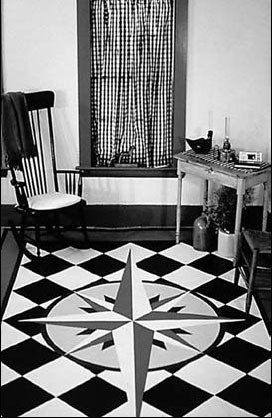 A mariner's compass floor rug made by Lisa Mair. Provided to China Daily
Near the start of the 20th century, the advent of mass-produced linoleum sent labor-intensive floor rugs out of style, but in the '60s and again more recently, artists have rediscovered the craft.
Julie Biggs of Pickerington, Ohio, paints hers with contemporary designs like polka dots or naif flowers in hues of pink, turquoise, yellow and charcoal gray. A green polka dot rug would look fresh and young in a child's room.
She's playing with other ideas, too.
"My favorite technique right now is a layered, worn look, which includes several layers of designs on one floor rug," Biggs says. "Once I'm finished painting each layer, I sand off some of the top to let the sub-layers peek through. It gives the floor rug a warm, loved look that's very charming. Recently, I've been inspired by the colors and designs of modern fabrics and quilts."
Weathersfield, Vermont-based Lisa Curry Mair crafts her rugs in a 200-year-old farmhouse adorned with many of her creations. She brings a love of history, children's book illustrations and mathematics to her designs.
A mariner's compass, an artichoke and a woven, cane-like pattern are among her best-sellers, and she does custom designs.
The hardest thing to get across, she says, is how durable the pieces are, and that's largely due to the number of "hobby" crafters producing inferior product.
"They use lightweight canvas, cheap paint and finishes. A floor rug in a high-traffic kitchen should stand up to dogs, kids and all kinds of abuse," Mair says.
A good heavy floor rug should lie flat with no bumps or ripples, she says. "When I make floor rugs for museums, they must stand up to 30,000 visitors a year walking on them."
Lucia Blum of Wilmington, North Carolina, gives rugs a folk-art look. "Cat Nap" features a black-and-white cat surrounded by the stuff of cat dreams: goldfish, birds and mice. "Bunny" romps on a green field circled by carrots and radishes.
Artist Faith Wilson, who showed at this summer's American Craft Exposition in Evanston, Illinois, takes a painterly approach to her often haunting, evocative canvases. Gingko leaves, conifers and little black birds inhabit softly hued, sepia-washed backgrounds.
If you're interested in trying your hand at the floor rug craft yourself, HGTV's website offers instructions. Mair's website has a how-to video plus a supplies shop.
(China Daily 10/21/2012 page13)