Sporting Rum
Updated: 2012-10-14 07:48
By Dan Shaw(China Daily)
| | | | | | | | | |
| --- | --- | --- | --- | --- | --- | --- | --- | --- |
|   | | Print | | Mail | | Large Medium  Small | 分享按钮 | 0 |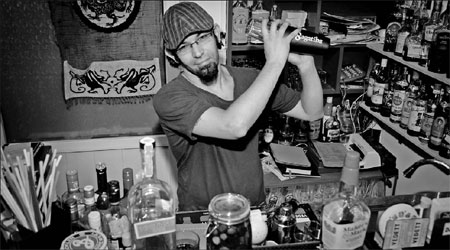 Ask Badr Benjelloun what's shakin' at his bar, and he'll tell you all about his favorite spirit. Photos by Kuang Linhua / for China Daily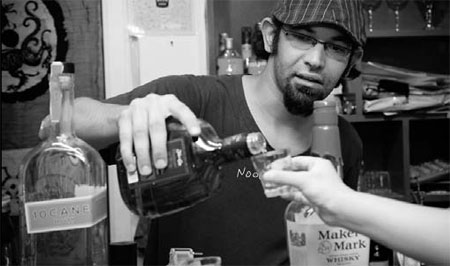 Try it, you'll like it, the bar man says of a particularly good rum.
A lifelong passion for sports - and a recent fascination with distilled sugar cane - energize a young Moroccan in Beijing. Dan Shaw discovers.
Badr Benjelloun is not the sort of person who goes to great lengths to keep his hobbies and interests private.
Those who want to know what the 34-year-old Moroccan likes to do in his spare time should visit the sports bar he opened about a month and a half ago.
Inside Cuju Beijing, they will find a collection of things attesting to two of Benjelloun's great loves in life: sports and rum. The bar's name itself refers to football in ancient China, the various modern varieties of which are frequently shown on Cuju's two flatscreen TVs.
For people who don't like sports, there is the rum, about 70 varieties of it. Amazingly enough, Benjelloun was even able to find one that is "made in China". He stumbled upon a type from Yunnan province while searching the Internet for a brand that he could use to add variety to his shelves.
He says he amassed the collection to fill a void he had noticed in the Beijing bar scene. The city's watering holes, he says, can now be counted on to offer a respectable selection of beers and whiskeys. The choice, though, is much slimmer among rums, which are not traditionally drunk in Morocco and which Benjelloun only acquired a taste for when he was living in the United States.
"I'm sourcing it from all over China," he says. "Other people import it. Just tracking them down is our biggest problem."
Benjelloun expresses his interests more broadly with beijingdaze.com, the blog that he created, with the aid of a small stable of contributors. Focused on underground music and food in Beijing, the site has been active since late 2008, about two years after he moved to the city.
As time went by, music came to be the page's dominant topic, prompting him to move his discussions of culinary matters to another blog, the noodlediaries.com. Patrons of Cuju can also taste for themselves what he considers to be good food: He recently began serving Moroccan snacks every day and full meals are on the menu on Sundays.
So why come to China to pursue this particular mix of interests, none of which tends to be associated with his new country? As is the case for many expats, Benjelloun's path to China was circuitous. He moved to the United States in 1996 to go to college, first studying chemical engineering in Toledo, Ohio, and then transferring to Florida State University in Tallahassee, where he obtained a degree in finance.
Still in the US, he began working in the information technology industry, an experience that would prove useful later. The money he uses to pursue his many hobbies now mostly comes from his job as chief technology officer for True Run Media, the publisher of The Beijinger and similar magazines.
A move to Atlanta brought an opportunity to work in the bar and restaurant industry, another experience that was to bear fruit in China.
He lived in the US for several more years before concluding, "It was time to go." So he gathered his belongings and went back to Morocco for a while but found little there to interest him. Asia next struck him as the place to find adventure.
His first trip to China came in 2004, when he was working on a university exchange program that ultimately came to nothing. So he began some business networking and become involved in various projects, including a language boot camp that drilled participants in the fundamentals of Mandarin Chinese.
At one point, in 2009, he became so busy that he contemplated giving it all up and moving elsewhere. Instead, he quit his job and traveled the country.
"I roamed around the northern side of Liaoning [province], taking buses to strange hole-in-the-wall villages, islands and meeting locals again," he says. "That trip did wonders and helped me decide to stay."
One of many things keeping him in Beijing is his impression that musicians here are not as tied to a particular genre of music as they are in other places. Musicians here, he says, seem as free as possible from the preconceived notions that constrain their counterparts elsewhere. So they can make music more or less as they see fit.
"From one perspective, people might say 'this is a metal band', 'this is a hard-rock band', 'this is a progressive band'. Here it is not uncommon to see a guy playing drums in a metal band one day and singing in a ska band the next day," he says.
"They don't have the self-imposed restraints that Western musicians tend to have."
Contact the writer at sundayed@chinadaily.com.cn.
(China Daily 10/14/2012 page5)