Haute herbs experience
Updated: 2012-09-23 08:02
By Fan Zhen and C.J. Henderson (China Daily)
| | | | | | | | | |
| --- | --- | --- | --- | --- | --- | --- | --- | --- |
|   | | Print | | Mail | | Large Medium  Small | 分享按钮 | 0 |

Left: Water chestnut cake with Chinese wolfberries. Right: Steamed chicken with danggui, ginseng, cordyceps and brown mushroom. Photos by Fan Zhen / China Daily
It is a bold chef who dares to add unfamiliar ingredients to a whole season's menu, but the experiment seems to have brought the dining experience up a notch. Fan Zhen and C.J. Henderson look at Huang Ting's new herbal menu from two perspectives.
Great traditions never die. Connoisseurs will always savor, harbor and reinvent, just like Chef Xu Chiping of the Peninsula Hotel in Beijing. In his autumn menu, the chef attempts to realize his long-cherished dream of using Chinese medicinal herbs in haute cuisine.
And he has done it.
On a cool autumn night when we arrived at the restaurant, we were greeted at the entrance by a vintage Chinese medicine cabinet with colorful dried herbs in its numerous drawers. That was our first hint of what was to come.
The six-course dinner was delicately presented in bite-sized portions. The herbs used in the dishes were not only shown off in small saucers accompanying each course, but also vividly illustrated in a handmade sepia-toned menu.
Herbs are mostly used as medicine in the northern cities of China, whereas in the south, we use them in dishes, drinks or even snacks.
The southern part of the country has a more humid climate, and people believe that toxins accumulate in the body because of the heat and damp. Herbs are often used in mild doses in meals to cleanse livers, enhance digestion and above all, maintain the inner balance of our bodies.
As a young child, my grandmother never fed me Western medicines because she thought they were far too strong for me. Instead, she picked yuxingcao (Herba houttuyniae) from our backyard, and boiled the pulp.
That was my cough syrup. She also fed me the herbs, using them in a salad with sweet peppers, seasoned with aged vinegar and crushed garlic. My throat always felt better immediately, and my appetite certainly improved.
The appetizer at Huang Ting set me off on a journey of rediscovery.
The flavor of the Chinese red dates or jujubes was enhanced by a slow-simmered sauce of heshouwu - a common herb in the Chinese pharmacology, and osmanthus flowers - the floral herald of autumn. Topped with fresh lily bulbs, the dates took on delightfully sweet notes from the two fragrant flowers.
Along the way, we were also treated to plump poached scallops simmered in a broth of chuanxiong and baizhi, steamed diced chicken in danggui sauce accentuated by a vegetable "blossom", chewy braised bean curd sticks which sang in chorus with crisped huaishan and lotus seeds. Finally, a jelly dessert dotted with orange wolfberries wrapped up a night of indulgence.
At the end of the meal, we were definitely warmed by both the herbal tonics and the cozy ambience. We would go away with more lustrous hair, thanks to the heshouwu, stronger kidneys thanks to the huaishan, and better circulation and digestion, thanks to the danggui.
The inspiration for the herbal dinner came to Chef Xu a long time ago, when he was still a novice to cooking. He became fascinated with the concept, and was determined to refine and elevate herbal dishes to haute cuisine, thereby broadening their appeal.
"I left Shanghai with my family for America when I was a kid. But I was always curious about Chinese traditions. The herbal meal is one of the traditions that comes with an interesting history," he says.
More than 5,000 years ago, the legendary Shen Nong, the father of agriculture, was the first to study the healing properties of plants. He also established the theory of yin and yang, which became the foundation of Chinese culture and philosophy. These opposing, yet complimentary forces make up the whole.
So when illness occurs, Chinese doctors believe there is an imbalance in the body. Food can then play a role in correcting and maintaining this balance.
"The herbs we use are very mild, not like 'real medicine'," the chef says. "They don't have a strong taste or unpleasant smell. Traditional Chinese herbal cuisine is not only a science but an art. It will definitely be the next culinary trend."
Contact the writer at fanzhen@chinadaily.com.cn.
These are not the sort of herbs we use to flavor dishes in Western cooking. The familiar flavors such as parsley, basil and thyme were all gone, and there was not even the familiarity of chilli, garlic and coriander. In their place were baizhi, ginseng, heshouwu.
This was one dining experience that was like falling through the other side of the herbal world, somewhere unfamiliar and strange, where my taste buds were put through quite a challenge.
Trying to identify different flavors - flavors never before encountered - really gave my palate a workout. It was great to be able to taste an entirely different culinary world. While I would certainly eat here again, I think I'll stick to parsley, sage, and rosemary in my own kitchen.
Huang Ting is artfully decorated in the style of ancient hutong homes, with a specialized tea counter, herbal storage, stone lions, original marble and wooden fixtures, and private rooms off the main dining room for entertaining parties as large as 24.
We are welcomed with cups of babao cha (Eight Treasures Tea) that were sweet, yet thick and grounded and made from eight different ingredients, we were told.
Executive Chef Xu Chiping explains he has used TCM to improve the balance and nutrition of his menu. Any nervousness we felt was assuaged when he said there were no animal parts used, nor was this menu some wild foray into food as medicine.
The whole atmosphere has a feel of authenticity coupled with anticipation: What will these herbal dishes be like? The setting brackets our thoughts on traditional Chinese living and we imagine we are in for something very different.
The six-course tasting menu begins with marinated dates with heshouwu, a herb that is meant to aid digestion. It is a clever way to begin, preparing us for the feast ahead as the following courses tantalize and intrigue our Western taste buds.
The steamed chicken is a textual feast, incorporating crunchy danggui, tart ginseng, cordyceps, soft brown mushrooms, sweet, plump wolfberries (also known as goji berries, an antioxidant-rich super food) and succulent chicken thigh.
One bite of this colorful, multi-layered palate teaser is in itself a completely new experience. Sweet, salty, and both homey and unfamiliar, this dish was a standout. Who knew steamed chicken could be so transformed? Those on a low-fat diet will rejoice.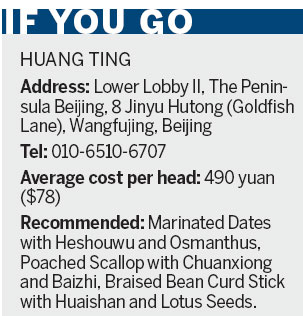 We hear so much about traditional Chinese medicine in the West, but there is little chance to experience it.
Having the opportunity to get to know their flavors, see their shapes, learn where they come from, and hear from Xu about his childhood days of drinking the ghastly (but healthy) herbal soup prepared by his grandmother, was the perfect introduction to Chinese herbal cooking.
For Xu, this new autumn menu is a chance to introduce TCM herbs to both Western and Chinese diners in a holistic but natural way. We don't get the feeling we are eating medicine - instead, we feel energized, refreshed and satisfied at the end of the meal.
Huang Ting's new menu is ambitious, but they have paid a lot of attention to detail, which means their quest for perfection is not an overreach.
And I am not overreaching when I say their mushroom parcels with black truffle are a religious experience. Do not miss them.
Contact the writer at callie@chinadaily.com.cn.
(China Daily 09/23/2012 page14)