'Green' warrior says doing nothing has a cost, too
Updated: 2012-09-16 08:10
By Jonathan Stefonek(China Daily)
| | | | | | | | | |
| --- | --- | --- | --- | --- | --- | --- | --- | --- |
|   | | Print | | Mail | | Large Medium  Small | 分享按钮 | 0 |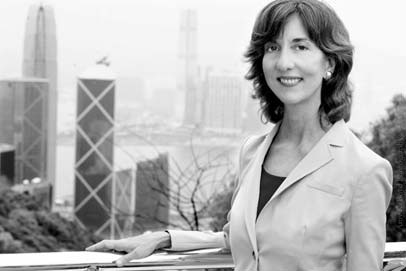 Barbara Finamore is a co-founder of the National Resources Defense Council in China. Provided to China Daily
The green technology sector is a political and financial minefield.
US President Barack Obama is continually blasted over Solyndra, the failed solar panel factory that received substantial government support. The recent suicide of the Zhejiang Chengxing Solar Technology's CEO brought attention to losses in China.
Much of the global economy is limping along at best, and even China's economy slowed to 7.6 percent growth. Under these conditions, the advancement and sustainability of relatively new green industries can easily take a back seat to immediate job creation and other economic incentives.
But despite the setbacks, there are those like Barbara Finamore, whose enthusiasm for the sector is unabated even after more than 20 years of frontline campaigning in the changing environment of China.
"The potential for energy efficiency in Chinese cities and in China's factories is beyond anything that anyone has begun to grapple with," says Finamore, who co-founded the Natural Resources Defense Council in China when she came to the country in 1990 with her diplomat husband.
She cites a 2010 study by the consulting firm McKinsey & Company, "Energy Efficiency: A Compelling Global Resource", which says that given certain steps taken toward efficiency now, the growth of China's energy consumption could be halved, resulting in the country having 25 percent less energy demand in 2020.
The study also found that the main reason for people not buying energy-efficient refrigerators, besides not needing them, is the cost.
But Finamore makes a distinction between energy efficiency and environmental issues.
"On the environment side, it's a mixed bag," she says in her office, high above Beijing's central business district. "I think the Chinese government at the local, provincial, and city level, as well as the central government, recognize that renewable energy can become a strategic industry worldwide, so they can capture a large part of the market share."
But the return on investment in environmental protection is less clear, she says.
"Pollution prevention and cleanup, I think many people still believe that it's a drag to the economy rather than a boost."
A block away at the US Chamber of Commerce, Christopher Marquis of Harvard Business School says environmental concerns, though easy to ignore at first, resurface as long-term health issues that represent a significant economic cost.
But grand ambitions in sustainable development also differ from other historic construction projects in that they can lead those responsible to the brink of financial ruin, and beyond.
"A green building is not the same as building the tallest building," Finamore says. "You have sunk your costs in there, and you have to light it and heat it and so on. If it's a green building, you can fine-tune it as you go along."
In 1996, Finamore went to Chongqing in Southwest China for two reasons: There was a building boom, and Chongqing had become an independent municipality from Sichuan province. She was there to sell the city on the idea of the first green building code. With some difficulty they overcame the hesitancy of local officials.
"They had never heard of a non-profit NGO. They had never heard of sustainable development. We had to start from square one," she says.
The Chongqing building code was later adopted throughout China, particularly in the Yangtze River Basin.
Aldous Wong, vice-president and general manager of Honeywell Building Solutions in North Asia, also believes developers are far more aware now of their environmental responsibilities.
"Increasingly, developers are looking beyond the hardware aspect, and into the software that controls and optimizes the performance of the building," he says.
More significantly, there is top-down pressure, with efficiency and sustainability being priorities of China's 12th Five-Year Plan (2011-15). Additionally, as Chinese companies internationalize, they are exposed to new standards of regulation and transparency.
"What you're seeing with industry moving is China being forced to move more quickly in the direction that it already wants to go," Finamore says.
For China Daily
(China Daily 09/16/2012 page5)