Race master
Updated: 2012-09-09 08:11
By Mike Peters(China Daily)
| | | | | | | | | |
| --- | --- | --- | --- | --- | --- | --- | --- | --- |
|   | | Print | | Mail | | Large Medium  Small | 分享按钮 | 0 |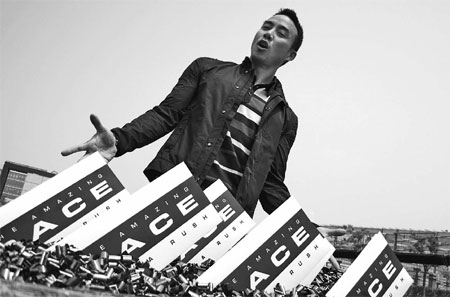 Allan Wu is already looking to next year as the new season of The Amazing Race: China Rush begins broadcasting its third season. Provided to China Daily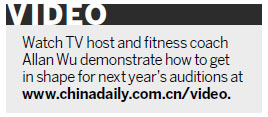 Think you've got what it takes for a dash across China? TV host Allan Wu shares some advice for reality-show wannabes with Mike Peters.
As the third season of The Amazing Race: China Rush hits the TV airwaves this month, Chinese-American host Allan Wu has a message for viewers who want to try out for the show next season: It's just going to get tougher.
"We would definitely like to make the race more demanding and rigorous," the energetic entertainer tells China Daily. Most participants have a sense of what they are getting themselves into because they have seen the show. But "I still have many contestants tell me after the race that it was much more challenging and difficult than they envisioned, which I believe is a good thing."
The new season features 11 fresh teams that set off from the Bund in Shanghai, racing around China and traveling to the most exotic and "off the beaten path" locations. (The second leg of the race: "way up north to the edge of China in Suifenhe, Heilongjiang province, and I couldn't even read the signs in the town," Wu says of the Russian-language storefronts.)
While having to find their own way, competitors face tasks that challenge them mentally, physically and emotionally - until one new champion finally emerges 12 weeks later.
"I've always believed that the best script is not having a script at all because this means anything can happen," Wu says. The season's first surprise has come already: One contestant was eliminated right at the starting line.
"The first challenge required every team to find the symbol for 'one' (in an ancient dictionary)," Wu says on his first website post since broadcasting began last week. "I had the unenviable responsibility of delivering the gut-wrenching news. Sorry, Rob and Jia Jia!"
The show promises viewers will "travel the real China in 576 minutes". That's 12 episodes of 48 minutes each, but Wu says the crew shot up to 100 hours of footage to produce some segments. Getting that down to a watchable installment took a team of editors with as much stamina as the contestants, he says.
The third season held challenges for Wu, too. The veteran model, vee-jay, martial-arts actor and entertainer didn't learn to speak Chinese until he was an adult. After taping at Channel ICS in Shanghai for the English version, he writes on another post, "now I prepare to flex my Mandarin chops for the Chinese version on Dragon TV this afternoon".
So what does it take to succeed on the show - or just get on?
"We generally get a few thousand applicants that audition for each season," says Wu, who previously hosted Amazing Race: Asia and competed on Fear Factor. "We have a lot of die-hard fans that try their luck and submit each season. Also, we have a lot of young fans who tell me how they can't wait to be old enough to apply for the race too."
We asked the certified physical trainer what advice he might have for fans who want to audition for the show next year.
"Stamina is vital to performing well during a race of this magnitude," he says. "So it's good to get out there and get moving with running or jogging. Once you've established a decent foundation, then you can maybe try doing the same thing with a weighted backpack so you are accustomed to being mobile and moving your personal belongings at the same time."
"Finally, you can spend some time trying to operate normally under sleep deprivation," says Wu. "During the race, there's not a lot of sleep to go around, so you need to be accustomed to staying sharp and alert even when you aren't getting enough snooze time."
Successful applicants definitely bring something to the screen that we know will entertain the audience, Wu says. "They generally are outgoing, extroverted, witty, fun, daring, and adventurous. I believe many who apply think that they got the 'right stuff', but we need to take a more objective stance and determine how each prospective team will measure up and compare to their potential peers and competitors."
With the new season "in the can", Wu says for the past several months he's just wrapped up the Adidas King in the Paint China Tour with NBA All-Star Dwight Howard from the Los Angeles Lakers, and then hosted coverage of the Porsche Carrera Cup Asia motorsport race in Malaysia and Singapore.
In Malaysia, he's introducing a brand-new reality show for Channel AXN, and he's in discussions to do a TV drama series in Japan and a film in Singapore.
Before he knows it, he'll be back in Shanghai, where he moved last year with his family.
"We are absolutely loving it!" says the Southern California native, who is thrilled to be getting a better understanding of his cultural roots. "There's an old world charm here in Shanghai coupled with the modern metropolitan vibe of a big city."
Contact the writer at michaelpeters@chinadaily.com.cn.
(China Daily 09/09/2012 page5)