Seeking a simple respite
Updated: 2012-09-02 07:55
By Anita Patil(The New York Times)
| | | | | | | | | |
| --- | --- | --- | --- | --- | --- | --- | --- | --- |
|   | | Print | | Mail | | Large Medium  Small | 分享按钮 | 0 |
Have we peaked at troves of data and complex technology? At too fast and furious? It seems as if we're taking a collective deep breath, stepping back and reassessing our complicated lives.
"We all have this desire to simplify our lives, but we don't know how to do it," Marian Salzman of Euro RSCG Worldwide Public Relations, North America, told The Times. "We envy the time we had just three TV channels to choose from. And we envy the man in the gray flannel suit who knew when work started and ended."

"Simply," "simple" and "simplicity," along with "easy," "honest" and "clear" are the latest marketing buzzwords, reported The Times. Ads for Glaceau Smartwater say "Simplicity is delicious." McDonald's commercials describe "the simple joy of a wholesome breakfast." And Coca-Cola is selling 13 chilled beverages with names beginning with Simply, all billed as "Honestly simple."
The Simply brand is "an easy option for consumers when their lives are so busy and complicated," Allison Higbie, a group director of marketing for the juices and drinks, told The Times.
The iPhone's Siri was conceived to help ease the burden of those busy and complicated lives. The voice-activated digital assistant can set up appointments, send e-mails and texts while you're driving, gently wake you up in the morning and occasionally make sarcastic jokes. But as The Times's Nick Bilton wrote, "She frequently misunderstands what I'm saying. Sometimes she is just unavailable. Often, she responds with the same, repetitive statement."
Gene Munster, a securities analyst at Piper Jaffray, subjected Siri to over 1,600 voice tests and found that she understood requests 89 percent of the time, but was able to answer a question accurately only 68 percent of the time, reported The Times.
Several people told Mr. Bilton that they reverted to the iPhone's simple voice dictation service, which is more reliable because it doesn't use Siri's artificial intelligence software. Perhaps it's easier to rely on your own self.
A bit of human intervention may sometimes outweigh the advantages of complicated innovations. That's what some on Wall Street were considering in the wake of a number of recent trading malfunctions that exposed the risks of rapid and automated trades that leave no time to think.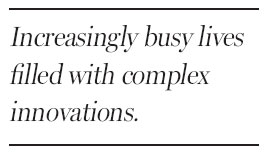 Specialists at the New York Stock Exchange or the market makers in Nasdaq have largely been replaced by high-frequency traders using computers that can buy and sell thousands of shares in nanoseconds.
One of Wall Street's most important trading firms, Knight Capital, recently lost $440 million in 45 minutes after installing faulty software designed to keep up with an evolving market.
"We are all understanding - meaning we, market participants, and most importantly the regulators - are understanding that speed is not always better," Duncan Niederauer, the chief executive of the New York Stock Exchange, told The Times.
Perhaps they should follow the advice of Kristin van Ogtrop, managing editor of Real Simple magazine. "Simplicity is the new luxury," she told The Times. "In a world where everyone's busy and there's a lot of uncertainty, you can't put a price on that."
For comments, write to nytweekly@nytimes.com.
(China Daily 09/02/2012 page9)