Listening to refocus at work
Updated: 2012-08-26 08:00
By Amisha Padnani (The New York Times)
| | | | | | | | | |
| --- | --- | --- | --- | --- | --- | --- | --- | --- |
|   | | Print | | Mail | | Large Medium  Small | 分享按钮 | 0 |
The guy in the next cubicle is yammering on the phone. Across the room, someone curses loudly at a jammed copy machine. Suddenly your headphones look very appealing. Would anyone mind if you tapped into your iTunes playlist?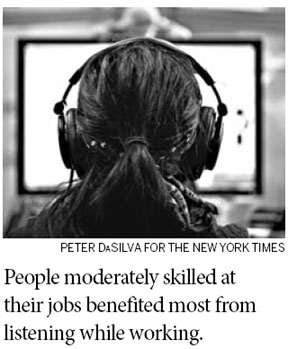 Some workers like to listen to music when they find themselves losing focus.
In biological terms, melodious sounds help encourage the release of dopamine in the reward area of the brain, as would eating a delicacy or smelling a pleasant aroma, said Dr. Amit Sood, a physician with the Mayo Clinic in Rochester, Minnesota.
People's minds tend to wander, "and we know that a wandering mind is unhappy," Dr. Sood said. "Most of that time, we are focusing on the imperfections of life." Music can bring us back to the present moment.
"It breaks you out of just thinking one way," said Teresa Lesiuk, an assistant professor in the music therapy program at the University of Miami.
Dr. Lesiuk's research focuses on how music affects workplace performance. In one study involving information technology specialists, she found that those who listened to music completed their tasks more quickly and came up with better ideas because the music improved their mood.
"When you're stressed, you might make a decision more hastily; you have a very narrow focus of attention," she said. "When you're in a positive mood, you're able to take in more options."
Dr. Lesiuk found that personal choice in music was very important. She allowed participants in her study to select whatever music they liked and to listen as long as they wanted. Those who were moderately skilled at their jobs benefited most, while experts saw little or no effect. Some novices found the music distracting.
Few companies have policies about music listening, said Paul Flaharty, a regional vice president at Robert Half Technology, a staffing agency. But it is still a good idea to check with your manager, even if you see others wearing headphones in the office.
He said some supervisors might think that workers wearing headphones weren't fully engaged and were "going into their own world."
"If someone's not doing a good job," he said, "you can have a hiring manager say that all they do is listen to music all day and that it's hampering productivity."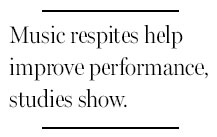 It's best to set limits, because wearing headphones for an entire shift can be seen as rude. Dr. Sood said it takes just 15 minutes to a half-hour of listening time to regain concentration.
Daniel Rubin, a columnist at The Philadelphia Inquirer, said he has listened to jazz and piano concertos for most of his 33-year newspaper career - but only when writing on deadline.
"The person clicking their nails three desks away and the person humming next to me all sound equally loud and it's hard for me to block them out," he said.
He now works mostly alone, and people in the office seldom need to approach him. But when he was a budding reporter, he noticed that colleagues would become irritated when trying to get his attention. "People were screaming at you because they needed you."
The New York Times
(China Daily 08/26/2012 page10)