China week
Updated: 2012-07-22 08:26
(China Daily)
| | | | | | | | | |
| --- | --- | --- | --- | --- | --- | --- | --- | --- |
|   | | Print | | Mail | | Large Medium  Small | 分享按钮 | 0 |
Beijing
House prices rise in major Chinese cities
Twenty-five major Chinese cities saw a rebound in the price of new real estate projects in June, according to a report by the National Bureau of Statistics on Wednesday.
But of the 70 cities monitored by the bureau for real estate trends, 21 saw month-on-month price decreases of new homes in June and another 24 saw little change.
At the same time, 31 cities reported higher prices for established homes in June than in May.
In June, Beijing saw 0.3 percent month-on-month growth and both Shanghai and Guangzhou had 0.2 percent month-on-month growth in the price of new homes. Shenzhen in Guangdong province saw a 0.1 percent month-on-month decrease in this category.
The average price of new homes is still lower than last year, according to Ma Xiaoming, a senior statistician with the bureau.
And more than 80 percent of the surveyed cities reported year-on-year decreases of the average price of new and established homes.
China bans sales of mud snails
The Ministry of Health on Friday issued a ban on the sale of Nassariidae, small mud snails that have reportedly caused people to faint and vomit after eating them.
The snails mostly inhabit the southeastern coastal areas including Zhejiang, Fujian and Guangdong provinces. After eating them, people can feel the snails' poisonous effects within five minutes or up to four hours, according to the notice.
"Summer and autumn are high risk periods for Nassariidae poisoning. Food production and management companies are not allowed to purchase, process or sell these snails, and consumers should raise self-protection awareness and refrain from buying them," said the notice.
The poison, which comes from tetrodotoxin, a toxin usually found in pufferfish, has no known antidote, said the ministry.
Jiangsu
Over 50 aftershocks registered
A total of 53 aftershocks had been detected as of 7:30 am on Saturday after a 4.9-magnitude earthquake jolted East China's city of Yangzhou on Friday night, local officials said.
Most of the aftershocks were of a lower scale, with only four measuring between 3- to 4-magnitude, said Zhang Zhenya, deputy director and spokesman for the Jiangsu provincial earthquake bureau.
Seismic experts predict that a devastating earthquake is unlikely to occur, according to Zhang.
Friday's earthquake hit Yangzhou at 8:11 pm, according to the China Earthquake Networks Center.
The quake left one person dead and another slightly injured as of Saturday noon, Zhang said.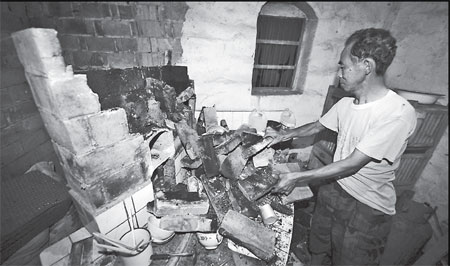 An earthquake victim inspects damage at his shattered home. Jiang Nan / for China Daily
Sichuan
Rain-triggered flood hits major road
A torrential flood triggered by continuous rain has damaged parts of a major road in southwest China's Sichuan province, local authorities said on Saturday.
A 600-meter stretch of National Road 212 was destroyed around 6 am near the city of Guangyuan, halting traffic, said Liu Jiong, an official with the Guangyuan Transportation Bureau.
National Road 212 links Lanzhou, capital of Northwest China's Gansu province, with the municipality of Chongqing in the southwest.
No casualties have been reported so far, but local authorities estimated that the floods have caused direct economic losses of about 19 million yuan ($3 million).
Beijing / Shanghai
New iPad launched in China
The latest iPad made an uneventful launch in China after Apple Inc settled a lawsuit with a local company over ownership of the popular tablet computer's name.
A few dozen customers waited at Apple stores in Beijing and Shanghai on Friday. They were required to order iPads in advance online following a January incident in which people who wanted to buy the latest iPhone threw eggs and shouted at employees after managers canceled the opening of Apple's main Beijing store due to the large size of the crowd.
The Apple stores opened on time on Friday and there were no disruptions.
Apple cleared a potential legal hurdle to the release when it settled a dispute this month with a Chinese company, Proview Technologies, over ownership of the iPad name.
News Watch
Prep work begins on 2nd Beijing airport
A government official said on Friday that preparatory work is under way prior to government approval on the construction of a second airport in Beijing.
"The project to build a new airport in Beijing has not officially been approved by authorities. However, we aim to start construction as soon as possible," said Huang Min, director of the basic industries department under the National Development and Reform Commission, China's top economic planning body.
China Daily - Xinhua - AP
(China Daily 07/22/2012 page2)