Comedic escape for Haiti's masses
Updated: 2012-07-22 06:49
By Alessandra Stanley(The New York Times)
| | | | | | | | | |
| --- | --- | --- | --- | --- | --- | --- | --- | --- |
|   | | Print | | Mail | | Large Medium  Small | 分享按钮 | 0 |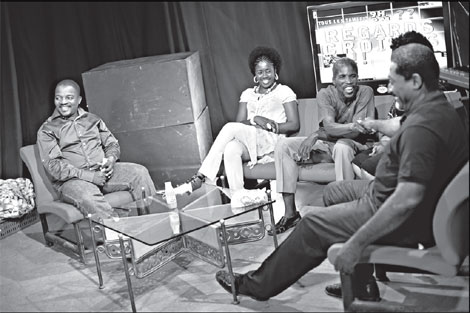 The pull of the show "Regards Croises" reaches beyond TV. Georges Beleck, its producer, with guests and cast members. Andres Martinez Casares for The New York Times
PORT-AU-PRINCE, Haiti - Two and a half years after the earthquake that devastated Haiti, life here can be a struggle.
"I couldn't even get my mom a decent Mother's Day gift," Soraya said, pouting. "Finally, I used my measly allowance and bought her a ticket to Paris. It's nothing special, but I figure it's the thought that counts."
Soraya is a character in a comedy TV show called "Regards Croises." She is a caricature of a certain kind of privileged, airheaded daughter of the elite - a Zuzu. Zuzus are conspicuous in Miami and Paris, but hard to see in the hills of Port-au-Prince, where they shop, go to the gym and party behind high walls topped with bougainvillea and concertina wire, and chatter in Zuzu-speak, an affected whine of Creole, French and English. Every Saturday night Haitians roar with laughter at Soraya's airs.
"Regards Croises," which translates as "Viewpoints," has been on the air a little more than a year and is a hit with middle- and working-class Haitians who live, as people here put it, "down the hill." The show's improvised skits, with their familiar character types - the ill-trained schoolteacher, the mercurial embassy consul - gently spoof Haitian daily life, the class divides and crushing hardships.
Haiti is a poor, aid-dependent country rich in political instability, corruption and disaster. In a spare TV landscape dominated by Mexican telenovelas dubbed into French, and Creole rap videos, the show makes Haitians laugh at their misfortunes and themselves.
But its popularity says much about Haitian class boundaries.
This low-budget program remains largely unknown or disregarded by Haiti's tiny upper class; it is equally overlooked by humanitarian agencies. Foreign aid workers and Haitian TV executives complain that Haitians need meaningful shows made in Haiti for Haitians. But one is already on the air.
In one skit, Sophia Baudin is Consul Sophia, an imperious American Embassy official who finds wildly arbitrary reasons to deny Haitians visas, like bad hair. All comers are rejected until a good-looking, light-skinned man shows up. "I don't need to see your papers," Consul Sophia coos. She gives him a visa.
Like her co-stars, Ms. Baudin gets recognized on the street. "People will shout out, 'That's the woman who denied me a visa,'" she said with a smile. "A lot of people really hate me."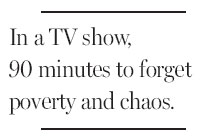 The character resonates for those in line for visas at the American Embassy, where DNA tests are required to verify if they are related to those they claim as family in the United States.
"It is humiliating," said Jessie Paulemon, 36, a social worker. "I know a lot of successful people who have been rejected several times, and there's no criteria."
"Regards Croises" is broadcast on the state-owned channel, Television Nationale d'Haiti. Its reputation has spread without YouTube videos or Internet fan pages. Haitians watch on the street, in barbershops, at beer stands. Those in slums and tent camps watch TV with power siphoned off the city grid.
The host and producer, Georges Beleck, is a playwright who in 1992 founded a theater group, Haitian Comedy Without Borders. "My plays before were dramas, but after the earthquake I switched to comedy," Mr. Beleck said. "People were already crying so much in real life, why should they cry in theaters?"
For the first hour of the 90-minute show, Mr. Beleck interviews writers, singers and politicians, and there is much singing, laughter and interaction with the cast.
At the sparsely furnished apartment of Ernst Clerge, known as Elsie, the family watches on a 102-centimeter set. Ms. Clerge, 39, who cleans offices, lost one son in the earthquake; her other son and four daughters lived in a tent more than a year.
The girls cry at sad parts and laugh, sing and chant back to the television, doing impersonations of the actors' impersonations.
Part of the show's appeal is the actresses: curvy and dark in a society that holds up slim, light-skinned, straight-haired models from the adjacent Dominican Republic as the feminine ideal.
In Villambeta, a sprawling displacement camp, Marie Lourdes Arthur shares her tent with her elderly mother and four adult children. An 81-centimeter TV has pride of place.
Ms. Arthur's daughter Jennifer Septimus, 23, said "Regards Croises" helped her escape her worries. Her favorite character is the unworldly, irrepressible little Stella - the id of Haiti.
"When there is electricity," Ms. Septimus said, "and we can get reception, I never miss it."
The New York Times
(China Daily 07/22/2012 page12)