Craft beer brewer bets on Chinese market
Updated: 2012-07-15 07:48
By Amanda Reiter(China Daily)
| | | | | | | | | |
| --- | --- | --- | --- | --- | --- | --- | --- | --- |
|   | | Print | | Mail | | Large Medium  Small | 分享按钮 | 0 |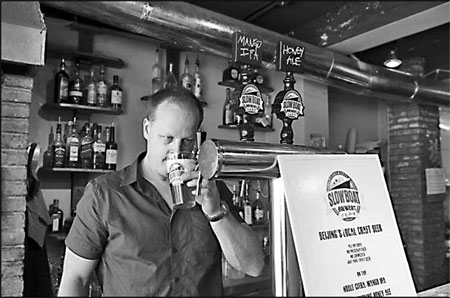 Chandler Jurinka says his goal is to put unique beers in front of China's growing population of microbrew lovers. Feng Yongbin / China Daily
As the temperature rises, so does the number of people whiling away the hours outside pubs, throwing back cold ones. This is what Chandler Jurinka calls "session drinking".
"I like to talk and hang out with people who drink our beer," says the co-founder of Beijing-based Slow Boat Brewery.
Jurinka's sporty tennis shoes and blue jeans are a sign of his laid-back persona, but he fills his days dashing on his motorbike from one restaurant to another, acting as salesman, event planner, teacher and problem-solver.
The 45-year-old Colorado native says the craft beer's ingredients, which are imported from Oregon, bring the flavors of the United States to the Middle Kingdom. Before launching the nearly year-old venture, Jurinka invested most of the previous year in researching beer and beer consumption in China.
He learned that in China, consumers certainly have a taste for beer. The industry is the largest in the world by production volume and beer is the best-selling alcohol product in China, according to both US and Chinese agriculture officials.
The US Department of Agriculture reported that exports of US microbrews to China hit $546,000 in 2010, a record, and overall sales quintupled in five years from $91,000 in 2005.
This is not Jurinka's first time at starting from scratch. Yibian Zhongguo, which means translating around China, was a company Jurinka helped start that provided translated menus for free. The company, bought out nine months after it launched, made money by selling advertisements in the margins.
He has also been involved in the website localnoodles.com, a concept similar to Yelp, where he remains an adviser.
Jurnika says he is drawn to the energy and accomplishment that startups offer.
"If you are creative and strategic about what you're doing, something you thought up yesterday can be applied with some sort of vetting process tomorrow. And if it fails, then you pick yourself up and try something again," Jurinka says.
A five-year military career took Jurnika to Panama, the Philippines and the first Gulf War. As a member of special-operations forces, he was charged with learning a second language, Tagalog, the official language of the Philippines.
"When I got out (of the military), I had already tasted traveling around the world. I scored quite well in languages in the military. So, when I went off to college after the military, language was a natural progression for me."
After receiving the worst grade of his college career for a class in Chinese characters at the University of Colorado, Boulder, he wanted to redeem himself, so he changed his major to Chinese.
He came to Nanjing in 1994 for two semesters to further his studies. He returned to China 10 years later and found Beijing had a certain buzz reminiscent of the 1999 dotcom era in the United States.
"I don't want to say anything was possible, but anything was probable," Jurinka says.
Combining his business sense, understanding of the written and spoken language and a love for beer, Jurinka teamed up with brewmaster Daniel Hebert to bring Slow Boat to China.
Hebert is busy producing seasonal and monthly beers. This summer's offerings from Slow Boat include Act of Grace Wheat, Dragon Boat Summer Ale and Crazy Ivan Cream Ale. The brewery has six beers on offer at any given time, which range in price from 40 yuan ($6) to 55 yuan.
Slow Boat can be found in bars around Beijing and the partners have plans to expand beyond the capital. Jurnicka, meanwhile, savors a situation in which having a cold one is all in a day's work
"My Chinese doctor says, because it's all natural, it's actually good for my skin and my hair. I don't know if there is any merit in that, and I would never claim that, but I drink it," Jurinka says with a smile.
Contact the writer at sundayed@chinadaily.com.cn.
For China Daily
(China Daily 07/15/2012 page5)