Finding privacy on the tell-all Web
Updated: 2012-06-03 07:52
By Christine Digangi (The New York Times)
| | | | | | | | | |
| --- | --- | --- | --- | --- | --- | --- | --- | --- |
|   | | Print | | Mail | | Large Medium  Small | 分享按钮 | 0 |
Big Data takes note when you shop online for lingerie. It registers the inquiries you type into search engines about your weird rash. And apparently, it scoops up your love-letter e-mails when its cars drive by your house (O.K., that was just Google, but you get the idea).
"It was one of the biggest violations of data protection laws that we had ever seen," Johannes Caspar, a German data protection official, told The Times after he forced Google to show him what its Street View cars had been collecting from his fellow citizens. "We were very angry."
The fine print in online privacy policies should not be mistaken as a shield between Internet users and data collectors, and governments across the globe are trying to sort through tangled business interests and citizen security.

In the United States, the Federal Trade Commission monitors whether Internet companies honor their privacy policies about when and where they will share consumers' personal information. But the commission has no power to assess penalties for most violations, The Times reported, and it has little influence over how companies without privacy rules operate.
"In the United States, privacy is a consumer business," Jacob Kohnstamm, chairman of the Dutch Data Protection Authority, told The Times. "In Europe, it is a fundamental rights issue."
At the start of the year, the European Commission proposed a law that would require Internet companies to obtain permission from users about how their personal data can be used, The Times reported. But consumers' insatiable appetite for information complicates data-protection legislation.
"We don't have much choice but to trust Google," Christian Sandvig, a researcher in communications technology and public policy at the University of Illinois, told The Times. "We rely on them for everything."
And the more we rely on Google and Facebook, the more they rely on their customers for their business models, which rely heavily on targeted advertising.
So what are the options?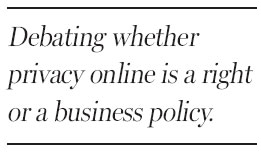 Technology companies are working to establish Do Not Track mechanisms, much like Do Not Call telephone lists.
Jon Leibowitz, chairman of the Federal Trade Commission, has called on the retailing, advertising and technology companies to do more than simply block targeted ads, The Times reported.
"While much work remains to be done on Do Not Track," Mr. Leibowitz told The Times, "the commission believes that the developments to date, coupled with legislative proposals, provide the impetus" toward useful methods of protecting privacy.
And while we all wait for these protective measures to become a reality, our information will continue to be harvested for profit.
Data collection has presented society with a conundrum: embrace the fact that your actions will always be visible, or dedicate tremendous energy to crafting your public image.
Or choose the 21st century version of hermitic life: quit the Internet.
For comments, write to nytweekly@nytimes.com.
(China Daily 06/03/2012 page9)