Putting the fur in furniture
Updated: 2012-05-13 07:49
By Tiffany Tan(China Daily)
| | | | | | | | | |
| --- | --- | --- | --- | --- | --- | --- | --- | --- |
|   | | Print | | Mail | | Large Medium  Small | 分享按钮 | 0 |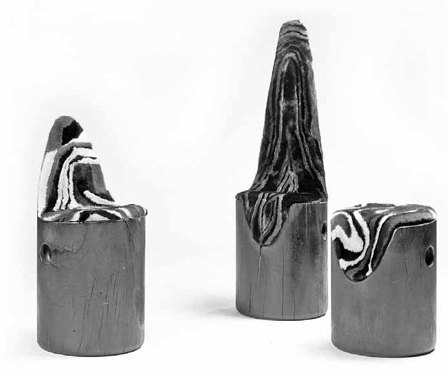 Stools made from zebrawood and mink fur.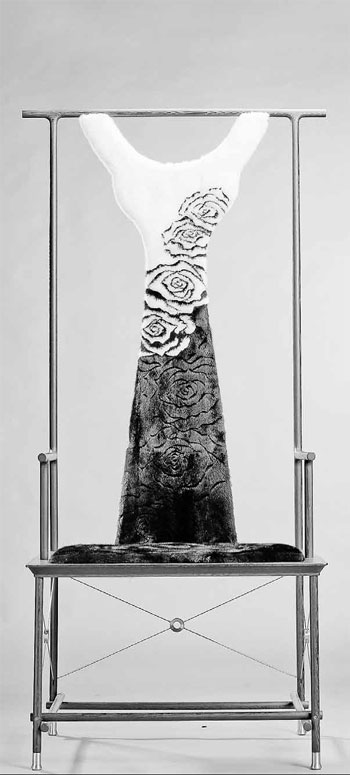 Chair made from wenge wood and mink, inspired by Ming Dynasty official headgear.
Chinese designers have long been attracted to the Nordic elements. Now, it's the furniture makers' turn. Tiffany Tan files this report from Copenhagen.
In his four decades as a furniture craftsman, Zhu Xiaojie has worked with stone, glass, steel, leather, hemp, acrylic, fossil, marble and elastic. But nothing has been as dear to him as wood, especially the striped zebrawood indigenous to West Africa.
Then, two summers ago, Zhu discovered fur.
It was a week into the Shanghai Expo, and the Danish fur supplier Kopenhagen Fur had invited various Chinese designers to the Danish pavilion to discuss how they can use fur in their creations. Among the guests was Zhu, who had designed several sofas and tables for the Chinese pavilion.
"I was surprised when I received this invitation," Zhu, 57, says in a phone interview from his studio in Wenzhou, Zhejiang province. "'What does fur have to do with furniture?' I wondered at that time."
Now he knows quite well.
Using skins from Kopenhagen Fur, the world's largest fur auction house and a major mink supplier, Zhu has created a new line of furniture.
It includes high-backed stools made from zebra wood and mink fur, chairs of wenge wood and mink fur inspired by the headgear of Ming Dynasty (1368-1644) officials, as well as scholar chairs combining steel, seal fur and Swakara (from Namibia's karakul sheep).
The self-taught craftsman, who founded the Wenzhou-based Opal Furniture company in 1994, says fur and wood make an ideal pair since both are natural materials that have contrasting textures. It was a combination he had been seeking but that had eluded him until the Expo meeting.
"It was an unexpected opportunity," Zhu says. "My furniture mainly uses wood, so I wanted to incorporate a soft material ... but I had not been able to identify the right material."
The downside to working with fur is that it apparently requires extra maintenance.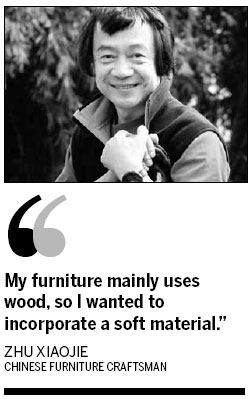 "Insects, damp and dry weather affect it," Zhu says, "especially when it's not being used."
But at the outset, his main concern was ethical: whether or not to use the material.
"I struggled with this issue for a long time, because I knew there were many anti-fur groups around, which regularly staged protests and made criticisms.
"But I'm also a very inquisitive person and am capable of weighing the issue. I asked myself a few questions. I said, Do I wear leather shoes? I do. Do I eat meat? I do. Since I wear leather shoes and eat meat, what more do I have to struggle with?" says Zhu, adding that he was reassured by the conditions he saw at Kopenhagen Fur's fur farms in Denmark.
Zhu is so pleased with his fur projects that he plans to open a fur home-furnishing store in the coming year, somewhere in northern China, where the winters are notoriously frigid.
He couldn't have chosen a better time to expand. As China's upper and middle classes grow, so do their appetites for luxury products - like fur.
"Fur as a design material is a symbol of high quality," says Jiang Li, a professor at the Central Academy of Fine Arts overseeing the university's home-furnishing design studio.
"With good design, focused study and sufficient publicity, [fur] should have a bright future in China," she says.
At Kopenhagen Fur's auction last month - one of four it holds at its Copenhagen headquarters each year - close to 500 of its 700 customers came from China. Mostly fur dealers and manufacturers, they bid on some of the 20 million fur skins the company sells each year.
They help explain why fur and hide sales make up almost a third of Denmark's exports to Hong Kong and the mainland. China buys 84 percent of the fur and hides produced in Denmark, according to the Danish embassy in Beijing.
In an age where there's an emphasis on sustainability, fur suppliers point out that fur is durable, recyclable and biodegradable. In addition, they say, the farmed animals are fed by-products of the fish and meat industries, and their carcasses can be fully utilized as biofuel, fertilizer and the like.
Still, despite strict industry regulations, fur farming remains a controversial subject.
"In general, the debate is less about the environmental sustainability of fur and it is more about the ethical question of humans farming animals for fur production," says Peder Michael Pruzan-Jorgensen, managing director for Europe, Middle East and Africa at the BSR (Business for Social Responsibility), which works with companies to develop sustainable business practices.
Kopenhagen Fur, for one, says live and let live.
"We have the freedom to produce mink, and the consumer has the freedom not to use it, right?" Torben Neilsen, Kopenhagen Fur's CEO, says.
"If you're a fashion company and you dislike fur, it's okay," he says. "As long as they don't try to forbid our production."
Around the corner from Neilsen's building, visitors will find the offices of Oh! The new Kopenhagen Fur brand, launched this spring, is creating fur clothing and accessories for younger people with the aim of developing more fur consumers.
"A lot of young girls would never buy a fur coat, but they might buy a little hat like this, or a little key ring like this, so they get familiar with fur," says Soren Meiling-Nielsen, Oh!'s sales manager, surrounded by evening bags, scarves, wallets, key chains and credit card holders inside a makeshift stock room.
"These here are not so expensive, so also many more people can buy them." The brand will initially be marketed in Europe, North America, South Korea and Japan. In three to four years, it plans to enter China and Russia.
Why the big push to bring fur into more creative fields?
"Prices dropped dramatically in the '80s, beginning of '90s. Prices dropped very, very low because of low demand," says Thomas Andersen, product development manager at Kopenhagen Studio, the company's workshop and creative center.
"We were also focusing on the fur industry, and not the accessory industry, furniture or fashion."
With fur exports to China rising, and Chinese buyers setting the bar at auctions, it's clear why designers like Zhu Xiaojie are becoming the fur industry's new frontier.
Contact the writer at tiffany@chinadaily.com.cn.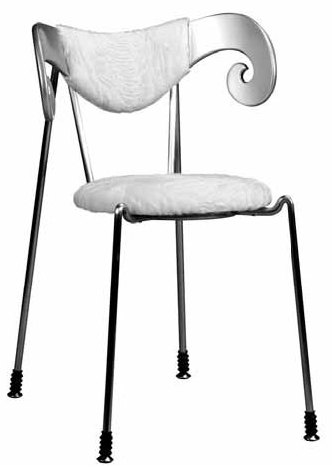 A chair combining stainless steel and karakul sheep fur.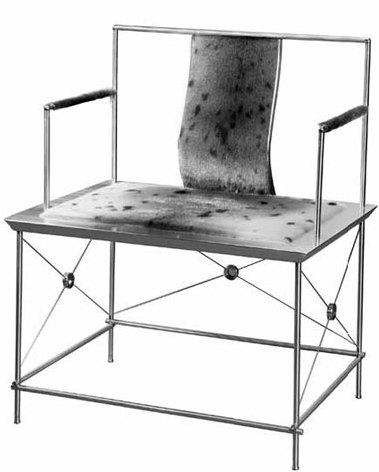 Scholar chair made from steel, seal and karakul sheep fur. Photos provided to China Daily
(China Daily 05/13/2012 page13)