Is Allen Iverson coming for good?
Updated: 2012-05-06 07:58
By Sun Xiaochen (China Daily)
| | | | | | | | | |
| --- | --- | --- | --- | --- | --- | --- | --- | --- |
|   | | Print | | Mail | | Large Medium  Small | 分享按钮 | 0 |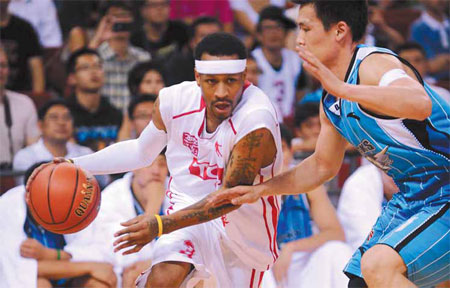 Allen Iverson (left) drives against Xie Libin of the Beijing Ducks during an exhibition game between the Ducks and a US team of NBA players on Thursday in Shenzhen, Guangdong province. The US team won 119-109. Iverson, a former NBA MVP, was asked if he was considering joining the CBA. "Why not?" he said. Wu Jun / for China Daily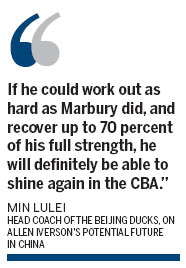 Inspired in part by fellow NBA All-Star Marbury, former MVP guard is considering finishing up his career in the CBA - but can he still be competitive? Sun Xiaochen reports from Shenzhen.
Maybe the answer for "The Answer" is in China. Former NBA MVP guard Allen Iverson was back in the spotlight during a seven-game exhibition tour match last week in China during which he addressed the possibility of joining the Chinese Basketball Association.
"Why not (join the Chinese league)?" he said soon after landing in China, where he is regarded as one of the most popular NBA players of all-time.
The fans are eager to see him play, CBA teams are keen to sign him in hopes of better results and greater ticket sales and sponsors are interested in marketing him, so it would appear an ideal fit.
Even Stephon Marbury, a fellow All-Star and CBA champion with the Beijing Ducks, tweeted on his microblog, "I wish AI played in the CBA next year" when he returned to China from a short holiday in the United States last month.
The buzz continues to grow, but Iverson is not ready for top-flight competition just yet.
Brendan Suhr, the visiting US team's head coach, said the 36-year-old, dubbed "The Answer", needs more practice to prepare for competition in the CBA.
"He has not played for a year against anyone with that ability, so he's not that good right now," Suhr said of Iverson's current status after leading the US squad to a 119-109 over the Ducks in the team's third game in Shenzhen on Thursday.
"It's very hard (for him) to all of the sudden play against tremendous competition like the Ducks presented. I think he's going to get better and when he makes shots he will get more confident."
Iverson has lost some of his fitness and trademark quickness since retiring from the professional ranks in January 2011, when he decided to end a stint in Turkey with Besiktas due to a calf injury.
In the first three games against the Ducks, who only drafted a bench roster for the tour, Iverson had a combined 48 points and attempted more jumpers than drives to the basket to avoid body contact.
The crossover master even turned the ball over facing the relatively loose defense of Ducks reserve guard Chen Shidong.
"Based on his form right now, it would be hard for him to compete in the CBA," said Chen, who said he had great fun matching up with Iverson.
However, a lot of sweat and pain could make a big difference, as Marbury has shown.
To get ready for his time in the CBA, Marbury said he got into the best shape of his career with a tough training regimen last summer.
The Ducks' head coach, Min Lulei, believes Iverson could make an impact here as well, as long as he takes the China adventure as seriously as his countryman.
"He's getting back his rhythm game by game," Min said. "If he could work out as hard as Marbury did, and recover up to 70 percent of his full strength, he will definitely be able to shine again in the CBA. It would be good news for the league."
Chen agreed.
"The real 'Answer' will come back once he works hard systematically," he said.
Despite an obvious decline from his NBA prime, more than a few CBA clubs are interested in landing the 11-time All-Star, who boasts a huge fan base in China, said Shi Canbin, the Chinese promoter of the tour.
Shi said teams including Marbury's former employers, the Shanxi Brave Dragons and the Foshan Longlions, have been in contact with Iverson's agent, who reportedly quoted an annual salary range from $1 million to $1.5 million.
Still, Iverson hasn't indicated which team he would like to join and none of the clubs have responded to claims that they're interested in him.
Iverson, who entered the NBA with Marbury in 1996, said he is proud of his compatriot's rebirth in China and is inspired by his success on and off the court.
Suhr added, "I think Stephon has told (Iverson), and everyone back home, that this is a good place to settle down. I think he will be good just like Marbury has been good."
As the groundbreaker, Marbury couldn't wait to share his experience of playing in China with Iverson at a welcoming banquet before the first game in Cixi, Zhejiang province, last week.
"I think he would be rejuvenated if he played in China. He would love the fans here," said Marbury, who was Iverson's teammate on the bronze medal-winning team at the 2004 Athens Olympics.
(China Daily 05/06/2012 page8)