Tokyo's lingering glitter
Updated: 2012-05-06 07:45
By Lee Hannon (China Daily)
| | | | | | | | | |
| --- | --- | --- | --- | --- | --- | --- | --- | --- |
|   | | Print | | Mail | | Large Medium  Small | 分享按钮 | 0 |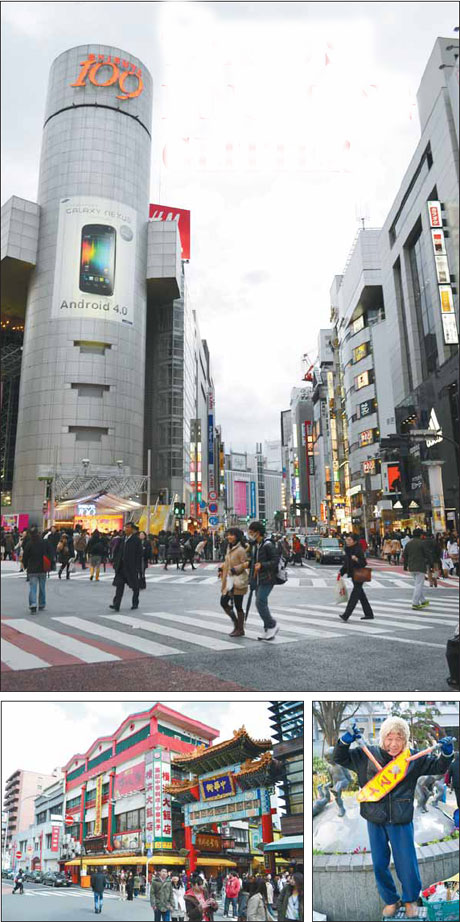 Clockwise from top: While the lights of Shibuya don't shine as brightly as the pre-tsunami days, more than a year ago, the heart of Tokyo's shopping districts is beginning to buzz again. From vivid street performances to the just plain weird, Tokyo's streets are still vibrant with a mix of interesting characters. Yokohama, Tokyo's Chinese district, is the largest Chinatown in Asia. Photos by Todd Balazovic / China Daily
As Japan struggles to get its groove back, the capital beckons as a bright bargain. Lee Hannon visits.
The bright neon lights of Tokyo may dim this year, but the flicker of hope that Japan will remain a top tourist destination still glimmers. It's been more than a year since the land of the rising sun faced its darkest days after World War II, after a massive earthquake and deadly tsunami killed tens of thousands of people as it washed away entire towns and villages. Tourists in Japan left as quickly as multinational corporations evacuated their workers.
Latest statistics show Chinese tourists are returning in record numbers to Japan. Some 138,400 visited in January alone, up 39.6 percent from the same period last year pre-quake.
The numbers went into freefall following the March earthquake and only began to stabilize last September. Japanese businesses and tour operators say the rapid increase in visitors from the mainland, Hong Kong and Taiwan is offering some much needed optimism in a country still struggling to get back on its feet.
It is a mathematical algorithm, not just common sense, that Japan's nearest neighbor would return first and there's no wonder.
The country still has a lot to offer: shopping for electronics, a visit to Mount Fuji or the ancient temples in Kyoto, or - for the more adventurous - the ski slopes in the north.
We managed to get flights with Delta Air Lines for just over 2,000 yuan ($317) on a flight that stops in Tokyo from Beijing before carrying on to Portland in the US.
Minutes later we are sipping champagne in "business elite" seats with 60 inches of legroom that, at the touch of a button, recline to 160 degrees, complete with pillow, quilted duvet, your own personal entertainment system, gourmet food and noise-canceling headphones.
Arriving in Tokyo for the first time can be a puzzling experience. It is as if someone's thrown out the jigsaw box and some pieces are still missing.
During a short visit you often feel like you have stepped into a futuristic world where everything runs with order and accompanying incomprehensible noises that guide life, but you really have no clue what is going on in this constant whirl where nothing and no one stands still for long.
We boarded the Narita Express train from the airport to Tokyo main station, and while 2,940 yen ($36) might seem expensive for a 56-minute journey, it is much cheaper and faster than a taxi, known to be one of the world's most expensive, at least 1,200 yuan for the trip downtown.
Just a stone's throw from the station is the Four Seasons boutique Marunouchi hotel, which offers a perfect location for those wanting to travel the country and city with ease as it connects to the Shinkansen and Narita Express, all major bullet trains and major suburban and commuter rail lines. The popular Shinjuku and Shibuya districts are also just 15 minutes away by rail.
The hotel is situated in the city's trendy central business district, which has also become a hub of a number of major media organizations and multinationals.
The 57-room boutique hotel occupies five floors of the prestigious Pacific Century Plaza, offering spectacular but silent floor-to-ceiling window views of the city or the 28 platforms of Tokyo's main station, where 3,900 trains carrying 900,000 passengers stop each day.
The design is minimalist with a tasteful blend of traditional Japanese Zen mixed with state-of-the-art technology.
The Ekki Bar & Grill is a sophisticated New York-style contemporary dining experience with amazing views of the surrounding cityscape and bullet trains that race along the coastline.
A few appetizers, including marinated seafood with citrus, fennel salad and diced mango along with caviar served on ice with traditional garnishes, are slowly washed down with some New World wines before the main course.
The Japanese may be known for living longer due to their love of raw fish. But anticipating naturally enhanced flavor, tenderness and juiciness of well-done Kobe or Wagyu beef, I had already packed my steak knife. I ordered the Ekki Wagyu burger with French fries and truffle mayonnaise, topped with bacon and green salad on the side.
A few more glasses of red wine complement this famous marbling beef perfectly, and it's time to check out the nightlife.
Shibuya is the locus of Tokyo's club scene, and a jungle of neon signs and flashing logos lights up thousands of pedestrians who check out this atmospheric, fast-paced neighborhood that would give Las Vegas some stiff competition in the lighting bill league.
It is here and in Shinjuku that the flamboyant subculture of Japan's capital comes to party and shop, and the fashion can be as bright and bedazzling as the street lighting. Gothic fashion themes, platform boots and Cosplay collide and move along musically like some weird dream on a carousel.
Ropponggi is the area most Western tourists head to first to find their bearings in this huge city.
It has a healthy mix of Western-style bars and restaurants as well as local listings magazines in English to help you navigate the city more easily.
But be warned, after dark this place becomes a haven for hostess bars. Think expensive drinks, unexpected cover charges and mindless chat with a girl who works as an "exotic" dancer but really wants to be a Nobel Prize-winning physicist.
One told me: "You're hot," I responded that I had just returned from Fukushima earlier that day and was feeling a little woozy and glowing. She slowly edged slightly farther along the worn, stained red sofa.
There's lots of interesting places to go, see and do in Tokyo and the surrounding area, including the Tsukiji Fish Market, a boat ride on the Sumida River from Asakusa or Tokyo's Disney Resort.
Yokohama is around 27 kilometers from the capital and home to one of Asia's largest Chinese communities, with about 10,000 Chinese who live or work in this busy port city.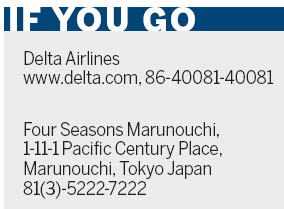 Each day thousands of tourists go to the museum, pick up souvenirs or line for an hour to sample Chinese cuisine from all regions. It's a fun stop for most package tour groups and a chance to buy baozi on the street.
In all, Tokyo has something for everyone looking for a weekend break at prices that were simply not possible a year ago.
Despite the earthquake, tsunami and the economic downturn, the country has the character and verve to draw back the visitors.
Sitting in the Sky Lounge of Narita Airport has the feel we once thought of as futuristic: Mac stations and neon lights look out onto the runway while you check your e-mail and sip a pre-flight screwdriver in seats that recline.
It's what we have come to expect from Japan as a country and tourist destination. It is still available, it just needs time to recover and recharge the neon.
Contact the writer at sundayed@chinadaily.com.cn.
(China Daily 05/06/2012 page16)