Shopping spree
Updated: 2012-04-29 07:04
By Tang Zhihao in Shanghai (China Daily)
| | | | | | | | | |
| --- | --- | --- | --- | --- | --- | --- | --- | --- |
|   | | Print | | Mail | | Large Medium  Small | 分享按钮 | 0 |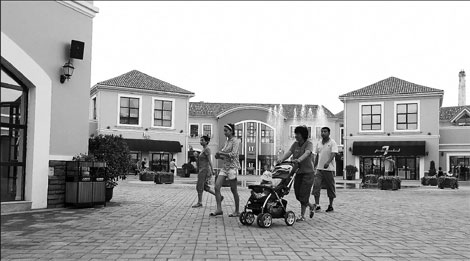 Beijing Surprise Outlets, located in the capital city's northeastern suburbs, offers a shopping area of more than 35,000 square meters. Da Wei / For China Daily
Outlets mushroom, driven by growing middle class, desire for modern lifestyle
Buoyed by China's growing middle class and people's desire for a modern lifestyle, property developers are leaving no stone unturned to cash in on the outlet industry.
According to media reports, more than 200 outlet centers have opened in China over the past decade.
To put this into context, the United States, where the concept of outlet stores has been around for decades, had 179 outlet centers by June 2010, according to US-based Value Retail News.
For many middle-class people in China, outlet centers have become a good place to buy quality products at a discount.
"I visit outlet centers several times a year to buy clothes for the next season," said Liu Jing, a white-collar worker in Shanghai.
"The discounts offered might not be as big as overseas, but they are better than at regular stores."
Products sold at outlets will normally be up to 50 percent cheaper. Extra discounts might be given for purchases of more than one item at certain stores.
David Ng, executive deputy general manager of Shanghai Welead Investment Co Ltd, subsidiary of Pearl River investment group and the operator of MEGA MILLS Outlet Center in the Qingpu district of Shanghai, said the key factors that attract shoppers to outlet centers are the guarantee of genuine products and a comfortable shopping experience.
Many people might feel embarrassed asking for price information at regular retailers. People who are keen to know about a new brand might visit outlet stores as a starting point to learn about the brand, said Ng.
"Consumers will feel more relaxed asking about prices at outlets."
Success stories in China's outlets sectors include Beijing-based Yansha Outlets Shopping Center and Shanghai-based Bailian Outlets Plaza.
Yansha Outlets Shopping Center reported sales revenue of 2.5 billion yuan ($396 million) in 2010, a more than eight-fold increase from 300 million yuan in 2002.
Yansha was the first outlet center to open in China in 2002. The new retail practice grew rapidly after Yansha made its debut, bringing hundreds of shops under one roof, usually outside a major city and near large expressway interchanges, rather than expensive city center locations.
Experts said the growing middle class is one factor contributing to the success of outlet center operators.
In addition, "for brand owners, outlets are an effective way to sell out inventory, without damaging their brand image in regular stores. In addition to global luxury brands, outlets are a good way for sportswear giants such as Nike and Li-Ning to clear heavy inventories," said Sherri He, a partner at consulting firm A.T. Kearney.
"For consumers, outlets offer luxury or famous brands at good value for money," added He.
Despite outlet centers having become one of the key sectors in the retail sector, the prospects for the development of outlet centers around China are not universally rosy.
At Lake Malaren Outlets in the Baoshan district of Shanghai, some stores have closed. On working days, sales assistants often outnumber customers.
Comments on dianping.com, an independent online platform for people to comment on service providers, suggest Lake Malaren Outlets is having problems drawing in the crowds.
In the cities outside Beijing and Shanghai, several outlet centers have closed in the past few years, including Kingcity Outlets Shopping Center in Qingdao, Shandong province.
"The development of outlet industry is faster than normal speed," said Ng from Welead.
An excessive number of outlet centers means there will not be enough branded stores to open in outlet centers.
"The main purpose for branded merchandise companies opening outlet centers is to sell short-supply goods or off-season products.
"According to international standards, one outlet store might be opened for every 10 regular stores," said Ng.
Ng said many branded companies, especially luxury goods companies, do not have many regular stores around China, so they will not be opening many stores in outlet centers.
Many small outlet centers facing the challenge of finding big brands owners have been forced to cooperate with some domestic companies.
"The key to outlet centers' success is to have enough branded stores to satisfy people's demand for luxury goods. It is impossible to run an outlet center simply by working with domestic brands," said Qi Xiaozhai, director of Shanghai Commercial Economic Research Center.
"In large cities such as Shanghai, two or three outlet centers are enough," added Qi.
In China, development of the retail sector is not the primary interest for many property developers building outlet centers.
"Some developers build outlet centers in order to increase real estate prices, especially when the properties are located far from the city center," said Ng from Welead.
"When all the properties are sold, the profitability of outlet centers might not be that important for outlet developers".
Developing in the Chinese market for more than a decade, the outlets business is well recognized by people. However, a gap still exists between the Chinese and foreign markets. Many people complain that many products on offer at outlet centers are unfashionable and not that cheap.
"Product channels are limited and outlet center operators have to buy products from distributors instead of directly from brand owners like most outlets in mature markets, which results in fewer products and higher purchasing costs," said He from A.T. Kearney.
Looking forward, outlet center development projects remain attractive to investors and more will be built in China.
Bailian Group, the Shanghai-based retail conglomerate, reportedly said that it plans to open a total of 10 outlet centers by 2014. The MEGA MILLS Outlet Center managed by Ng's company is projected to become operational before October.
tangzhihao@chinadaily.com.cn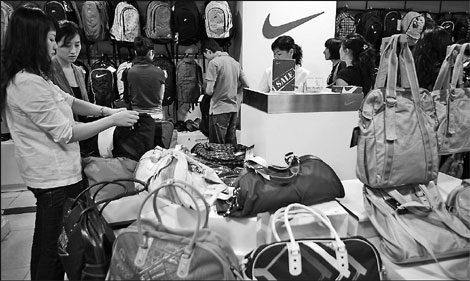 Chinese customers shop for Nike bags in the Yansha Outlets Shopping Center in Beijing. Provided to China Daily
(China Daily 04/29/2012 page9)