Comrades in clothes
Updated: 2012-04-01 08:16
By Mary Katherine Smith in Shanghai (China Daily)
| | | | | | | | | |
| --- | --- | --- | --- | --- | --- | --- | --- | --- |
|   | | Print | | Mail | | Large Medium  Small | 分享按钮 | 0 |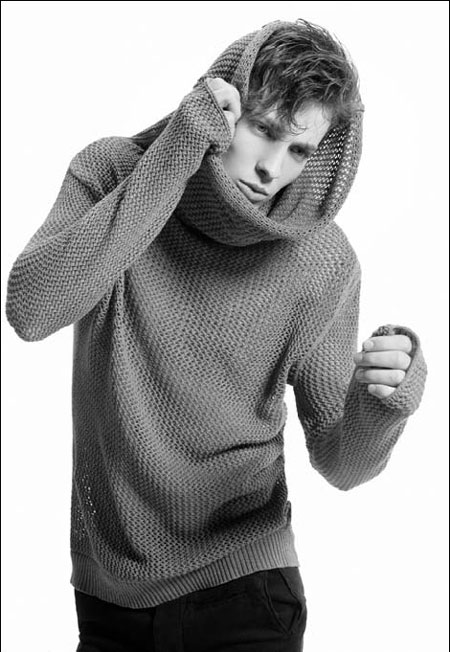 Swedish men's brand Army of Me will appear at the upcoming Shanghai Fashion Week. Provided to China Daily
When two childhood friends, Daniel Wahlberg and Richard Sjoblom, set off on a post-college trip to Asia, they never expected to move back and start and design their own clothing line.
At 21 and 22 years old, the pair of Stockholm natives, who have known each other since they were about 10, were just taking time off from school to travel. Their last-minute decision to visit China eventually brought Wahlberg and Sjoblom back, and after a few years of working in jobs without much satisfaction, they decided to start their own business.
"We figured since we were in China, there must be better possibilities to do something more fun, more creative and more challenging," Wahlberg says.
With just a "pure interest" and no formal background in clothing design, the two friends embarked on creating their own men's fashion line.
Much like their decision to come to China during their backpacking trip through Southeast Asia a few years before, the start of Army of Me was "pretty spontaneous", Wahlberg says.
Wahlberg says their Swedish background gave them an "instinctive" interest in design and style.
"We thought there was a lack of brands that had unique clothes but were still simple and with simple colors and no prints," Wahlberg says. They wanted to create a look that focuses more on the cuts and fit of clothes.
"We like quirky designs," he says. The colors of the clothes are subtle and rarely stray from black, white and gray. What they may lack in color is made up in distinctive designs.
The men keep their eyes open for new ideas and ways to make their brand more innovative. "It could be anything," Wahlberg says. "Like seeing someone on the street that has something on and some details stick in your brain and some details could be useful in a way where you can change it up a bit."
Their aesthetic comes from taking traditional clothes and adding elements that make them unique.
"We take a classic garment - like a shirt - and just come up with how can we make this different but still wearable," Wahlberg says. "We keep a unique look but still easy to use."
Sjoblom says it's all in the details, such as a somewhat typical looking cardigan with oversized pockets or a pair of pants with random seams.
It's this individualistic look that has helped put Army of Me on the map of men's fashion, and their passion to create something different has evolved from about eight items in 2009 to four seasons of full collections sold by some 70 stores in 15 countries.
Even though the brand has been seen as a remarkable success in Europe and North America since its creation in 2008, the pair hopes to branch out in to more Asian markets. Their autumn/winter 2012 collection will be sold for the first time in Japan, and Army of Me's first runway show will take place at the upcoming Shanghai Fashion Week.
"Swedish fashion is often associated with discreet, natural colors, high quality and a look that gives a refined appearance. There are many other strong Swedish brands that are expanding internationally, and China and Asia are out of interest to many," says Jonna Wibelius, head of culture and public affairs at the consulate general of Sweden in Shanghai, who helped the pair make it onto this year's lineup of designers being showcased at Shanghai Fashion Week.
One advantage the pair has in their line of unique, fashion-forward clothing is its Asian influence. The men behind Army of Me pride their brand on creating "classic designs from the West with avant-garde fashion from the East", says Sjoblom.
"If you look at South Korean fashion, Japanese fashion and Chinese fashion, it's very crazy with very strange cuts," Sjoblom says. "We are inspired by Asia, but we have the simplicity from the Swedish fashion."
With the mixing of cultures and designs and the drive for something more original, the pair says that the name of Army of Me comes from the one-of-kind garments they create. "You don't care about what other people think about you and say about you, same as our garments." Sjoblom says.
"It's a strong name and individualistic," Wahlberg says. "It represents what our brand is."
sundayed@chinadaily.com.cn.
(China Daily 04/01/2012 page13)