AIDS fight spurs quest for easier circumcisions
Updated: 2012-02-19 08:37
By Donald G. Mcneil Jr. (The New York Times)
| | | | | | | | | |
| --- | --- | --- | --- | --- | --- | --- | --- | --- |
|   | | Print | | Mail | | Large Medium  Small | 分享按钮 | 0 |
Now that studies have shown that circumcising adult heterosexual men is one of the most effective "vaccines" against AIDS - reducing the chances of infection by 60 percent or more - public health experts are searching for ways to make the process faster, cheaper and safer for African men.
The goal is to circumcise 20 million Africans by 2015, but only about 600,000 have had the operation thus far. Even a skilled surgeon takes about 15 minutes and most African countries are desperately short of surgeons.
So donors are evaluating newly developed devices designed to simplify and speed up the procedure. Two of them - named PrePex and the Shang Ring - are being evaluated by the World Health Organization, with support from the H.I.V. division of the Bill and Melinda Gates Foundation.
Circumcision is thought to protect men by the removal of the foreskin, which has many Langerhans cells that pick up viruses and "present" them to the immune system - which H.I.V. attacks.
PrePex, invented in 2009 by four Israelis after one of them, a urologist, heard an appeal for doctors to do circumcisions in Africa, was approved by the American Food and Drug Administration last month. The W.H.O. will make a decision on it soon, said Mitchell Warren, an AIDS-prevention expert who closely follows the process.
From the initial safety studies, PrePex is clearly faster, less painful and more bloodless than other methods. And it utilizes a simple rubber band. The band compresses the foreskin against a plastic ring slipped inside it; the foreskin dies within hours for lack of blood and, after a week, falls off or can be clipped off "like a fingernail," said Tzameret Fuerst, the company's chief executive officer.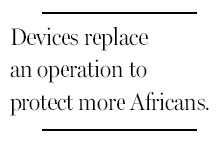 It is done with topical anesthetic cream, and there is usually no bleeding. And PrePex can be put in place and removed by nurses with about three days' training. The rings come in five sizes, A through E, Ms. Fuerst said, "and you won't believe how high-tech the rubber band is."
The W.H.O., Mr. Warren said, is also evaluating the Shang Ring, a plastic two-ring clamp developed in China to treat conditions in which the foreskin becomes so tight that it cuts off urination. However, it requires cutting off the excess foreskin beyond the clamp, which means the circumciser must inject anesthetics directly into the penis and groin, wait for them to take effect, create a sterile surgical field and be trained in minor surgery.
"The Shang is not as fast, but it's faster than full-fledged surgery," Mr. Warren said. "And it hasn't submitted as much safety data."
In a safety study presented at an AIDS conference in December, scientists from Rwanda's health ministry said they had used PrePex to circumcise 590 men. Only two had "moderate" complications. According to Dr. Jason Reed, an epidemiologist in the global AIDS division of the Centers for Disease Control and Prevention, 2 of 590, or 0.34 percent, is a tenth the typical complication rate of surgical circumcision.
None of the men became infected and on the 10-point pain scale, they reported on average only about 1 when the ring was placed and only 3 when it was removed. By the end of the study, the two-nurse teams could do a procedure in three minutes.
By contrast, Dr. Reed said, the best surgical "assembly lines" - a practice being pioneered in Africa with American taxpayer support - can do the procedure in seven minutes by a team of six nurses and a surgeon.
In theory, he said, three two-nurse PrePex teams could circumcise around 400 men a day, rather than the 60 to 80 a busy team now does.
But Robert C. Bailey, an epidemiologist at the University of Illinois at Chicago who helped design Kenya's circumcision efforts, opposes timesaving devices because training nurses in minor surgery has other benefits, he said. A trained nurse could close a wound or take out an appendix, for example. And the time-consuming parts of the process are counseling and H.I.V. testing, Dr. Bailey said, so "doing it in five minutes instead of 20 is trivial."
But he conceded, "If PrePex really doesn't require anesthesia, that's truly an advance."
Rwanda is training 150 two-nurse teams; it is a small country, but it serves as a bellwether for Africa because its health care system is well organized, government corruption scandals are rare, and it is heavily supported by donor funds.
PrePex's cost, Ms. Fuerst said, but may end up in the $15-to-$20 range, about the same as a surgical circumcision kit.
The New York Times
(China Daily 02/19/2012 page12)